Where did your piano studies take place?
I have been passionate about music since I was a child. At the age of 15 I moved to Madrid to study with Dmitri Bashkirov at the Escuela Superior de Musica Reina Sofia, before taking up a scholarship to study with Christopher Elton at the Royal Academy of Music. This summer I was taken on by Young Classical Artists Trust (YCAT), with whom over the next few years I will be developing my solo career at an international level.
Tell us a bit about your PhD.
I'm starting my PhD at King's College London in January. It's going to be called 'The Beauty of Imperfection', and will feature a big case study of the Schubert piano sonatas at its centre.
My earliest encounter with Schubert's unfinished works was 5 years ago. Schubert's compositions are complicated. Why did he leave so many unfinished? Often, it was simply because he didn't have enough time to finish them! Sometimes, what he made was so innovative that it wasn't possible to find a solution – he left them intentionally unfinished.
What's the nature of your PhD? Is it academic or performance-based?
As a performer, it seems unusual to do a PhD. However, at King's, it won't be a totally academic thing. I obviously have to write a dissertation, but it's combined with a lot of performance, so it allows me to approach the Schubert project in a more 'contemporary' way.
So you think it's important to think about music academically?
I think we have to be able to explain what our intentions as performers are. If we don't know what to do or think about, how will the audience have any chance of understanding what we have to say? Emotion in performance is obviously very important, but it's equally important to know and think about what you're performing.
What other projects did you undertake before deciding to do a PhD?
During my Masters, I did a project about piano music and sand animation, called 'When Sand Met Sound'. With sand art, you start with a plain plate of sand, and swipe to create images. In a way, it shares a lot with music – it's very much about time and improvisation.
I wanted to create a duo between the two art forms – not something where the music accompanies the sand or vice versa. I wanted it to depict a story, so I used vivid pieces, like the
Danse Macabre
or
Liebestraum
. Hopefully it means that this music can be introduced to a wider audience, not just to those who are interested in classical music.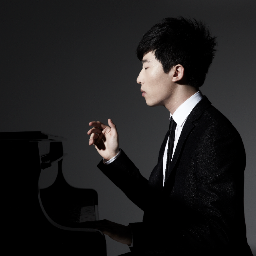 Have you always had an interest in visual art?

As a pianist, the audience always asks me if I see images when I perform, but I can't really answer this exactly. It's true that I have a visual memory, that I can see the score in my head, but hearing the audience ask these questions inspires me to think about what else I might see when I perform. My sand art project, in a way, was trying to show people how and what we think of when we listen to music. It wasn't meant to be something superficial or theatrical – I wanted to help people understand the music better. Music can't be seen or heard really, only experienced.

So, what's the plan for the future?

My plans are always to continue building core repertoire, to not be afraid to play so called 'popular' works, and at the same time to challenge audiences with different ways of programming contemporary music. I'm looking forward to releasing my new album which will feature many 'popular' pieces such as Beethoven's 'Moonlight' Sonata, some Chopin Nocturnes and Liszt's Liebestraum. Ultimately I hope that people will define me as a 'musician', rather than simply a 'pianist'. Although the piano is my primary study and first identity, I also compose, love playing chamber music and am fascinated by visual art, theatre, dance, literature, philosophy, and so on.

What are your other interests?

I breakdance. Most people reel back in horror when they hear this, because of the danger to my fingers! However, it increases the flexibility of my body, and makes me aware of my whole body, meaning I don't just obsess over my fingers and forget everything else. It makes my soul freer – in the same way, I don't restrict my musical taste. I play jazz and blues, read a lot, and enjoy movies as well.

Official Website

Saint-Saen: Danse Macabre

Ji Liu: DNA Sonata for Solo Piano (2012)

Liszt: Liebestraum No.3

On a cold, crisp morning, I prepare to meet Ji Liu at the Royal Academy of Music, his place of study for the last six years. Over a cup of tea, we chat about his time there and what the future holds for him…