We caught up with Martin Ng the other day when he was in the middle of rehearsals for Rossini's L'inganno felice (The Blissful Deception), which will make its appearance in Singapore in early March.
He talked about the founding of his company, Lirica Arts, and what they were doing with an opera that is relatively unknown outside Europe. He had been looking for a project that had relatively few people on stage and yet was an engaging and funny story – Rossini's romantic melodrama brings in buffo elements to keep the action light. Previous productions in Asia have been only staged in Japan and Oman, so the opera will be an unknown to the audience. This has permitted the director, Tang Xinxin, to bring in some of her expertise in Chinese opera to truly make this an Asian production.
Gioachino Rossini: L'inganno felice – Sinfonia (English Chamber Orchestra; Marcello Viotti, cond.)

Just as western opera has its standard characters, often coming from Italian commedia dell'arte precedents, so Chinese opera has its standard characters and the director felt that they had a place in Rossini's opera. The setting isn't early 19th century Italy as in the original but 'an unknown era in ancient China'. This has permitted them to infuse Chinese elements into Rossini's farce.
Mr. Ng has a dual role in this opera: as the founder of Lirica Arts, he's the producer of the show, and as a professional baritone, he has the role of the evil henchman, Batone, who was responsible before the curtain rises for kidnapping the heroine and casting her adrift at sea. When she reappears later in the opera, he menaces her again before he's unmasked for the villain he is. Holding down the two roles successfully is 'Exhausting!' as he cheerfully admits.
Gioachino Rossini: L'inganno felice – Scene 5: Una voce m'ha colpito (Natale de Carolis, Batone; Ursula Dütschler, harpsichord; English Chamber Orchestra; Marcello Viotti, cond.)


Taking on an unknown opera, Mr. Ng says, has been a liberating experience. They're not bound by convention, no one has a mental image of the characters before they see them on stage, and both performers and audience can be open-minded about the work.
The opera has a small cast – one soprano heroine, one tenor husband, and three bass or baritone bad guys. There are also 4 non-singing supers who help fill the stage when needed. The orchestra is also minimal, a mere 22 players.
We asked how he came to start Lirica Arts and it all came down to the disease of the day: Covid. After he finished Traviata in Taiwan, he returned to Singapore and waited out successive waves of lockdowns and closures and openings and lockdowns. He set up Lirica Arts so he could do something. In the style of Thomas Hampson and Samuel Ramey's recording No Tenors Allowed, which consisted of Italian duets for Baritone and Bass, Lirica Arts' first production was No Tenors Allowed V.2.0, which permitted a soprano and a bass/baritone to show what they could do.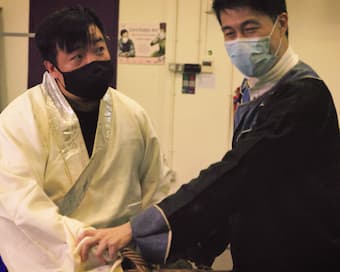 Lirica Arts has benefited from a great deal of community support in this time of a universal arts crisis. They have worked cooperatively with other Singapore organizations to everyone's benefit, especially of students and musicians. Students have been given access to tickets and musical experiences that have been difficult to find over the past two years. One emphasis on creating an audience for this production has been that invitees of the opera consist entirely of music students (singers, choristers, instrumentalists) with disabilities, with the intention of creating equal access to the Arts and more inclusivity in Singapore's arts community.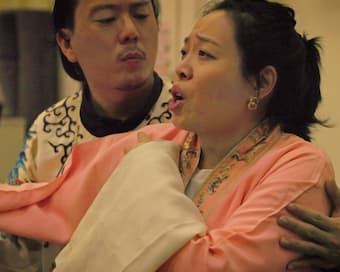 Coming up next for Lirica Arts will be a Vivaldi vocal concert at the end of the year. Vivaldi may derive most of his modern reputation from The Four Seasons but he was also a skilled opera composer, with some 50 to his name. The Vivaldi Renaissance is already hitting Europe and Mr. Ng is bringing it to Asia. Lirica Arts is also planning to be more than vocal music and is planning future concerts of chamber music, sacred music, and all kinds of classical music. Keep an eye on this happening company!
As Singapore has loosened its rules on theatres, they've gone from 30% capacity to their current 50% capacity. Lirica Arts is awaiting final word from the National Arts Council to see if the capacity number will change – their first show at the Lee Foundation Theatre is nearly sold out and their second show is filling rapidly. Opening on 5 March, Rossini's L'inganno felice may change your opinion about opera in Asia. Tickets available here.
For more of the best in classical music, sign up to our E-Newsletter