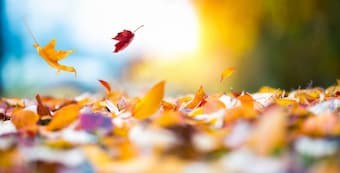 The turning of the season sees some composers of piano music in reflective mood, while others portray meteorological conditions – misty mornings and autumn gales which blow the gold and red leaves from the trees and toss them around in great flurries of activity. Autumn is also a time for hunkering down in preparation for winter, of glowing fires and the warmth of home.
Here are six piano pieces which reflect Autumn in contrasting ways:
Veiled Autumn
Written in 1987 by American composer Joseph Schwantner, this atmospheric piano miniature begins with a rising gesture, agitated trills and dramatic dynamics, suggesting the changeability of autumn weather, before moving into a more reflective section, with a sighing melody that is tinged with wistfulness.
Les Soirs illuminés par l'ardeur du charbon (Evenings Lit by Burning Coals)
Head inside to the glow of the fire with this piano piece by Debussy, written during the First World War and given as a gift to Debussy's coal merchant as a thank you for finding some fuel for him. The piece was unknown until its discovery in 2001. At less than three minutes long, it has a luminous, comforting warmth, its middle section coloured by gently lilting chords.
Claude Debussy: Les soirs illuminés par l'ardeur du charbon (Alain Planès, piano)

Automne, Etudes de Concert, Op. 35
Cecile Chaminade's most famous piano work, this piece owes much to the romantic etudes of Chopin and Liszt – a work which combines both technical and artistic challenges for the player. Its songful main melody is accompanied by delicate textures, reflecting the peace and melancholy of the autumn season, while the con fuoco middle section whips up a dramatic storm before subsiding into tranquillity once again.
Autumn Song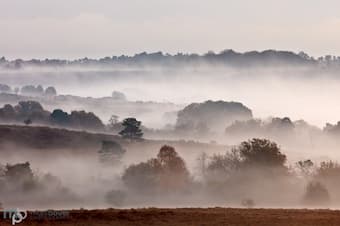 In this miniature by Tchaikovsky, from his suite The Seasons, the mood is distinctly downcast in melancholy D minor. Marked doloroso, the sighing melody suggests introspection, but tinged with hope when the music moves into the major key.
Pyotr Ilyich Tchaikovsky: Les Saisons (The Seasons), Op. 37b – X. October: Autumn Song (Olli Mustonen, piano)

Brouillards (Fog/Mists)
In this piece from his second book of Preludes for piano, Debussy depicts swirling mists through demisemiquaver figures in the right hand, mostly on the black keys, which create a haze of sound through which the left hand chords are barely discernible. Every so often the texture clears, highlighting bass chords or other textures, as if the mist clears slightly to reveal figures or trees in starker detail.
Claude Debussy: Préludes, Book 2 – No. 1: Brouillards (François-Joël Thiollier, piano)

Bloodroot from The Book of Leaves
Although not strictly inspired by Autumn, this hauntingly beautiful contemporary piano piece by American composer Rachel Grimes has a wistful, autumnal atmosphere, and its opening gesture – a sweeping improvisatory passage – suggests leaves swirling in the wind. The main body of the music is reminiscent of the Bach-Siloti Prelude in B minor. After cascades of semiquavers, the final section is a series of pensive, hymn-like chords.
For more of the best in classical music, sign up to our E-Newsletter