Born on 27 January 1806, Juan Crisóstomo de Arriaga y Balzola shares his birthday (and his middle name) with Mozart, but at a 50-year remove. Like Mozart, his career was cut short; he didn't even get the 34 years of Mozart but died just a few days before his 20th birthday on 19 January 1826.
His family was musical, and his father played the organ at church in his youth. Juan's older brother Ramón played violin and guitar and he and his father mentored Juan, who became known as a violinist. Their musical and literary connections helped the young Juan's career. He started composing around age 11 and wrote his first opera at age 13. From his early days in Bilbao, Juan took part in concerts but when he moved to Paris in September 1821, his studies took on a new seriousness. At the Conservatoire he studied counterpoint and fugue with Fétis and violin with Paul Guérin and Pierre Baillot. In 1824, at age 17, Arriaga was appointed teaching assistant to Fétis at the Conservatoire.
At the Conservatoire, he reworked his earlier compositions and, with his new knowledge, disowned many of them. One work he re-arranged was the overture to his opera, Los esclavos felices, and a comparison of the two versions shows his increasing skill in orchestration. At the Conservatoire, he won the prizes in counterpoint and fugue in 1823 and 1824 and this skill is apparent in his music. His music became known for its use of continuous transformation of musical material and a fondness for chromaticism.
Arriaga's nickname of the Spanish/Basque Mozart was created in 1868 by his great-nephew Emiliano de Arriaga. Emiliano had been left Juan's violin and, in the 1880s, started getting the papers together on Juan and promoting his music.
The Symphony in D from 1824 is Arriaga's only symphony and floats between the keys of D major and D minor (recall that all of Mozart's symphonies were in major keys except for his two symphonies in G minor). Arriaga doesn't have the lyrical musicality of Mozart, and doesn't have the muscular rhythmic drive of Beethoven, who died a year after Arriaga, but it does have a light touch with the melodies that shows off Arriaga's skill as a composer. His death at age 19 took away a composer who had the potential for giving Spain (and later the Basques) an active role in the Romantic era, instead of having all the attention focused on Austria and Germany.
Juan Crisóstomo de Arriaga: Symphony in D – I. Adagio – Allegro vivace (London Mozart Players; Harry Blech, cond.)

The conductor on this 1956 recording, Harry Blech, was himself a violinist. He joined the BBC Symphony Orchestra in the 1930s and had a sideline as a string quartet player. In 1942, in the middle of the war, he became a conductor and founded the London Wind Players from members of the RAF orchestra. After the war, he founded the London Mozart Players in 1949 and was their principal conductor until 1984. The LMP focuses on the works of Mozart and Haydn and the Classical era but not exclusively.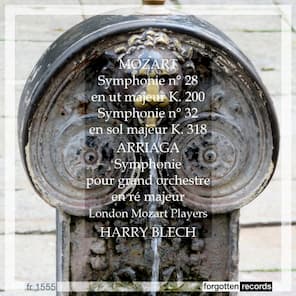 Performed by

Harry Blech
London Mozart Players

Recorded in 1955 – 1956

Official Website
For more of the best in classical music, sign up to our E-Newsletter