Count Ferdinand Troyer (1780-1851) occupied a position of power as chief steward to Archduke Rudolf of Austria and also as an amateur clarinettist. His performance of the clarinet obliggato in 'Parto, parto' from Mozart's La Clemenza di Tito with the Vienna Philharmonic Society in March 1817 drew positive notices for his 'extremely tender handling' of the clarinet. He became a renowned clarinettist and in 1824, commissioned Franz Schubert to write a companion piece to Beethoven's Septet in E flat major, op 20.
Archduke Rudolph had been a long-time support of the arts and had been an important patron of Beethoven's, being the 'Archduke' of the Archduke Trio.
Beethoven's Septet of 1802 was written for a mixed wind and string ensemble of clarinet, horn, bassoon, violin, viola, cello, and double bass. Beethoven's work was innovative for the time, not only for its scoring of a single clarinet, horn, and bassoon, which were usually written for as pairs, but also for his clarinet writing, making its lines as important as those of the violin.
Schubert accepted Troyer's commission and used the same instrumentation with the addition of a second violin. The work was innovative for Schubert in that it was largest chamber ensemble he'd written for. The work received its premiere at the home of Archduke Rudolf and included many of the musicians who'd performed the premiere of Beethoven's Septet.
The work has six movements, and the first movement uses a theme from Schubert's song Der Wanderer, D. 493. Schubert modelled his Octet closely on Beethoven's Septet, including the structure of the movements and the keys used. The first movement opens with a slow Adagio before a spirited Allegro speeds things up.
Franz Schubert: Octet in F major, D. 803 – I. Adagio – Allegro – Più allegro
This performance was recorded in 1959 for a radio concert. The performers include the Trio Pasquier (Jean (violin), Pierre (viola), and Ètienne (cello)) with Jacques Lancelot on clarinet, Paul Hongne on bassoon, and André Gantiez on horn. The Octet is filled out by Madeleine Thuillier, violin, and Henri Moreau, double bass.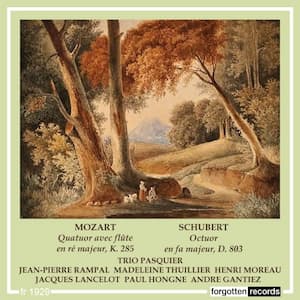 Performed by

Trio Pasquier
Madeleine Thuillier
Henri Moreau
Jacques Lancelot
Paul Hongne
André Gantiez

Recorded in 1959

Official Website
For more of the best in classical music, sign up to our E-Newsletter