The Ives family, prominently active in business, civic improvement and social causes, resided in Danbury, Connecticut. Charles Ives was born there on 20 October 1874 to George Edward Ives and his wife Mary Elizabeth Parmelee-Ives. George Ives was a U.S. Army bandleader in the American Civil War, and he "directed bands, choirs, and orchestras, and taught music theory and a number of instruments." Young Charles was exposed to a wide range of music. He fell in love with the music of Debussy, and experienced band and gospel hymns performed by the choirs and bands directed by his father. Charles took piano and organ lessons from an early age and he became "an accomplished performer in three musical traditions: American vernacular music, Protestant church music, and European classical music. Turning his back on a professional career in music, he worked in insurance for 30 years and composed only in his free time. As a composer, "Ives had the unparalleled ability to evoke the sounds and feelings of American life." And since he was an avid athlete and captain of several baseball and football teams, Ives encoded his involvement with sports into music.
Charles Ives: "Some Southpaw Pitching" (Roger Shields, piano)


Charles Ives played baseball on the Hopkins Grammar School team in 1893, and even pitched a game against the Yale freshmen. His fascination with baseball extended throughout his life, and "the roots of his music were inextricably found in the heritage of rural Danbury—the music, literary heroes, and the social activities of pastoral America." Without doubt, baseball was, and still is, an important social activity in America. For Ives, "extramusical elements serve various functions in the music. They determine the…forms of his musical motives, formal design, notation and musical language. His pitch organizations and rhythmic conceptions result from the interaction of Ives' innovative musical ideas and the extramusical subject matter he portrays." A recent publication identifies five completed Ives pieces that contain baseball references. "Some Southpaw Pitching" makes reference to baseball in the title. Composed in 1909, it was intended to serve as a study to strengthen the pianist's left hand, known in baseball jargon as the "south-paw." I am sure you will be able to pick out various quotations from Johann Sebastian Bach, and Stephen Foster.
Charles Ives: "Old Home Day" (William Dowdall, piccolo; Aylish E. Kerrigan, mezzo-soprano; Vladimir Valdivia, piano)


Ives was working as an insurance broker in New York City, but he really hated the hectic pace and stress of urban live. He longed for the simpler life of his hometown, and nostalgically reflected on rural scenes from his childhood. In his baseball pieces, "Ives refers back to his experiences as a boy growing up and playing baseball, instead of focusing on professional baseball teams. "Old Home Day" is the one Ives song that makes an explicit connection to baseball. The composer's memories return to his hometown, as "We boys used to shout songs that rouse the hearts and the brave and the fair; we boys used to play one old cat and base hits filled the air." The euphoria of the joys of boyhood is bound to nostalgic tunes, "and a musical introduction foreshadowing the use of complex harmonies."
Charles Ives: New England Holidays "Fourth of July" (Chicago Symphony Chorus; Chicago Symphony Orchestra; Michael Tilson Thomas, cond.)


Ives composed the orchestral "The Fourth of July" between 1911 and 1913. He wrote, "I remember distinctly, when I was scoring this, that there was a feeling of freedom as a boy has, on the Fourth of July, who wants to do anything he wants to do, and that's his one day to do it. And I wrote this, feeling free to remember local things." Baseball, besides fireworks, parades and hotdogs belong to every Fourth of July celebration. The prominent reference to baseball emerges in his program note preceding the score of the third movement of his Holidays Symphony. Ives also includes a direct quotation from his song "Old Home Days." Ives' First Piano Sonata does contain a brief reference to baseball.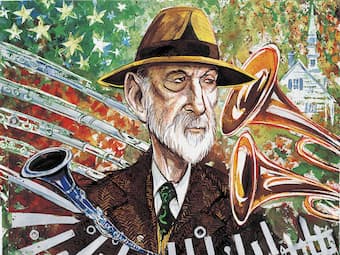 In the program to this work, Ives associated the music mostly with "outdoor life in Connecticut villages in the 80s and 90s—impressions, remembrances, and reflections of country farmers in Conn. farmland. On page 14 back, Fred's Daddy got so excited that he shouted when Fred hit a Home Run and the school won the baseball game." There doesn't seem to be an obvious musical depiction of Fred's home run or his father's excited reaction, however. Rather, Ives once again transforms an event and its emotions—conjured from the nostalgic memories of his childhood—into musical terms.
For more of the best in classical music, sign up to our E-Newsletter
Charles Ives: Piano Sonata No. 1 (Joanna MacGregor, piano)