On 20 January 2014, Claudio Abbado died at the age of 80 after a long and severe illness in Bologna. One of the greatest conductors of his time, he led La Scala, the Vienna and Berlin Philharmonics, and the Lucerne Festival Orchestra to new heights. Abbado had a special gift described as "a sense of absolute pulse, an unerring sense of the right and natural tempo relations in a piece that could give shape and meaning even to the most seemingly amorphous of works, and within that a supple life to the individual musical phrases that no contemporary has equaled."
Shy and unassuming, Abbado spoke very little in rehearsal. A critic wrote "… he basically doesn't say anything in rehearsals, and speaks so quietly, because he's so shy, so people can get bored. But it works because everyone knows the performances are so great. I've never known anybody more compelling. He's the most natural conductor in the world. Some conductors need to verbally articulate what they want through words, but Claudio just shows it, just does it." Abbado loathed the dictatorial approach he witnessed in Toscanini, and he communicated with his players in an atmosphere of comforting and emotional bravery. As a critic wrote, "Abbado's concert weren't mere performances of pieces of music, they were transformative existential journeys."
Abbado: Schubert "Unfinished"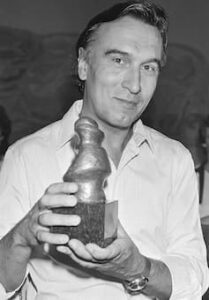 Born in Milan on 26 June 1933, Claudio was the son of the violinist and teacher Michelangelo Abbado. His father worked as a professional violinist and a professor at the Giuseppe Verdi Conservatory, and he was his first piano teacher. Music was in the family DNA as his mother, Maria Carmela Savagnone, was a capable pianist, and his brother Marcello became a concert pianist, composer, and teacher at the Rossini Conservatory in Pesaro. Claudio didn't really aim to become a conductor, but seeing rehearsals with Furtwängler and Toscanini in Milan changed his mind. He graduated from the Milan Conservatory in 1955, and a fellow student, Zubin Mehta, recommended study in Vienna with Hans Swarowsky. Abbado won the Koussevitzky Competition in 1958, and made his operatic debut with Prokofiev's The Love for Three Oranges in Trieste in the same year. He made his La Scala debut in 1960, and received the Mitropoulos Prize in 1963. For five months, he worked with the New York Philharmonic as an assistant conductor to Bernstein, and he made his first appearance at the Salzburg Festival in 1965 in Giacomo Manoni's Atomtod. In fact, during this period of his career Abbado's was primarily known as a 20th-century music specialist.
Abbado/Argerich: Ravel Piano Concerto in G
In 1969, Abbado was appointed principal conductor at La Scala, and he became the company's music director in 1972. He substantially expanded the standard opera repertoire by presenting contemporary operas, including works by Dallapiccola and Nono. Abbado made his debut at the Vienna Staatsopera in 1984, and took over the musical directorship two years later. After spending time with the LSO and the Chicago Symphony Orchestra, Abbado succeeded Karajan as chief conductor of the Berlin Philharmonic. "During his years in that post he effectively sustained the orchestra's high standards while introducing considerably more 20th-century music into its programs." His primary concern was to develop a leaner, more transparent orchestral sonority, in contrast to Karajan's opulence. Abbado paid special attention to the works of young musicians, and he founded a number of new orchestras with younger musicians at their core. These included the European Community Youth Orchestra later the European Union Youth Orchestra in 1978, and the Gustav Mahler Jugendorchester in 1988. In turn, musicians from these respected youth orchestras founded spinoff orchestras, the Chamber Orchestra of Europe and the Mahler Chamber Orchestra, respectively.
Abbado: Berg "Wozzeck" Act 1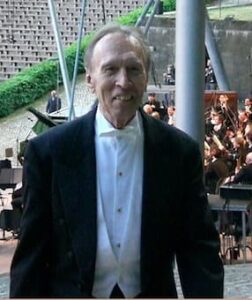 Following his diagnosis and surgery for stomach cancer, Abbado founded the Lucerne Festival Orchestra, with whom he gave the last unforgettable concerts of his life. This hand-picked ensemble of some of the greatest chamber musicians, orchestral players and soloists in the world performed with the subtlety, freedom, and intensity of chamber music, "revealing new light on the music from within." Throughout his career, Abbado was looking to enter into a dialogue with the musicians, and the "most important thing," he explained, "is to listen to each other…Musicians should not listen to him, but to the music…Many people learn how to talk, but they don't learn how to listen. Listening to one another is an important thing in life, and music tells us how to do that." His anti-authoritarian stance extended to politics as well, and he was an outspoken critic of then Italian Prime Minister Silvio Berlusconi, whom "he deemed politically ignorant." He even read a manifesto against government cultural policies on Italian television, championing the ideas that "culture overcomes social inequities, and it frees us from poverty." Abbado credited "music for helping him to overcome his illness," and his vast and powerful musical legacy provides ample testament of his finely and emotionally crafted musical expressions.
For more of the best in classical music, sign up to our E-Newsletter
Abbado: Mahler 5