Following my article about Schubert's Drei Klavierstucke, here is another piano work which I feel is unfairly overlooked and rarely performed, perhaps simply because of its brevity and apparent simplicity.
Yet Schubert packs an expressive punch and offers the pianist much food for thought in the space of less than 100 bars. And just as in the Impromptus and the Drei Klavierstucke, here we are given the full range of Schubert's musical and emotional landscape.
Written for Ferdinand Walcher, a lawyer and amateur singer, and a friend of the composer, the Allegretto in C minor was composed in 1827, the same year as the Impromptus and the great song cycle Winterreise. The work was not published until 1870.
It shares the same ternary form (ABA) structure as most of the Impromptus; the outer, A, sections are based on fragments of C minor, E-flat major and C major arpeggios, cast in 4-bar phrases, with varied dynamics to match the rise and fall of the music and to emphasise expression, ranging from piano to accented fortissimo notes at bar 15. Schubert uses rests and pauses to add to drama to two pairs of accented, unexpectedly dissonant chords before the opening figure is heard again, but now in C major. The 6/8 time signature and flowing arpeggios suggest a barcarolle.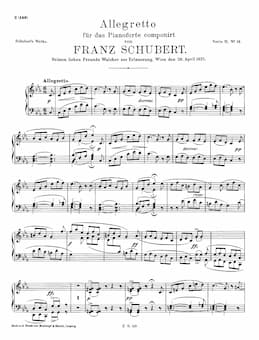 The work opens with a melancholy unison statement in C minor, a device which appears elsewhere in Schubert's piano music, for example, in the Sonata in C, D.840, and the Sonata in A minor, D.784. The tonalities switch between the minor and major, and, as is often the way in Schubert, the brief major interludes seem freighted with even greater poignancy than the minor sections.
The middle section is a complete contrast to what has gone before. A trio in warm A-flat major, it is cast in a series of sighing chords, whose dynamic range barely rises above pianissimo. The warmth and intimacy of this section make the return of the A section seem all the more desolate, the music closing in a series of hushed, pianissimo chords ending in solemn C minor.
Here is British pianist Paul Lewis, who I think really captures the work's desolate character:
For more of the best in classical music, sign up to our E-Newsletter
Franz Schubert: Allegretto in C Minor, D. 915 (Paul Lewis, piano)