Born on 20 December 1950 in the colonial town of Álamos deep in the Sonoran desert, Arturo Márquez has "always been enthralled by the music bubbling out of cafes and dance salons in Mexico." That love for the musical forms and styles of his native Mexico was passed on to him by his father, Arturo Márquez Sr. The first born of nine children of Arturo Márquez and Aurora Navarro, young Arturo greatly admired the many musical talents of his father. Márquez Sr. was a carpenter who played the violin, and he was a mariachi musician in Mexico and later Los Angeles. Music had clearly been in the family DNA, as his paternal grandfather was a Mexican folk musician in the Northern states of Sonora and Chihuahua. As part of a mariachi group, Marques Sr. introduced his son to a variety of traditional music, including rancheras, corridos, cumbias, boleros, sones, huapangos, jarabes, danzones, joropos, pasodobles, marches, waltzes, polkas and ballads. Together with Mexican salon and dance music, these musical influences provided much of the foundations for the later compositions of Márquez Junior.
Arturo Márquez: Danzón No. 2
When the Márquez family moved to La Puente, a suburb of Los Angeles, California in 1962, Arturo studied violin and several other instruments in junior high school. He also composed his first pieces, and remembers that his "adolescence was spent listening to Javier Solis, sounds of mariachi, the Beatles, Doors, Carlos Santana and Chopin." He returned to Sonora at the age of 17 and continued to privately study the piano, the violin, and the trombone. Márquez was named director of the Municipal Band in Navojoa, and by 1970 he had entered the Conservatorio Nacional. He initially studied piano and music theory, and subsequently composition with Federico Ibarra, Joaquín Gutiérrez Heras, and Héctor Quintana. Expanding his musical horizons, Márquez received a scholarship from the French Government and departed for Paris to privately study with Jacques Castérède. After his studies in France he was awarded the prestigious Fulbright Scholarship and studied with Morton Subotnick, Stephen Mosko, Mel Powell, and James Newton at the California Institute of the Arts in Valencia, California.
Arturo Márquez: Zarabandeo (Virginia Figueiredo, clarinet; Lorenzo Sánchez, piano)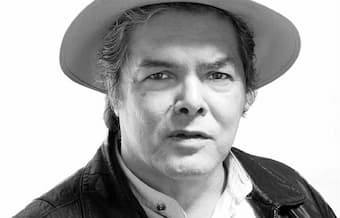 Márquez was virtually unknown outside his native Mexico until the early 1990s. At that time he was introduced to the world of Latin ballroom dancing, which led him to compose a series of pulsating "Danzones." That particular dance is the official musical genre and dance of Cuba, and an active musical form in Puerto Rico and Mexico. It is a slow and formal partner dance, "requiring set footwork around syncopated beats, and incorporating elegant pauses while the couples stand listening to virtuoso instrumental passages, as characteristically played by a charanga or típica ensemble." Danzones "are a fusion of dance music from Cuba and the Veracruz region of Mexico," and Márquez thrilled his audiences with its entrancing and seductive rhythms. His Danzón No. 2 was commissioned by the National Autonomous University of Mexico, and because of its popularity, "it is often called the second national anthem of Mexico." In fact, Márquez composed a series of "Danzones," which are increasingly being used for ballet productions throughout the world. Márquez is a popular composer among the Latin American public and is widely recognized as one of the most important Mexican composers of his generation.
Arturo Márquez: Danzón No. 4 (Camerata de las Americas; Duane Cochran, piano; Joel Sachs, cond.)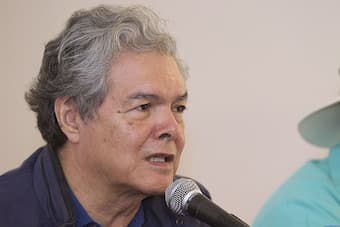 The music of Arturo Márquez is "characterized by a steady exploration of medium and language. This is particularly evident from his numerous interdisciplinary works—theatre, dance, cinema, and photography, as well as in his search for new sounds." However, his music is most accessible within 20th-century popular urban music, with "rhythms and melodic phrases incorporated into conventional musical argument." And that is certainly the case with his violin concerto "Fandango," premiered during this current global pandemic by Anne Akiko Meyers. In fact, it was Meyers who proposed this project to Márquez. The composer writes, "the proposal interested and fascinated me from that very moment, not only because of Maestra Meyers' emotional aesthetic proposal, but also because of my admiration for her musicality, virtuosity and, above all, for her courage in proposing a concerto so out of the ordinary. I had already tried, unsuccessfully, to compose a violin concerto some 20 years earlier with ideas that were based on the Mexican Fandango, music I have known since I was a child." In turn, Meyers "cannot think of another violin concerto like it…with its color, the Spanish themes, the Mexican hymns, the mariachi-inspired phrasing… It's joyous, and it's faster than heck."
For more of the best in classical music, sign up to our E-Newsletter
Arturo Márquez: Fandango