The Czech composer Bedřich Smetana (1824-1884) wrote his comic opera The Bartered Bride between 1863 to 1866 about the hard path true love takes to thwart ambitious parents and a marriage broker. Mařenka is to be married to the son of wealthy landowner Tobias Micha, but he's a simpleton. Mařenka is in love with Jeník, about whose background she knows nothing. Jeník does a deal with the marriage broker that Mařenka will only marry a son of Micha. In the usual operatic turn of chance, that happens to be Jeník, Micha's long-lost son. Micha's simpleton son is much happier playing a performing bear at the circus.
The opera was not successful in its first outing in 1866 at the Provisional Theatre in Prague and went through four years of revisions. Finally, in its 1870 premiere, it found its audience and became a world-wide success. This was the first Czech opera that made a hit on the international stage. Smetana was trying to create a true Czech operatic style and he did it through the use of dance forms, such as the polka and furiant, rather than through quotation of folk songs. Even though Smetana doesn't use folk melodies, his opera is considered to be thoroughly Czech in spirit. The work was performed in Vienna in 1892, in Chicago in 1903, and New York in 1909 and was, for many years, the only Czech opera in the established repertoire.
The overture is sparkling invitation to the chaos of finding the right husband for Mařenka. Confused by the real identity of Jeník, she agrees to marry him, doesn't agree to marry him, and goes back and forth until his true identity is revealed. Vašek's appearance in the bear costume convinces his parents that he is, in fact, not old enough to be married at all and they take him home again.
Bedřich Smetana: La Fiancée vendue Overture (Orchestre National de la Radio-Télévision Française; Rafael Kubelík, cond.)

In this radio broadcast from February 1955, the Orchestre National de la Radio-Télévision Française is led by conductor Rafael Kubelík. Kubelík was the son of the violinist Jan Kubelík and made his debut with the Czech Philharmonic in 1933. He left for Britain in 1948 and became a Swiss citizen in 1967. Kubelík was music director of the Chicago Symphony Orchestra from 1950 to 1953, musical director of The Royal Opera, Covent Garden from 1955 to 1958, and music director of the Bavarian Radio Symphony Orchestra from 1961 to 1979 and was a frequent guest conductor for orchestras in Europe and America.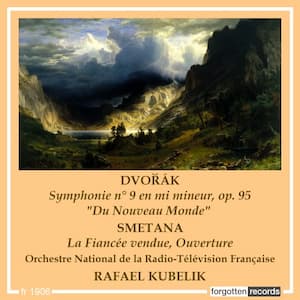 Performed by

Orchestre National de la Radio-Télévision Française
Rafael Kubelík

Recorded in 1955

Official Website
For more of the best in classical music, sign up to our E-Newsletter