While Giuseppe Verdi was basking in the tremendous success he enjoyed with Rigoletto in March 1851, he was also looking for a subject for his next opera. His lover Giuseppina Strepponi had recently translated a play by García Gutiérrez titled "El trovatore," and Verdi suggested to his librettist Salvadore Cammarano, "that the drama might be a suitable sequel to Rigoletto."
The gypsy girl Azucena, an unconventional female character stood at the center of the action, and like the character Rigoletto, "was to be fired by two opposing passions: filial love and a desire for vengeance." Verdi was also looking to further develop the formal freedoms experimented with in parts of Rigoletto. As he writes to Cammarano, "As for the distribution of the pieces, let me tell you that when I'm presented with poetry to be set to music, any form, any distribution is good, and I'm all the happier if they are new and bizarre. If in operas there were no more cavatinas, duets, trios, choruses, finales, etc., etc., and if the entire opera were, let's say, a single piece, I would find it more reasonable and just."
Giuseppe Verdi: Il Trovatore, "Anvil Chorus"
Verdi was full of revolutionary statements in his writings, but rather frequently, practical matters overrode such fiery concern. For all intents and purposes, Cammarano drafted a libretto along conventional lines, and "Verdi made little objection." Il Trovatore is a story of witchcraft, murder, and vengeance described as "a high flown, sprawling melodrama flamboyantly defiant of the Aristotelian unities, packed with all manner of fantastic and bizarre incidents."
Synopsis
Set in the Spanish regions of Biscay and Aragon in the 15th century, the plot opens with Ferrando, the captain of the guards telling the story of a mother burned at the stake for suspected witchcraft. She is avenged by her daughter, Azucena, who throws the child of the executioner into the fire. The child's father is obsessed with vengeance and forces his surviving son to devote his life to avenging his brother's death. Once grown, Count di Luna is possessed by this need for revenge.
Giuseppe Verdi: Il Trovatore, "Stride la vampa"
Azucena sees the tragic event repeating in every waking moment, in the flicker of the fire, and in the shape of shadows. But only she knows the truth. Possessed by a dark force at that moment, the child she threw into the flame was her own. She raises Count di Luna's brother as her own child, calling him Manrico. Constantly haunted by her mother's dying words 'mi vendica' (avenge me), Azucena sets in motion a series of events which lead to Manrico's death.
Meanwhile, Leonora finds herself in the middle of this cross-generational family feud. She has fallen in love with a mysterious troubadour who sings of his love at her window and thus rejects the advances of Count di Luna. Manrico and di Luna are destined to oppose each other, first as leaders of opposing factions in the war, and now in the pursuit of Leonora's heart. Not until the final blow is struck and Manrico dies at di Luna's order does Azucena reveal that his rival was his brother. Her mother is avenged.
Giuseppe Verdi: Il Trovatore, "Tacea la note placida"
The Performance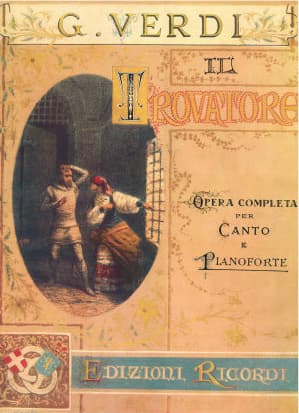 Il Trovatore premiered on 19 January 1853 at the Teatro Apollo in Rome. The work was immensely popular, albeit a popular success rather than a critical one. To be sure, it is one of the world's most frequently performed operas, and scholars recognize the expressive musical quality of Verdi's writing. "Time and time again," writes Roger Parker, "we find a relentless rhythmic propulsion in the accompaniment, and a tendency for the melodic lines to be forced into a restrictive compass, freeing themselves rarely but with consequent explosive power." While the extreme formalism of the musical language had been long maligned, it is now seen "as serving to concentrate and define the various stages of the drama." Recent scholarship considers the libretto, with its immovable character types and unrealistic stage action, the work's great strengths, "its economy of dramatic means and immediacy of language forming the perfect basis on which to build Verdian musical drama." A common saying holds that Il Trovatore "requires four of the world's best singers to be successful." While almost certainly an oversimplification, Verdi did explore the complexity of the characters through his music and in the process dramatically advanced the limitations of the libretto.
For more of the best in classical music, sign up to our E-Newsletter
Giuseppe Verdi: Il Trovatore, "Di quella pira"