Neville Marriner is perhaps the most recorded of all classical conductors. In fact, his legacy includes more than 600 recording of 2,000+ works, including the soundtrack to the 1984 hit film "Amadeus" that sold more than 6.5 million copies and introduced countless listeners to the music of Mozart. Marriner's name is inseparably linked with the Academy of St Martin in the Fields, a chamber orchestra that took its name from the Trafalgar Square church where it first performed. Born on 15 April 1924 in Lincoln, Marriner received his first instructions on the violin from his father before being admitted to the Royal College of Music in London at the age of 13, where he studied violin, composition, and piano. After graduating in 1946 he went on to study with René Benedetti at the Paris Conservatory. Called up during the war, Marriner served in the Royal Navy, running motorboat raids in to France before receiving his discharge papers for kidney damage.
Wolfgang Amadeus Mozart: Horn Concerto No. 3 in E-Flat Major, K. 447 (Barry Tuckwell, horn; Academy of St. Martin in the Fields Orchestra; Neville Marriner, cond.)


Marriner was hired to teach at Eton College in 1948, but one year later joined the Royal Academy of Music as a professor. During his early career as a violinist, he played with a number of small ensembles, including the Jacobean Ensemble, where he performed with the early-music specialist Thurston Dart. Early music specialists forcefully advocated a return to period instrument and style, and at the same time, Marriner was disenchanted with the massive and mushy sound produced by the major orchestras. As such, he early on advocated smaller and more agile groups of instrumentalists performing the music of Mozart, Bach, and Handel on modern instruments. Marriner performed as a violinist in the London Philharmonic Orchestra for four years from 1952, then in 1956 was appointed principal second violin with the London Symphony Orchestra. Frustrated by the complacent attitude of the LSO strings, Marriner formed a chamber ensemble with a group of friends in 1959. Marriner took over the lead violin, and the Academy of St Marin in the Fields was born.
Johann Sebastian Bach: Concerto for 2 Violins in D Minor, BWV 1043 (Henryk Szeryng, violin; Maurice Hasson, violin; Academy of St. Martin in the Fields Orchestra; Neville Marriner, cond.)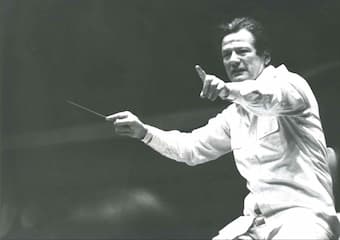 Louise Dyer, the managing director of the newly founded L'Oiseau Lyre record label attended the first concert and signed them on the spot. When she died the following year, Marriner and the Academy transferred over to Decca's Argo imprint where many of the famous recordings of the LP era were made. What followed was a long line of recordings covering "ice-cream composers," such as Corelli, Torelli, and Albicastro. In addition, the Academy's fresh, technically brilliant interpretations of Vivaldi, Mozart and Haydn won enthusiastic reviews and invitations from around the world. Marriner was described as the ideal recording artist, first leading from the violin, and later as conductor. Marriner explained in an interview, "instrumentalists are often miserable. That's because they are always guilty. They feel they should be practising more. And unless you are absolutely fluent, you are going to be frustrated." He could have been talking about himself, as he believed that "becoming a conductor had allowed him to overcome his own shortcomings as a violinist."
Wolfgang Amadeus Mozart: Serenade No. 13 in G Major, K. 525, "Eine kleine Nachtmusik" (Academy of St. Martin in the Fields Orchestra; Neville Marriner, cond.)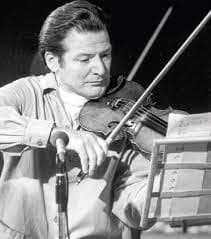 He famously wrote, "as a violinist I was like an actor with a speech impediment. Being a conductor allowed me to harness the talents of an entire orchestra. The conductor only has to worry about the music, and he uses the orchestra as an instrument to be tuned." Marriner began his conducting career in 1969 after studying in the US. He was the first Music Director of the Los Angeles Chamber Orchestra, where his success led to offers to conduct many other major American orchestras. At the same time, he expanded the Academy, boosting its ranks from 45 to 70. As he had "sprung up through the orchestra as one of the team, Marriner always "remained unpretentious and self-deprecating as a conductor."
Transforming the classical music scene, Marriner did not rely on subsidies or Arts Council grants. Early on he wanted to take the ensemble to Buenos Aires but was turned down by John Cruft, "a very bad oboe player who became the boss of the British Council and later the Arts Council." As such, the Academy relied on income from recordings. Marriner was "miffed about being turned down, and also bloody-minded." Marriner always treated his players as family. Although they were selected for their musicianship, "the most important test was one of character."
For more of the best in classical music, sign up to our E-Newsletter
Neville Marriner/Academy of St Martin in the Fields: Beethoven Symphony No. 7