There can be no denying the fact that Lang Lang is China's first crossover classical superstar pianist. He has conquered the classical world with dazzling technique and charisma, "displaying flair and great communicative power." He has played for presidents, on the Great Wall of China, at Buckingham Palace and in the White House. He performed to 2 billion television viewers during the 2008 Olympics in Beijing, played at the Grammys, and featured in Time magazine's list of 100 most influential people. Lang Lang has transcended the image of the classical pianist by becoming a cultural icon; he has become a superstar on the Classical music stage, with the popularity and charisma of many leading rock musicians. Make no mistakes, his performance style was and still is controversial. Audiences generally adore him, and cultural and musical cheerleaders assert that he "is evangelical in his efforts to spread the popularity of classical music." Commentators and critics tend to be slightly more cautious, but the fact is that Lang Lang has become one of those artists whose career prospers outside the boundaries of critical approval.
Lang Lang Plays at Altitude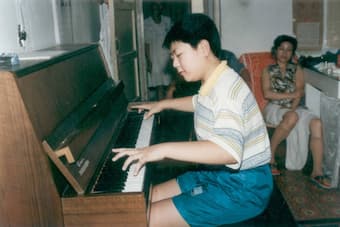 Lang Lang was born in Shenyang, Liaoning on 14 June 1982. His father Lang Guoren is a musician, playing the erhu. Lang Lang started taking piano lessons at age 3 after hearing a passage of one of the Liszt's Hungarian Rhapsodies in a Tom and Jerry cartoon. By age 5, he won a local competition and aged nine, together with his father, he moved to Beijing in hopes of gaining entry to the Central Conservatory of Music. They lived in an unheated one-bedroom flat sharing a single bed. Financially supported by his mother's telephone-operator salary, the room was an hour's bicycle ride from the school, and the pair made endless trips for lessons with a pre-admission teacher who had nothing good to say about Lang Lang's playing. When this teacher finally rejected Lang Lang, his father ordered him to jump off the balcony or take an overdose of pills. Instead, Lang Lang tried to destroy his hands by punching the walls, screaming, "I hate my hands. I hate you. I hate the piano." Though restrained by his father, he refused to touch the piano for weeks.
Lang Lang Plays Chopin's Waltz No. 1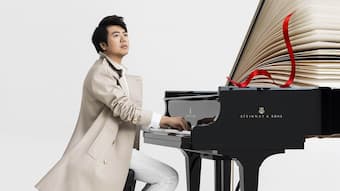 While some people, including this writer, are appaled by the psychological abuse inflicted on the boy over a long period of time, Lang Guoren compares himself to typical parents of musical children in China. "I am the same as other," he writes, "I cannot predict the future, but I can only work hard all the time… I understood that Lang Lang was not an ordinary child. Without some of the more extreme ways of his upbringing, Lang Lang might not be the superstar he is now." Lang Guoren continued his "uber-dominance" after Lang Lang entered the Curtis Institute of music. "He attended all of his son's lessons, and coached him on his increasingly bizarre stage mannerism."
Lang Lang called his father "a tyrant," and they didn't speak for a long time. We are told that the "phenomenon of an older generation passing on unfulfilled dreams to the next generation is not applicable to this particular father and son relationship. "High expectations for a child to contribute to the country and society are part of traditional Chinese culture." Lang Lang now contents that "both he and his father have changed over the years, though he would educate his children differently from his father." Meanwhile, Lang Guoren is convinced that each parent has his own way of educating a child, and he "does not mind if he is misunderstood by the public."
Lang Lang and Gina Alice Play Brahms' Hungarian Dance No. 5
Lang Lang won first prize in the International Tchaikovsky Competition for Young Musicians in Japan at 13, and at 15 began studies at the Curtis Institute of Music in Philadelphia under Gary Graffman. Substituting for the injured Andre Watts, Lang Lang stepped into the limelight at the famous Ravinia Festival at age 17, and in 2001 he made his Carnegie Hall debut. Since then he has gone on to perform and record with all the world's great orchestras and conductors. He has shattered cultural and musical barriers, and loves to collaborate with everyone including jazz legend Herbie Hancock, and tenor sensation Jonas Kaufmann. In addition, he pays homage to historic greats such as Vladimir Horowitz and Arthur Rubinstein, and contemporary mentors like Barenboim and the late Nikolaus Harnoncourt.
Offstage, Lang Lang devotes considerable time to fostering international music education and building music schools in China through his foundation. "I really want to give every child in the world the chance to study music," he says. As such, it is no accident that the so-called Lang Lang effect has inspired 40 million Chinese children to start playing the piano." Lang Lang married German-Korean pianist Gina Alice Redlinger in Paris, France, in June 2019, and sadly, he has been sidelined by a persistent injury to his left hand.
For more of the best in classical music, sign up to our E-Newsletter
Lang Lang Plays Liszt's Piano Concerto No. 1