Marguerite Long is rightfully considered one of the most important French pianists of the 20th century. Her career, which included a long professorship at the Paris Conservatoire, was guided by her burning desire to discover French contemporary music. Her marriage to the eminent musicologist Joseph de Marliave brought her in touch with the composers of her time, and "Fauré, Debussy, and Ravel occupied a central place in her personal, musical, and artistic development."
Marguerite shared an intimate friendship with Fauré during her first blossoming and the time of her marriage to Marliave. After she lost her husband in WWI, Long collaborated with Debussy and gained the reputation of being the "one whose playing most closely expressed the composer's aesthetic ideals." She reached the summit of her performing career in the 1930s when Ravel specifically composed and dedicated his G major concerto to her. Composer and interpreter subsequently took the work on the road and introduced it to audiences throughout Europe.
Marguerite Long Plays Ravel's Piano Concerto in G
Marguerite Long was born on 13 November 1874 in the old Roman town of Nîmes, in the south of France. Her father Pierre Long worked for the railroad, but her mother Anne Marie Antoinette had a distinct appreciation for music. However, it was her sister Claire, eight years older, who greatly influenced her pursuit of music.
Clair Long was a fantastic pianist, who had studied with Amédée Mager, himself a student at the Paris Conservatoire under Antoine Marmontel. In fact, Claire was appointed Professor of Piano at the Nîmes Conservatory at the tender age of seventeen. Claire was Marguerite's first piano teacher, and she remembers it fondly. "I owe her everything, my sister whose piano was my first piano and whose sensitive and knowledgeable fingers guided the fingers of her baby sister… She was my first teacher, and probably the best and most loving of all my mentors." Claire would also take her sister to concerts around town, and when Marguerite was eight years old she heard an orchestra perform for the very first time. The performance made a profound impression on her, and she credits this particular occasion with her desire to perform on stage. Marguerite got her wish, as she gave her first public performance at the age of eleven, performing Mozart's D minor Concerto with an orchestra in 1886.
Marguerite Long Plays Fauré's Impromptu No. 2 in F minor, Op. 31
Marguerite's debut was the talk of the town, and news of the young musical prodigy traveled as far as Paris. Théodore Dubois, composer and National Inspector of Conservatories personally visited the Long Family to encourage Marguerite to pursue her musical career in Paris. Her parents were terrified that their twelve-year-old daughter should go to Paris, and the idea was rejected. Dubois returned to Nîmes one year later, and having witnessed the extraordinary progress Marguerite had made, he once again approached her parents.
Apparently, he forcefully announced, "Madam, one does not have the right to leave this child in Nîmes. She will be a great pianist." Finally convinced, it was decided that Marguerite would travel to Paris with her father, who would deposit her with relatives in a convent. Their first attempt proved fruitless, as the Conservatoire canceled the entrance examination in 1888. After another year in Nîmes, Marguerite finally entered the preparatory course at the Paris Conservatoire at age 13 and earned her first commendation at the end of her first year.
Claude Debussy: 2 Arabesques (Marguerite Long, piano)

The composer Henri Büsser remembered, "It was 1890 that I met Marguerite Long… she was already a precocious musical genius. I had written a piece for the end-of-year sight-reading competition for Sophie Muller's class. Marguerite was the only one who read the piece without one mistake… and I asked her permission to hug her."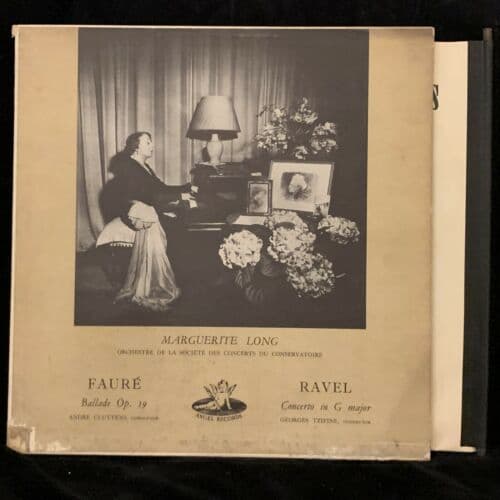 Marguerite took lessons with Henri Fissot, and she credited him for "teaching her at a young age to listen for good sound quality." She won her Premiere Prix on 24 July 1891, having received the highest honors at the Paris Conservatoire in only two years. She was now sixteen, and predictably confused. Her years at the Conservatoire had gone by too fast, and "she suddenly realized that playing the piano was to be her whole life and that she wanted to be a great pianist." As her biographer writes, "She realized that the hard work had not even begun, and while she had officially graduated, she felt she did not know anything and that she was now on her own." She was fortunate that an old teacher introduced her to Madame Garnier-Gentilhomme, who ran one of the most coveted private schools in Paris. Marguerite remembers, "She was a remarkable woman, a highly cultured lady with a powerful organizational talent, and she was for me a marvelous role model." Marguerite lived in the Garnier-Gentilhomme home for seven years, which served as her introduction to the Parisian milieu of artists, intellectuals, and politicians. And she continued to practice and took private lessons, and she gave her recital debut on 2 March 1893. A critic wrote, "The young virtuoso, first prize at the Paris Conservatoire deployed all the resources of her quite extraordinary talent. Her success was prodigious and she had a long-standing ovation."
For more of the best in classical music, sign up to our E-Newsletter
Marguerite Long Plays Chopin's Scherzo No. 2, Op. 31 in B-flat minor