This atmospheric piece for solo piano, whose Afrikaans subtitle 'Wind oor die Branders' translates as Wind over the Waves, is by Richard Pantcheff, a British composer, born in 1959. It comes from 'Nocturnus', a suite of six pieces written for different instruments; the final work in the suite is '4th December 1976', written in memory of Benjamin Britten on the fortieth anniversary of his death. Pantcheff was mentored in composition by Benjamin Britten in the last years of Britten's life, and his music displays a distinct affinity with Britten's soundworld, as well as earlier English composers, including Vaughan Williams, Herbert Howells, Gerald Finzi and Elizabeth Lutyens.
A prolific composer of choral, organ, chamber and instrumental works, Richard Pantcheff was trained in choral music and composition from an early age, initially as a chorister at Ripon Cathedral, and studied music at Christ Church, Oxford, under Simon Preston and Francis Grier. His music has been widely performed and praised for its originality and technical brilliance, combined with intellectual and emotional depth.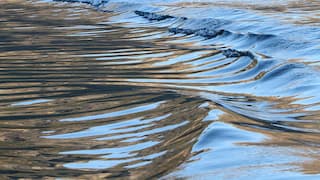 I discovered this piece through 'De Profundis Clamavi', a recent CD by British pianist, and friend of mine, Duncan Honeybourne. Duncan is a keen advocate of English music and composers, and a champion of lesser-known repertoire, and his recording on which 'Nocturnus V' appears (together with Pantcheff's substantial Piano Sonata, which is dedicated to Duncan Honeybourne) contains no less than eight world premiere recordings.
Richard Pantcheff: Nocturnus V
The piece is minimalist in style and its title 'Nocturnus' obviously suggests a Nocturne or night piece. While this work makes stylistic reference to Chopin's Nocturnes in its flowing accompaniment (almost continuous semiquavers to suggest both waves and wind), it is closer to Britten's 'Night Piece' (which also appears on 'De Profundis Clamavi') and 'Night' from Holiday Diary in its atmosphere, harmonic language and some of its textures. But while the middle section of Britten's 'Night Piece' is unsettled, full of curious nocturnal twitterings and scurrying, Pantcheff exchanges the fluid semiquavers for a rising chordal figure in triplets which climaxes in fortississimo (fff) chords high up in the piano's register. The effect is hymnlike and joyful. The music then subsides and pauses, before the semiquaver 'waves' return, now in the bass, with soft, piquant chords in the treble.
For more of the best in classical music, sign up to our E-Newsletter
Benjamin Britten: Night Piece (Notturno) (Stephen Hough, piano)

Benjamin Britten: Holiday Diary, Op. 5 – IV. Night (Stephen Hough, piano)