Best-Known Chopin Music: Nocturnes for the Piano
At age 20, Frédéric Chopin composed one of his best-known nocturnes for the piano, the iconic Chopin music. Nocturnes were brief piano works that were inspired by the night. It was Chopin who brought them to their Romantic fruition as a single-movement character piece for the piano. When it was transcribed for other instruments, the violinists brought nocturnes to their romantic highlight. In the hands of a virtuoso violinist, the true emotions of the work come through. And, as arranged by a violinist such as Sarasate or Heifetz, it became a work of increasing sophistication, with each section becoming more and more ornamented.
Chopin's three Op. 9 Nocturnes were written between 1830 and 1832 and have a dedication to the French /Belgian pianist Marie Moke-Pleyel, a young virtuoso who had first played in public at age 8. Marie was engaged to Berlioz for a time in 1830 before marrying Camille Pleyel, son and heir of the Austrian/French composer and piano-maker Ignace Pleyel. She was one of the most admired pianists of the 1830s and was considered by the French critic Fétis as the height of perfection.
The Nocturne in E flat major, Op. 9, No. 2, was written when Chopin was 20. The work has become one of the most famous Chopin music today. It is in a repeating form and Chopin uses those repeats to elaborate the melodies more each time. After the repeats of the A and B melodies (A, A, B, A, B, A), always returning to the first melody, he closes the work with a coda that has a new melody, C.
When Gaspar Cassadó took the work to the cello for this 1951 recording, we have all the advantages of the violin, but with a larger and darker sound. In the virtuoso sections, Cassadó brings a light touch and a silvery smooth flow. He's able to do moves that cannot be done on the piano, such as the elaborate slides up and down the fretboard that appear in the more decorated versions. The extended trill in the C section shows the virtuosic potential of the cello.
Chopin: Nocturne in E-flat major, Op. 9, No. 2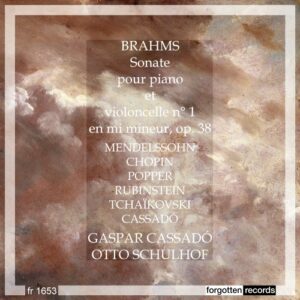 Performed by
Gaspar Cassadó
Otto Schulhof

Recorded in 1951

Official Website