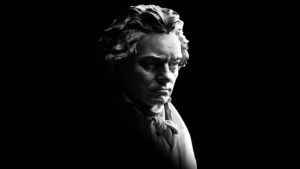 I can't remember how old I was when I first encountered the music of Ludwig van Beethoven, but I probably first heard his music on the record player in my paternal grandfather's front room, a space which was used only on Sundays and special occasions. It was here that my grandfather had an upright piano which gave me my first contact with the instrument, which was to become so significant to me. My grandfather loved Beethoven's music and I admired the old radical's indomitable spirit and humanity. He would play snippets of Beethoven on the piano (along with Methodist hymns) and later, when I was having piano lessons, he would encourage me to play Beethoven's music as well. In the piano stool, I found old volumes of the Sonatinas, Bagatelles and Sonatas, their pages speckled and friable with age, and I would set the music on the stand and sight-read my way through swathes of notes, my grandfather encouraging me from his armchair.
For most young piano students, our first contact with Beethoven is through his short works, initially little marches and minuets; then the Sonatinas, which contain in microcosm so much of his distinctive writing for piano and provide a wonderful stepping stone to the easier piano sonatas. Für Elise is always a popular choice for piano students, though I never really studied it seriously myself, and it's not nearly as easy as it may appear! I learnt the pair of Op. 49 piano sonatas (in G minor and G major respectively) when I was about 10, and then, in my teens, in preparation for my Grade 8 exam, the pre-cursor to the Pathétique, the sonata No. 5 in C minor. I think it was this work, along with the Archduke Trio (Op. 97), which I studied for music A-level, which really drew me into Beethoven's world and fostered a deep fascination for his music, specifically his writing for piano, which remains to this day. Alongside this, I had discovered the piano concertos and for a while the fifth concerto – the mighty, emotionally-rich Emperor with that extraordinary oasis of calm in its middle movement – became my absolute favourite piece of music (as I've matured, the fourth concerto, in G major, has since become my favourite!).
Beethoven: Piano Trio No. 7 in B-Flat Major, Op. 97, "Archduke" – I. Allegro moderato (Trio con Brio Copenhagen)

So what is it about Beethoven which appealed to this rather precocious young piano student? I think, like my grandfather, I admired Beethoven's spirit, his energy and directness, his stubborn refusal to give up, the sense of him at once shaking his fist and railing at the world while also thoroughly embracing it with a humanity to which we can all relate, and also the sheer beauty of much of his writing, especially his transcendent slow movements. During my teens, I was obsessed with his piano music. But at the same time I was learning some of Schubert's piano music and obsessing about that, and long before I had a proper understanding of the distinctive musical landscape of these two composers, I found the contrasts, similarities and differences between them fascinating. Beethoven wore his heart on his sleeve while Schubert seemed introspective, intimate and solitary.
For the pianist, Beethoven's writing for the instrument is truly superb because of his deep understanding of the capabilities of the piano, and its ability, through dynamics, harmony, articulation, timbre and expression to transform into any texture or instrument he wishes it to be – string quartet textures, lyrical songlines, triumphant brass, haunting woodwind or orchestral tuttis; it's all here in Beethoven's piano writing and one senses his sheer delight in what the piano offers him. Because of this, the pianist needs a vivid imagination to bring these myriad textures and voices to life; technique alone is not sufficient.
Beethoven: Piano Sonata No. 31 in A-Flat Major, Op. 110 – I. Moderato cantabile molto espressivo (François-Frédéric Guy, piano)

He's also incredibly precise in his writing – think of the articulation in the opening measures of the Tempest sonata (op 31, no. 2), a frantic cascade of drop slurs which must be perfectly articulated to create an unsettling sense of urgency and worry – and woe betide the pianist who does not observe his carefully-placed directions, for every marking must to be understood in its context. He demands so much of us – a crescendo on a single note, for example, a physical impossibility for the pianist, yet a perfect example of "psychological dynamics", and when one understands this notion, the direction makes perfect sense. Yet despite his precision and clarity, he also leaves much open to one's own interpretation and personal vision: there is no "right way" in Beethoven (though certain critics, commentators, players, teachers, and other gatekeepers may insist otherwise!).
In the course of some 40 years of piano playing and concert-going, I have learnt a mere handful of his piano sonatas, but heard nearly all of them live in concert, either singly or in sonata cycles, performed by some of the greatest Beethoven interpreters of our time – John Lill, Maurizio Pollini, Daniel Barenboim, François-Frédéric Guy, Mitsuko Uchida, Murray Perahia, Stephen Hough, and most recently Igor Levit, each pianist bringing their own vision and personality to this great music. But there is one sonata which has eluded me as a player, the middle of the final triptych, the Opus 110 in A♭ major. It is my favourite piano sonata by Beethoven, or indeed anyone else, and this favouritism has undoubtedly affected my ability to learn this work, even though it is within my capabilities. It is too easy to place Beethoven and his music on a pedestal and this veneration can obscure one's ability to simply face the music as an equal in order to settle to learning it. This has been my problem with Opus 110. "One day you'll play it" a concert pianist friend assured me, and I'm certain he is right.
Beethoven: Symphony No. 7 in A Major, Op. 92 – IV. Allegro con brio (Swedish Chamber Orchestra; Thomas Dausgaard, cond.)