Founded by renowned violinist Gwendolyn Masin, The Exhale is a series of online holistic music masterclasses bringing together a faculty of world-class artists and practitioners. Created for professional musicians, string students who wish to pursue a professional career, players in search of professional development, and amateur musicians, The Exhale offers musicians a safe space to explore, pause and refresh; a place to begin an inner journey to understanding, without outward expectation.
Debussy: Beau soir (arr. J. Heifetz for violin and piano) (Gwendolyn Masin, violin; Simon Bucher, piano)

Gwendolyn Masin writes:
After a time during which we were flooded with music everywhere we went, the world is silent, our stages empty. This brings us to a moment of self-reflection. What is the function of music to you? How do you think it should sound? What would you like to listen to, and how? And when you play, would you like to play with a sense of ease?
Created for professional and amateur musicians alike, The Exhale offers a safe space to explore, pause and refresh
Beyond the discipline, professionalism and creativity that music-making demands, Gwendolyn Masin recognises the need for internal wellbeing, both emotional and physical. Her vision is a retreat for professional, student and amateur players alike, with exceptional music-making running alongside sessions for the mind and body.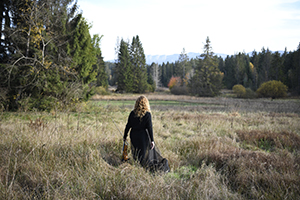 Originally scheduled to take place at Lake Biel in Switzerland from 13th April, like everything else The Exhale has been impacted by the global coronavirus crisis, but rather than cancel the event, Gwendolyn has moved it online. With an expanded faculty (currently numbering over twenty artists) and a repurposed curriculum, the course is even more comprehensive than before, with the added advantage of being accessible to a wider audience. The Exhale will provide much-needed support, advice and inspiration for musicians who may be without access to their regular teacher or who wish to gain insight and encouragement from a broader range of tutors and practitioners.
The curriculum is designed to guide participants along various journeys through music, movement, mental and physical wellbeing, and nutrition. World-class instrumental-teaching is intermingled with sessions on performance anxiety, how to practice, basics of breathing technique, self-care and resilience, creative enterprise, body mapping, yoga, nutrition, Alexander Technique, listening with your whole body, psychology, Feldenkrais, Dispokinesis, improvisation and meditation.
The Exhale brings together a faculty of over 20 tutors, many of whom are internationally-renowned musicians, including Gwendolyn Masin, cellists Ruth Phillips and Dale Culliford, violinists Franziska Huber, Pavlo Beznosiuk and Jennifer Johnson (author of What Every Violinist Needs to Know About the Body), Yoga teacher Clare Nicholls, violist and Alexander Technique practitioner Matthew Jones, and psychotherapists Emma Black and Dana Fonteneau.
The Exhale runs from 27 April to 10 May. Participant fees are by donation/"pay what you can" basis, and The Exhale will be giving a portion of its participant donations to selected charities.
Bartók: Román népi táncok (Romanian Folk Dances), BB 68 (arr. G. Masin for chamber ensemble) – No. 1. Jocul cu bâtă (Stick Dance)