Leopold Mozart writes to his wife from Rome, "We arrive here safely on the 11th at noon. I could have been more easily persuaded to return to Salzburg than to proceed to Rome, for we had to travel for five days in the most horrible rains and cold wind…Picture to yourself a more or less uncultivated country and the most horrible, filthy inns, where we got nothing to eat save here and there eggs and broccoli…We made our way to the Cardinal's table. Cardinal Pallavicini, made a sign to Wolfgang and said, "Will you be so good as to tell me in confidence who you are? And Wolfgang told him. The Cardinal showed the greatest astonishment and said, "Ah, you are the famous boy, about whom so many things have been written to me."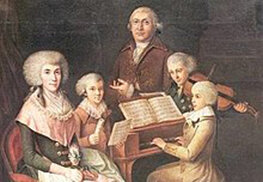 Leopold and Wolfgang set out from Salzburg on 13 December 1769 with various testimonials and letters of recommendations in their pockets. The winter journey to Milan was unpleasant but they were well received. The traveling party soon planned a southward trip and they eventually reached Rome. They would stay for a total of four weeks, taking in the famous sights, and gave performances before the nobility and clergy. Leopold was decidedly unimpressed with the snotty behavior of the clergy, who really weren't much interested in a couple of traveling musicians. The Mozart's also visited the Sistine Chapel where they heard Gregorio Allegri's famous "Miserere." According to legend, Mozart wrote down the complex score from memory after a single hearing. Leopold continues:


"You have often heard of the famous
Miserere
in Rome, which is so greatly prized that the performers in the chapel are forbidden on pain of excommunication to take away a single part of it, to copy it or to give it to anyone. But we have it already. Wolfgang has written it down…Today and yesterday I have been a bit of an invalid, for I have taken three digestive powders; but, thank God, I feel well. Wolfgang is splendid and sends herewith a Contredanse… I can assure you that we take all possible care and that Wolfgang pays as much attention to his health as if he were the most grown up person.