The elegant French composer Florent Schmitt (1870-1958) has been called "one of the most fascinating of France's lesser-known classical composers." Entering the Paris Conservatoire at the age of 19, he studied with Gabriel Fauré and Jules Massenet, where his fellow students included Maurice Ravel, George Enesco, Charles Koechlin, and Roger-Ducasse. In the 1890s, Schmitt met the English composer Frederick Delius, who was living in Paris, and assisted him in preparing the vocal scores for his operas. In 1900, on his fourth try, he won the Prix de Rome with the cantata Sémiramis. Among the other competitors that year were André Caplet, Ravel, and Ducasse.
He was one of the 20-some unofficial member of the Société des Apaches, or Les Apaches, a group of musicians, artists, and writers that was put together by Maurice Ravel and others. It was a private group that enabled the artists to bring their ideas before their peers and try them out, as well discussing the contemporary art scene. Named for the Parisian street gangs of the early 20th century, the artistic Apaches got their name after a newspaper seller mockingly called "attention! Les Apaches" when they were returning from the premiere of Claude Debussy's opera Pelléas et Mélisande. Debussy's work had caused conservative faculty of the Paris Conservatoire to ban their students from seeing the opera, a ploy that didn't work. Les Apaches were among several student or former-student groups that supported Debussy's controversial opera.
Crépuscules, op. 56, was written between 1899 and 1911, and was published in 1913. The title, Crépuscules, Twlight, presents us with four pieces that are impressionistic in their mood. We start Sur un vieux petit cimetière, On an Old Little Cemetery, with a feeling that's quite Debussian in its effect, but without his inimitable floating feeling. The other movements, Neige (Snow), Sylphides (Sylphs), and Solitude show us the background of Schmitt's education in Paris and his influences. We can hear bits of Delius, bits of Ravel, bits of Fauré all making their appearance through the work. With these clear signals, the work itself is indicative of how influential Impressionism, which started in the hands of Debussy, was to French music at the turn of the century.
Florent Schmitt: Crépuscules, Op. 56 – I. Sur un vieux petit cimetière (Biljana Urban, piano)

The pianist, Biljana Urban, started her studies at the University of Zagreb's Academy of Music before moving to Paris to study at the École Normale de Musique de Paris 'Alfred Cortot'. Her international career has included performances in the Netherlands and Belgium at the Concertgebouw in Amsterdam, the Théâtre de la Monnaie in Brussels, and the TivoliVredenburg in Utrecht. She has also worked with the Exilearte Centre for Banned Music at the University of Music and Performing Arts in Vienna.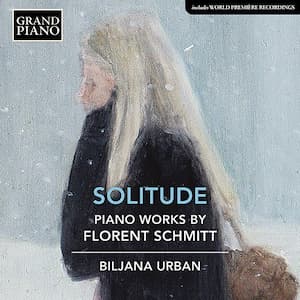 Florent Schmitt: Crépuscules, Op. 56 – I. Sur un vieux petit cimetière

Performed by
Biljana Urban

Official Website
For more of the best in classical music, sign up to our E-Newsletter