Finding the Heart of Early Music

Based in London, Italian pianist Margherita Torretta has given concerts from Asia to the USA, Australia, and all over Europe. Her renown as an interpreter of Baroque and Classical keyboard works, in particular, Scarlatti, can be heard in her album 20 Sonatas released in 2020 on the Academy Classical label, and, more recently in Colours of Venice, an album from 2023 showcasing the work of Baldassare Galuppi, composer and performer from the 1700s.
During her teenage years Margherita, while having an interest in the piano, was first and foremost a keen ballet dancer and had plans to study fashion design at university. This all changed, however, when she was caught in a house fire at the age of 18. Badly burned and taking months to recover, it was in her rehabilitation that her love for the piano blossomed. I talk to her about her experience, her love of Baroque music, and her views of success and happiness.
How did living through this house fire change you?
I got badly burned at the age of 18 and for me, this event was like a death of the person I was until then, and at the same time it was a great rebirth.
Not being able to walk for some time, I had to interrupt my dreams, no longer recognising myself in my body. I used to play the piano but not really seriously, and I'd never thought about being a professional pianist.
I was also passionate about ballet and fashion design, but I couldn't stand anything that belonged to aesthetics anymore, because I had completely lost my skin, the shell of my body, the visible and tangible part of myself.
Music and playing the piano allowed me to have a new focus in my life because with music I didn't have to focus on the outside, but on the inside.
I didn't like my body and scars for long time. I learned how to accept it, slowly, after my 30. I can't say that I love my scars. But now I don't care anymore about them, they are part of me.
How did the piano help you through this time?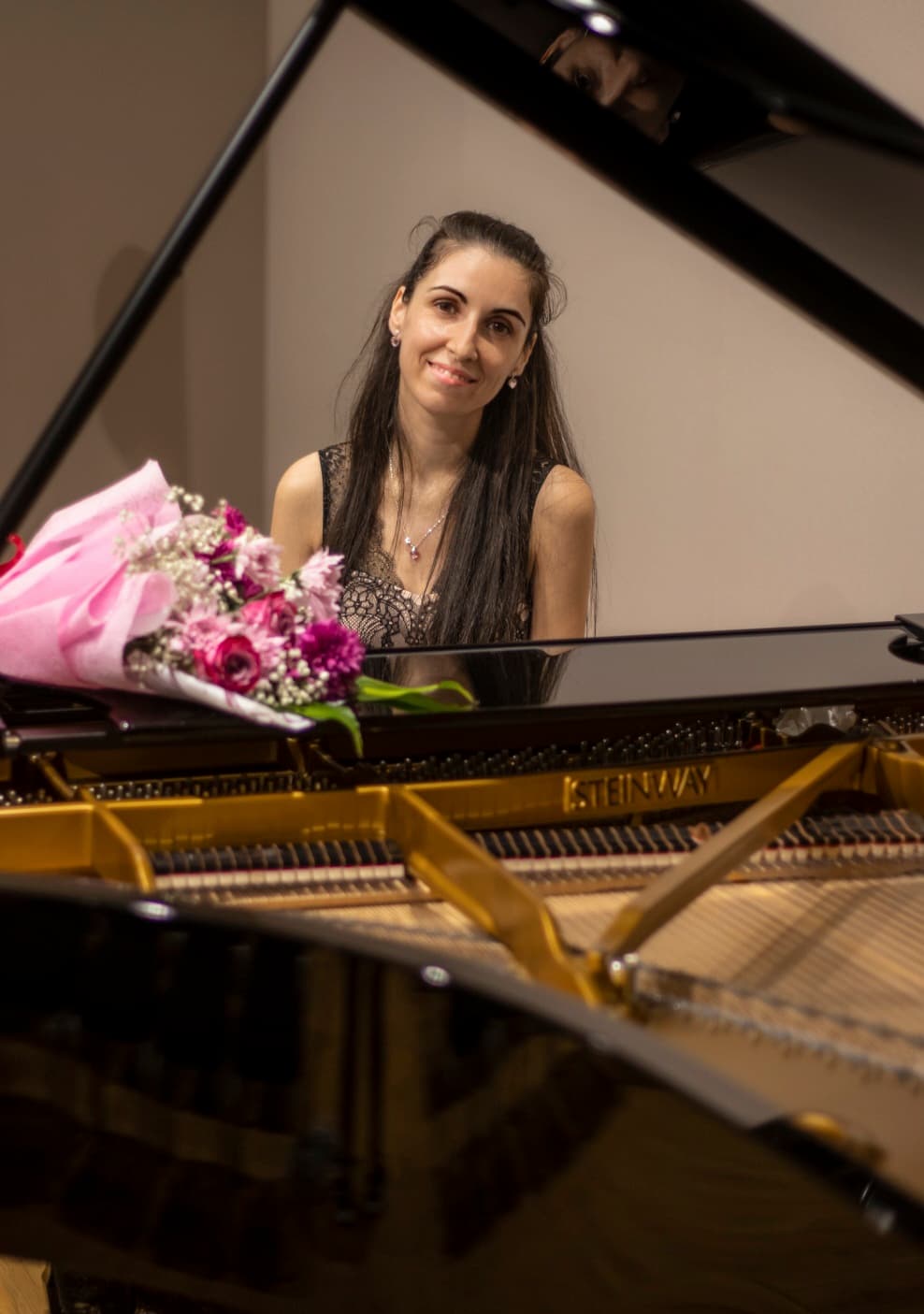 I don't know precisely when I decided to be completely devoted to music, I just found myself practising long hours every day, with the piano scores that I had. I wanted to build another person and just wanted to have a golden life, to survive. I knew that I had a kind of 'talent' for the piano, because it had always been quite easy for me to learn and play pieces, so I decided to start seriously at the local conservatoire in Italy.
Surviving something like this has given you incredible motivation. What has it taught you?
Because of my experience, I think the most important thing is to be nice to each other, respect each other, be generous to and help each other.
Having had this experience has positively influenced the way I live this profession. My family origins are very far from the world of art and performance. I started studying seriously very late unlike my colleagues who started very early.
When I was young I suffered: I compared myself to others; I believed I couldn't achieve great results; I was the unlucky one. Now, I laugh thinking about when I felt like this. I made exactly what I wanted. And I did it alone with a thousand difficulties. I have found my personal way to express my art.
I build my musical life by thinking we as musicians need to help more. There's so much competition, and we forget that we are not here on this earth forever. This experience has taught me that we really need to think the things that are important are not 'success'.
And I tell the younger ones to be determined – nothing is impossible. Everything is in our choice. You have to live, experiment, take risks, go beyond your limits, and not be afraid.
Which composers do you feel closest to?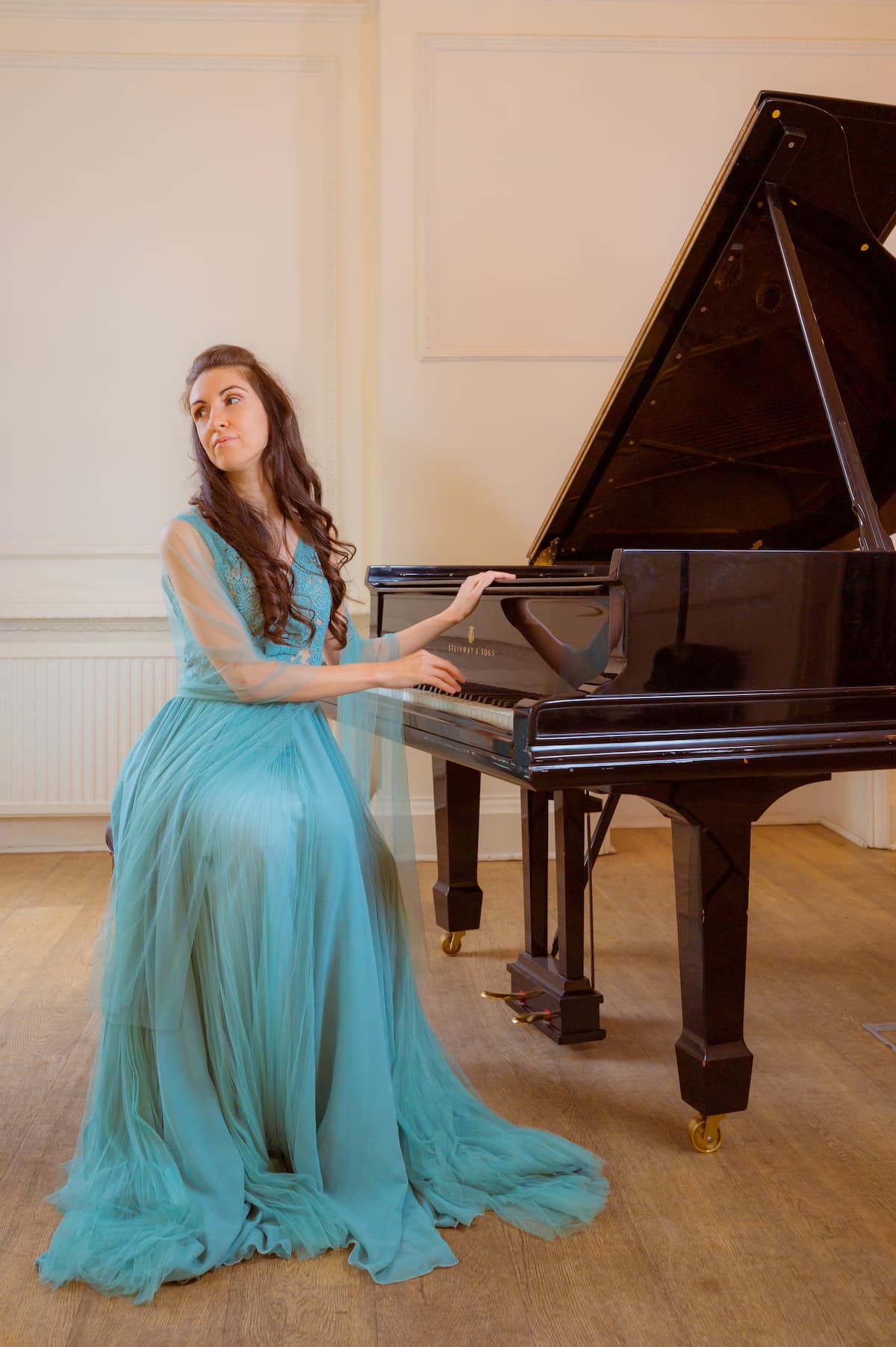 I feel joy when I play Bach, Scarlatti, Mozart, Haydn. And Beethoven – these composers that are 'pre-Romantic', you could say.
Scarlatti is my favourite composer, but I recently discovered Galuppi. I released a CD with his music – he's not very well-known, but that's why I wanted to record his music.
As of today, almost the entire output of Galuppi for keyboard is dispersed in collections and various libraries around the world in manuscript form, which explains both the lack of accessibility to and the chance to enjoy this particular genre of keyboard music.
Margherita Torretta Plays Scarlatti's Sonata K.492 in D Major
What informs your personal interpretations of Scarlatti and Galuppi?
I did a lot of research about it – some people say that the rhythm in my performances is not good, or I'm speeding up and slowing down [when it's not printed to do so], but actually, this is what Scarlatti wanted.
He spent much of his life in the service of the Portuguese and Spanish royal families, in Lisbon, and then Spain, and it was precisely in that period that he had the chance to explore the city and the countryside, meet the locals, listen to songs and dances, absorb the Arab Andalusian folklore and expressive attitudes from which he took great inspiration for the creation of all his compositions.
In my opinion, a pianist who seriously wants to play Scarlatti's sonatas must take courage and throw the clichés about Scarlatti's 'lightness' behind them, using all the expressive means of their instrument without fear.
The genius of the theatrical elements of Scarlatti's sonatas has been ignored and excluded from concert performances. Musically speaking, like Scarlatti, Galuppi, was an excellent theatrical manager in knowing how to always keep the listener's attention; surprises abound in his compositional method of unheard-of melodic dolcezze [sweetness], but also of dramatic disturbances of an existential nature.
Margherita Torretta Plays Galuppi's sonata in B flat major, Illy 32
Did you always love Baroque music?
Ten years ago I loved playing Liszt, Chopin, Rachmaninoff. I liked to play like a great virtuoso, many many notes, big sonorities, hands running up and down the keyboard.
But when I got older I found more interest in the smaller details. To me now it's more interesting and challenging to play a Mozart sonata, where we need extreme control and awareness of every single finger, bringing to life every note and mark on the paper.
I think of myself as a painter – I always put little things here and there, and I like being more refined and elegant.
For more of the best in classical music, sign up to our E-Newsletter