Hector Berlioz (1803 – 1869) had a difficult path to success. He tried time and time again to win the highest award France gave for music, the Prix de Rome, but he could only win it by modifying his style – once he won, he went back to his adventurous musical ways. His Symphonie fantastique firmly broke the classical mould for the symphony and opened the way for much more personal musical works for all composers.
He composed three operas in three very different styles: Benvenuto Cellini (1838) was inspired by the life of the celebrated sculptor. It's only now, in the 21st century, that it's starting to enter the repertoire, but it suffers from a poor libretto.
Les Troyens (1858) (The Trojans) was such a long work (before the advent of Wagner's great long works), that it was usually performed across two evenings. The opera focuses final acts of the Trojan war: we have Cassandra's prophecy, the Trojan Horse, the death of the Trojan women, Aeneas fleeing and then finding Queen Dido of Carthage, and the opera ends as Aeneas leaves to found Rome and Dido suicides. It was big and it was epic and it was Berlioz' greatest opera, although its size and length were such that Berlioz never saw a full production of it. As respite from the high emotion of Les Troyens, Berlioz' last opera was the comedy Béatrice et Bénédict (1862), based on Shakespeare's Much Ado About Nothing.
One way to make a rarely performed opera go further was to take some of the music and repurpose it. This was how The Roman Carnival Overture was created. Berlioz took themes from Benvenuto Cellini and, in 1844, created a stand-alone overture from the material. The title of the work, The Roman Carnival, comes from taking music from the opera's carnival scene. Berlioz, known for his keen ear for orchestration, created a work that has a far greater life than the original opera. The work is pure sound and energy.
Hector Berlioz: The Roman Carnival Overture, Op. 9
The orchestra of the Radiodiffusion Nationale Belge was recorded in 1956 in the Palais des Beaux-Arts, Brussels. Belgian conductor Franz André (1893-1975) was also a violinist. After Army service in WWI, he was involved in the creation of Belgium Radio in the 1920s and was founder and conductor of their symphony orchestra from 1935 to 1957.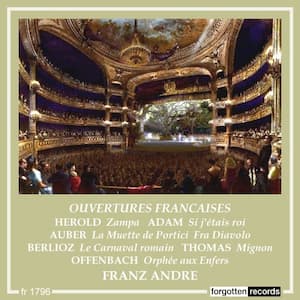 Performed by

Franz André
Orchestre Symphonique de la Radiodiffusion Nationale Belge

Recorded in 1956

Official Website
For more of the best in classical music, sign up to our E-Newsletter