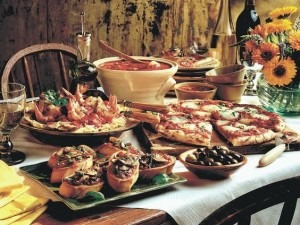 Cambini

Today's quiz looks at Italy, the veritable land of music and delicious food! Can you tell the difference between great Italian dishes and Italian composers? Although we might easily imagine Cambini to be a lightly sautéed seafood dish from the Tuscany region, it actually identifies the Italian composer and violinist Giuseppe Maria Cambini (1746-1810). Born in Livorno, Cambini made his way to Paris and appeared as a celebrated soloist at the Concert Spirituel. He also was an extremely prolific composer, writing 82 Sinfonia concertantes, 9 symphonies, 17 concertos and over 100 string quintets! Yet, in the chronicles of music history we primarily know Cambini for his supposed hostilities towards Wolfgang Amadeus Mozart. Mozart had his Sinfonia concertante (K. 297B) scheduled for performance at a concert Spirituel. However, Cambini reacted jealously, and in fear of his own reputation in Paris sabotaged the performance.

Giuseppe Maria Cambini: Symphony concertante No. 12 in C minor
Falvetti

Would you believe that Falvetti designates an ancient pasta dish originating in the Kingdom of Naples? You have good reason to be suspicious, because I was referencing the Italian Baroque composer Michelangelo Falvetti (1642–1692). One of the most original musical personalities in the second half of the seventeenth century, Falvetti was born in Calabria but spend the majority of his career in various musical institutions in Sicily. He composed polyphonic masses, concertato psalms and motets for various voices and continuo, but only two complete works have survived. Among them is the Oratorio Il diluvio universal (The Flood), first performed in Messina in 1682. A typical work of the Counter Reformation, it musically combines theater and Catholic propaganda. Nevertheless, the score discloses penetrating knowledge of the Baroque musical traditions of Rome and Venice.

Michelangelo Falvetti: Il diluvio universale, Part 1

Mannelli
Not to be confused with a fictitious dessert from Liguria, Carlo Mannelli (1640-1697) was an Italian violinist, castrato and composer. A celebrated violinist who taught Arcangelo Corelli, Mannelli composed roughly 300 works including 86 violin sonatas, 24 trio sonatas, 58 sinfonias and some vocal works. However, only a handful of works have actually come down to us in manuscript form. The same is true for a violin treatise entitled
Studio del Violino
, which has also been lost. Earning the nickname "Carlo del Violino," the composer skillfully combined the virtuoso and lyrical potential of the violin. His sonata da chiesa "La Foggia," contains a part for obbligato lute and is dedicated to the composer Francesco Foggia.
Carlo Mannelli: Sonata a 3, Op. 2, No. 1 "La Foggia"
Sgambati
The deliciously sweet concoction "Sgambati," a fried sweet dough ball with coconut cream filling, is primarily served around Christmas time in the province of Alto Adige in northern Italy. Although it all sounds rather delicious, a dish by that name simply does not exist! Rather, the name Sgambati identifies an Italian pianist and composer who was responsible for the rebirth of Italian instrumental music at the end of the 19th century. Born in Rome, Sgambati studied with Franz Liszt and systematically explored the world of instrumental music. Richard Wagner called him "a true, great and original talent," and his First Symphony blends Italian melodic style and the German orchestral tradition. The work was immediately successful and became part of the standard repertoire of the conductors Martucci and Toscanini.
Giovanni Sgambati: Symphony No. 1, Op. 16