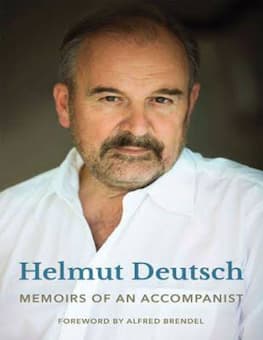 The glossy cover of this book features a blown-up photograph of an unassuming gentleman with a deep penetrating gaze. It is quite reasonable to surmise that the subject is an intelligent, astute and empathetic individual, exuding an air of contemplative calm. He is Helmut Deutsch, one of the most esteemed and widely sought-after pianists in the realm of chamber music and lieder accompaniment, spanning over 50 years of collaboration with more than 100 singers and production of more than 100 recordings. Singers who have partnered with him include a parade of prominent names such as Ian Bostridge, Diana Damrau, Jonas Kaufmann, Christoph Prégardien, Matthias Goerne, Mauro Peter, Hermann Prey, Thomas Quasthoff, Peter Shreier and Anne Sofie von Otter.
I was initially impressed by the positive reviews listed at the book's opening page, which sang praises of the author's many attributes – easy writing style, subtle sense of humour, fascinating narratives about his professional life etc. Amidst these compliments was a quote from Ingrid Wanja of OperaLounge: "Outstanding. How often does one read a book from the first page to the last without putting it down? And feel sad when one has finished?" It left me curious and intrigued, so I proceeded to stay up all night to finish the book.
Furthermore, distinguished pianist Alfred Brendel provided an eloquently constructed and remarkably commendatory "Foreword". Quote from him: "Deutsch meets all the requirements: he is the refined and experienced pianist, the responsible musician, the admired teacher, coach and mentor, the highly sensitive yet resolute partner, and a sympathetic human being. As a soloist who used to poach in his territory, I take off my hat." Frankly, after being acquainted with Helmut Deutsch through these "Memoirs", I concluded that the lone title of "accompanist" does not seem to do him adequate justice. He is, in my mind, a truly comprehensive, multi-faceted musician – an extraordinary humanitarian deserving of immense reverence.
There have always been controversies regarding the label of "accompanist" attached to the pianist who plays for soloists in recital. Generally, the term "collaborator" is preferred among most concert pianists, as it favourably infers the status of "equal partner" rather than "subservient follower". From Helmut Deutsch's candid account, it is obvious that his professional duties are often extended beyond accompanying or collaborating, to roles of companion, enhancer, conductor, colleague, friend and more. Notably, he has also assumed assorted roles as brother, doctor, psychologist, mentor, teacher (to hundreds of students including tenor Jonas Kaufmann) and significant other (to soprano Yumiko Samejima). For that matter, I am certain he would be proud to answer to all of the above descriptions. According to him, his mission, first and foremost, is to serve the composer and the music – to interpret the score, negotiate ideas, share the process with his fellow comrades on stage, then communicate the finished product to the audience. His interpretation of a successful performance lies in being happy himself as well as making others happy. Therefore, he views the job as simply a balancing act, which requires the accompanist to sometimes follow and at times lead, sometimes to blend in and at other times project, but ultimately to nourish the music, and melt seamlessly into the greater artistic whole.
Needless to say, this book is not only a testimony to Helmut Deutsch's exceptional musical talent, formidable memory and meticulous recollection of past events, but also his acute sensitivity, instinctive consideration for others' predicaments, and versatility in accommodating a broad range of personalities. The above qualities, along with his signature humility, are revealed throughout the "Memoirs", celebrating his vast wealth of experience (with lieder as the centre of his prolific career), extensive travels to concertize and teach in far-fetched parts of the world, open-mindedness in incorporating various cultural elements (especially Japanese and Korean) into his repertoire, and highly respected expertise in coaching and pedagogy.
For all ambitious pianists and singers who aspire to concert careers, and for all serious-minded and amateur musicians alike, this is a "must-read", exemplary in glorifying the aesthetics of poetry set to song, and applauding the value of team work. It is also incredibly educational and inspirational, while brimming with abundant wisdom as well as delightful anecdotes – well worth staying up all night for!
I studied Robert Schumann's song cycle "Dichterliebe" op. 48 for years, and have researched dozens of recordings by various famed artists, but to date, found this 2020 performance by Jonas Kaufmann and Helmut Deutsch most satisfying and masterful.
For more of the best in classical music, sign up to our E-Newsletter
Jonas Kaufmann & Helmut Deutsch: Schumann Dichterliebe Op. 48/12, Am leuchtenden Sommermorgen