We associate Richard Wagner with the four great operas of his Ring Cycle, but we should also look at his earlier works to see where his musical sources were. One interesting work is the Faust Overture he wrote while in Paris. Originally composed in 1840, and very much under the influence of Berlioz and his Roméo et Juliette, it was intended to form part of symphony based on Goethe's Faust story. Wagner never finished the symphony and the one movement was transformed into a concert overture. When we consider Berlioz' influence on the work, we have to look at his ability to combine an abstract symphonic form with a literary inspiration and how that affected Wagner.
Wagner's pupil Hans von Bülow thought the work was not about Faust the character, who had featured into many musical works, but about Faust as the representative of mankind. His suffering and desires are those of all men, not just a single man. Comparing him with Liszt's image of Faust, we find Wagner's to be more human and humane.
The work is an interesting combination of many of the colours and sounds we might expect later in the Ring cycle, but here they're still being formed. He doesn't have the sound in his ear yet to create the wonder world of the Rhine maidens and their attendant story, but he's working towards it. Das Rheingold didn't have its premiere until fall 1869 but listen to how this work starts and see if you see connections to where he's going in 25 years.
Wagner revised the work first in 1844 and then created a second version in 1855.
Richard Wagner: Faust Overture in D minor, WWV. 59 (Radio-Television Française Symphony Orchestra; Georges Sébastian, cond.)

This recording with the Radio-Television Française Symphony Orchestra led by Georges Sébastian was made for radio broadcast in October 1962. Georges Sébastian (1903-1989) was born in Hungary under the name György Sebestyén. He studied violin and piano in Budapest before becoming a composer. In Hungary, he worked with Leo Weiner, Zoltán Kodály, and Béla Bartók. In 1921, he began work at the Munich State Opera and became assistant conductor under Bruno Walter in 1922. The next year he spent at the Metropolitan Opera in New York as assistant conductor and then returned to Europe to conduct at Hamburg, Leipzig, and Berlin. From 1931 to 1937 he was in Moscow as musical director of the Moscow Radio and Philharmonic Orchestra. During the war, he was in the US, returning to Europe post-war to settle in France. As a conductor, he was a significant presence in Europe. He conducted the Paris debuts of both Maria Callas (1958) and Renata Tebaldi (1959) at the Palais Garnier, and was very active on French radio, as we hear here.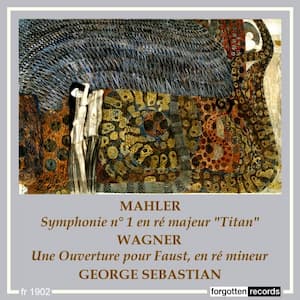 Performed by

George Sebastian
Radio-Television Française Symphony Orchestra

Recorded in 1960

Official Website
For more of the best in classical music, sign up to our E-Newsletter