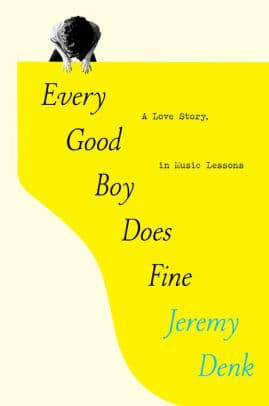 The title of pianist Jeremy Denk's recently published memoir, will be familiar to anyone who had piano lessons as a child. It's a mnemonic of the notes e, g, b, d and f which sit on the lines of the treble clef – other variants include Every Good Boy Deserves Favour and Every Good Boy Deserves Fudge.
In this honest, witty, entertaining and eloquent memoir American pianist Jeremy Denk explores the exigencies of the path he chose for himself when just 11 years of age: "the piano now seemed inseparable from me…..the only way I'd found to express myself, a shelter and a persona". We encounter his teachers, each significant, formative in his learning, some kind, others tough, even monstrous, yet each giving him more pianistic food for thought (though at times he wonders if lessons with his teacher Lillian were intended to kill any pleasure he might take in music, a sentiment many of us who had lessons as children can understand).
Pianists' memoirs are few and far between, though there are many books about the mechanics, technique and artistry of piano playing, most notably Piano Notes by Charles Rosen or Susan Tomes' excellent books. In fact, Denk's book is the first I've read where the reader is really taken to the heart of what it means to be a pianist in a way that is both honest and inspiring. Denk does not romanticise the hardships of his chosen craft, the hours of practice in grim rehearsal rooms, the daily grunt work required to finesse and refine music that goes on behind the notes we the audience hear ("Dohnányi was a new horizon of boring"). But alongside this is the love story element of his writing (the book's subtitle is A Love Story, in Music Lessons). As a precocious child, Denk's curiosity seems unstoppable, his interest and passion piqued by specific pieces of music – for example, Mozart's Sinfonia Concertante K364, which he first hears on cassette tape, or Brahms' D minor piano concerto, which becomes almost an obsession for him – and the book is full of generous analysis and commentary on repertoire. But this is not dry, musicological writing; rather he animates the music for both fellow pianist and listener with his own observations and insights which will have you running to your music desk or stereo to play or listen with new ears.
But it is the cavalcade of teachers and Denk's description of them that is perhaps most intriguing, for teachers are often the most significant influence on the shaping and development of the young musician. We all remember the good teachers, and the bad ones even more so, perhaps, but if, like Denk, one goes into lessons with a curious, open-mind, the insights and wisdom one can accrue stay with one for years to come.
While adding new lessons, you have to keep listening to the old ones – as it happens, just like the unfolding notes of a melody.
Encounters with some of the greats of the profession are described – amongst them Leon Fleisher and György Sebők, perhaps the greatest of all the teachers with whom Denk studies. As Denk grows ever more fluent and confident in his playing, it is teachers who temper the ego, reveal errors in his playing, but also offer intriguing and challenging new insights. In these encounters we see the paradox of the developing artistic persona – the pull between fidelity to the score and the attempt to get inside the composer's distinct sound world, and the desire to illuminate it with one's own individual music voice; this, the lifelong challenge of any serious musician.
Wolfgang Amadeus Mozart: Piano Sonata No. 16 in C Major, K. 545, "Sonata facile" – II. Andante (Jeremy Denk, piano)

It is György Sebők who also reveals the fundamental simplicity (another paradox!) of something so extraordinarily difficult as playing the piano – that it is possible to go beyond technique and simply imagine the sound one wants to produce, eyes closed, in an exercise during a lesson. When Jeremy plays the passage again, the sound is "deeper and richer", and suddenly all the struggling to create a big, bold sound is replaced by "a moment of ease". It's a lesson I would recommend to any pianist. Sebők also points out to Denk that he is a perfectionist and that this is holding him back – another paradox of the musician's life where one's training is all about the pursuit of perfection. It's a musical life lesson: perfection is an artificial construct, but one must keep striving anyway. And Denk is more than willing to rise to the challenge, such is his love of the music.
You never "still know" a piece, really. You have to force yourself to know it again, even rebuild its foundations.
I first encountered Jeremy Denk through his writing, long before I discovered him as a concert pianist, and I've always liked his ability to ground this high artform we call Classical Music in a place that is unpretentious and appealing. In the book, he explains the complexities of music by Mozart, Beethoven, Schubert et al in a manner which is simple without being simplistic, illustrated with hand-drawn diagrams to explain musical structures, harmony etc. And he peppers his commentaries on specific pieces with some wonderful, colourful aphorisms:
Beethoven makes you earn your difficulties. You can't just go wild. The fireworks are always held in tension against some spine of meaning.

Young Schumann is a miracle, really, an outpouring of mostly piano music with unprecedented inspiration and imagination, and a model for turning confusion into art.

People often complain about Schubert's length, and for good reason. He likes to let his ideas spread out, like pets that hog the bed.
(And before all you Schubert fans exclaim at such a statement, Denk goes on to explain how Schubert uses his "heavenly length" to accumulate meaning, "so that the music becomes less about things themselves, but processes operating, like tectonic plates…")
I love these quotes because they both bring the music down to earth while also revealing its greatness, something Denk fully appreciates, and revels in. It's an approach that will appeal to serious musicians and classical music fans, and also the non-specialist reader. To add to this, a generous appendix further illuminates with Denk's own commentaries on specific pieces and his recommended recordings.
This engaging and engrossing book is a journey of self-discovery, about coming out as an artist, and also as a person, a gay man, the latter most tenderly, poetically expressed towards the end of the book – but it's also a love letter to the piano, its literature, those who play it and those who teach and inspire the next generation.
For more of the best in classical music, sign up to our E-Newsletter
Ludwig van Beethoven: Piano Sonata No. 32 in C Minor, Op. 111 – II. Arietta: Adagio molto semplice e cantabile (Jeremy Denk, piano)