We hope that our initial musical "Escaping COVID-19" has brought some joy into your life. So we've put together another episode of feel-good music, starting with Italian instrumental music by Michele Mascitti (1664-1760). Mascitti was at the forefront of music making in his day, and he was considered comparable to Corelli and Albinoni in compositional skill. Growing up in Naples he quickly found his fortune outside his native country, first in Germany, and the Netherlands. He settled in Paris in 1704, and through a fortuitous meeting with the Duke of Orleans, was afforded the opportunity to play before the king and the entire court. He became hugely popular and took French citizenship in 1739. All of his compositions are scored for strings, paying special attention to the solo sonata, trio sonatas and concertos.
Michele Mascitti: Sonata for 2 violins and Cello, Op. 1, No. 8 (Ensemble Battistin)


Franz Ignaz Beck (1734-1809) began his musical studies with his father at the Palatinate Court in Mannheim. He displayed impressive talents on the violin, double bass and organ, among other instruments. However, the young musician had to abruptly flee Mannheim after fighting a jealous rival. Believing that he had killed his rival, Beck traveled to Venice where he stayed for several years. Beck was once again on the move a couple of years later, this time eloping to Naples with his employer's daughter Anna Oniga. In the end, Beck learned that he had been the victim of a hoax, as the jealous rival had only feigned death back in Mannheim. True to life, his music employs contrast and drama as essential elements, and his skillful handling of the orchestra immediately grips the listener.
Franz Ignaz Beck: Symphony in F Major, Op. 4, No. 3 (Czech Chamber Philharmonic Orchestra, Pardubice; Marek Štilec, cond.)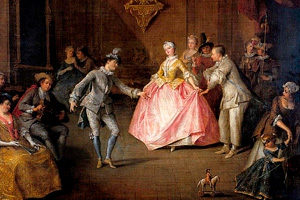 Wolfgang Amadeus Mozart wrote, "No one can do everything—be flirtatious and be unsettling, move to laughter and move to ears—as well as Joseph Haydn." Over time, Mozart attained a mastery of all musical forms, and the speed and assuredness of his creative powers were unrivaled. Mozart reports, "Though it be long, the work is complete and finished in my mind. I take out of the bag of my memory what has previously been collected into it. For this reason the committing to paper is done quickly enough." The word "divertimento" comes from Italian meaning diversion or amusement. In Mozart's time it designated a musical genre of light and entertaining nature usually consisting of several movements. Interestingly, the pieces Mozart titled "Divertimento" are frequently more substantial than the more serious chamber music he composed. The Mozart scholar Alfred Einstein wrote, "…the late Divertimenti belong to the purest, the liveliest, the most cheering, the most perfect compositions that ever assumed a musical form."
Wolfgang Amadeus Mozart: Divertimento in B-flat Major, KV. 254 (Haydn Trio Eisenstadt)


Ludwig van Beethoven referred to his Bagatelles, which he penned throughout his life as "trifles." About thirty of these short piano works have survived, and they were predominantly written for the enjoyment of amateur piano enthusiasts. A good number of Bagatelles were first published as contributions to a pedagogical publication called the Vienna Piano-Forte School of 1821. The Opus 119 collection was lightly tossed into the popular market and features a number of dance-like pieces. Yet, Beethoven's eccentricity emerges in short trifles of substantial technical difficulties, not to mention the adventurous harmonic manner foreshadowing the character pieces of Schumann. And of course, we all know Beethoven's most popular Bagatelle No. 25 in A minor. That one acquired the ever-popular nickname "Für Elise."
Ludwig van Beethoven: 11 Bagatelles, Op. 119 (Gitti Pirner, piano)