You can always count on musicians for a much-needed smile and some solutions, even during this global pandemic.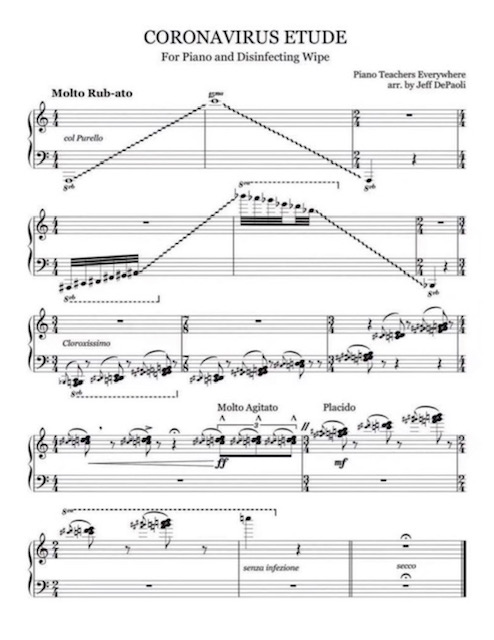 The Coronavirus Etude—For Piano and Disinfecting Wipe is a must for all piano teachers. To be played Molto RUB-ato, and Molto Detergere.
It's the étude we are playing regularly at the moment. Play the Ups and Downs appassionato, and for more hygienic and emotional impact, I would play it at a slow and accurate pace, with deliberation. At the 3/4 marked "cloroxissimo" make sure you get right into the keys using your arm weight, for the best sound in the lowest registers, and make a huge crescendo as you ascend to the top keys, gently slowing in tempo!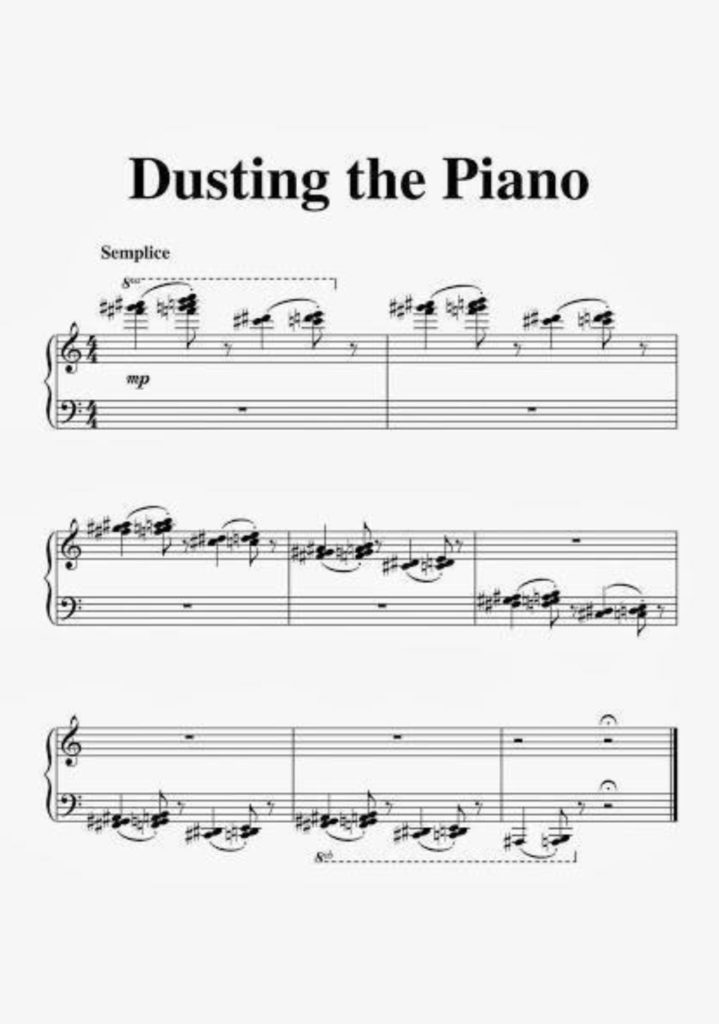 This work recently composed, is like the earlier Opus: Dusting the Piano, which is a geared towards beginners, and for performances during less critical times.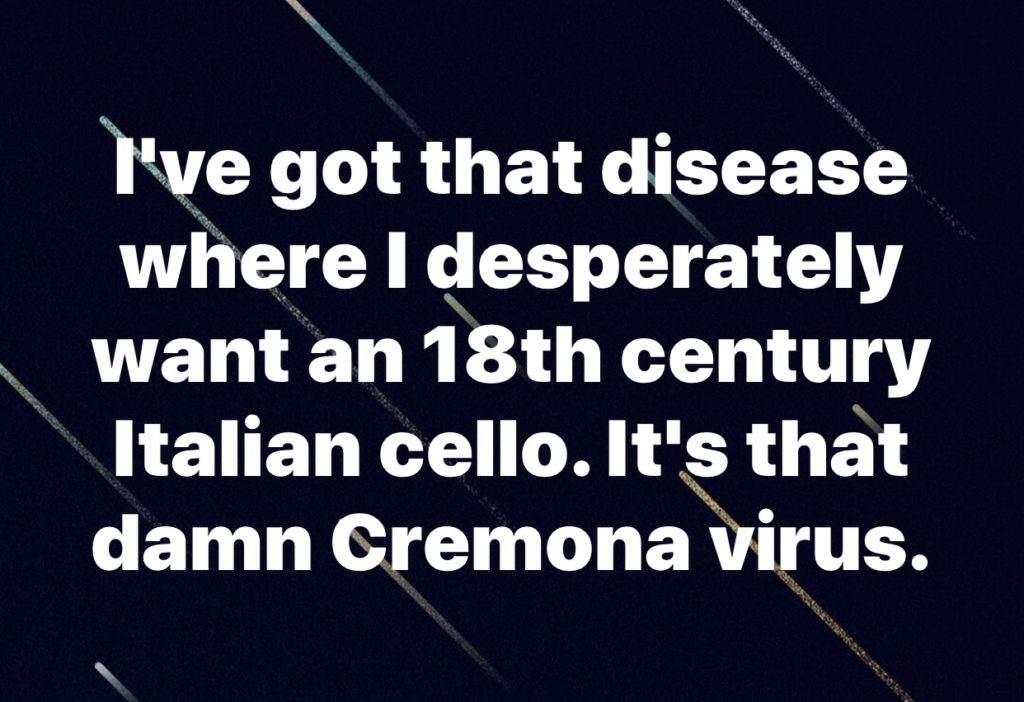 Many string players have long been suffering from the Cremona Virus—the unexplained yearning for an Italian 18th century instrument.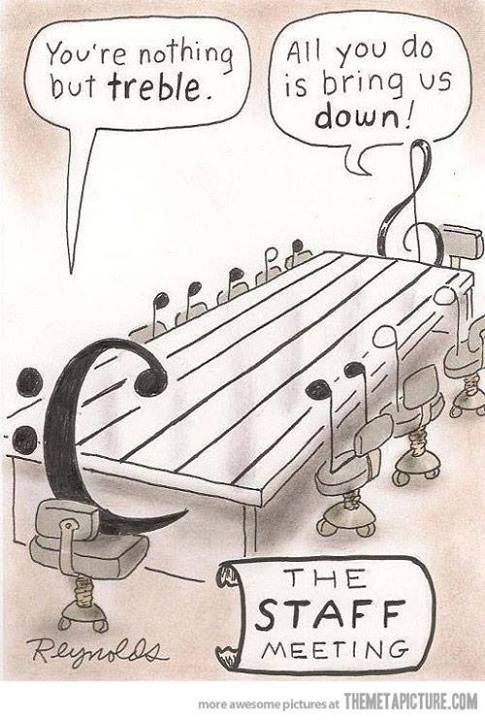 Please be sure to cancel all Staff meetings and wash your hands 2020 style.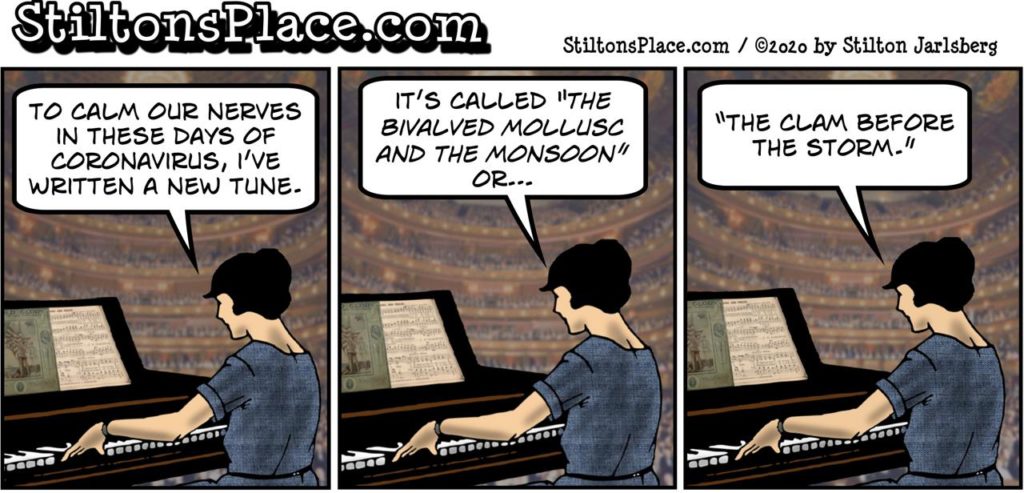 Composers have rallied for the cause and have written new tunes like "The Clam Before the Storm"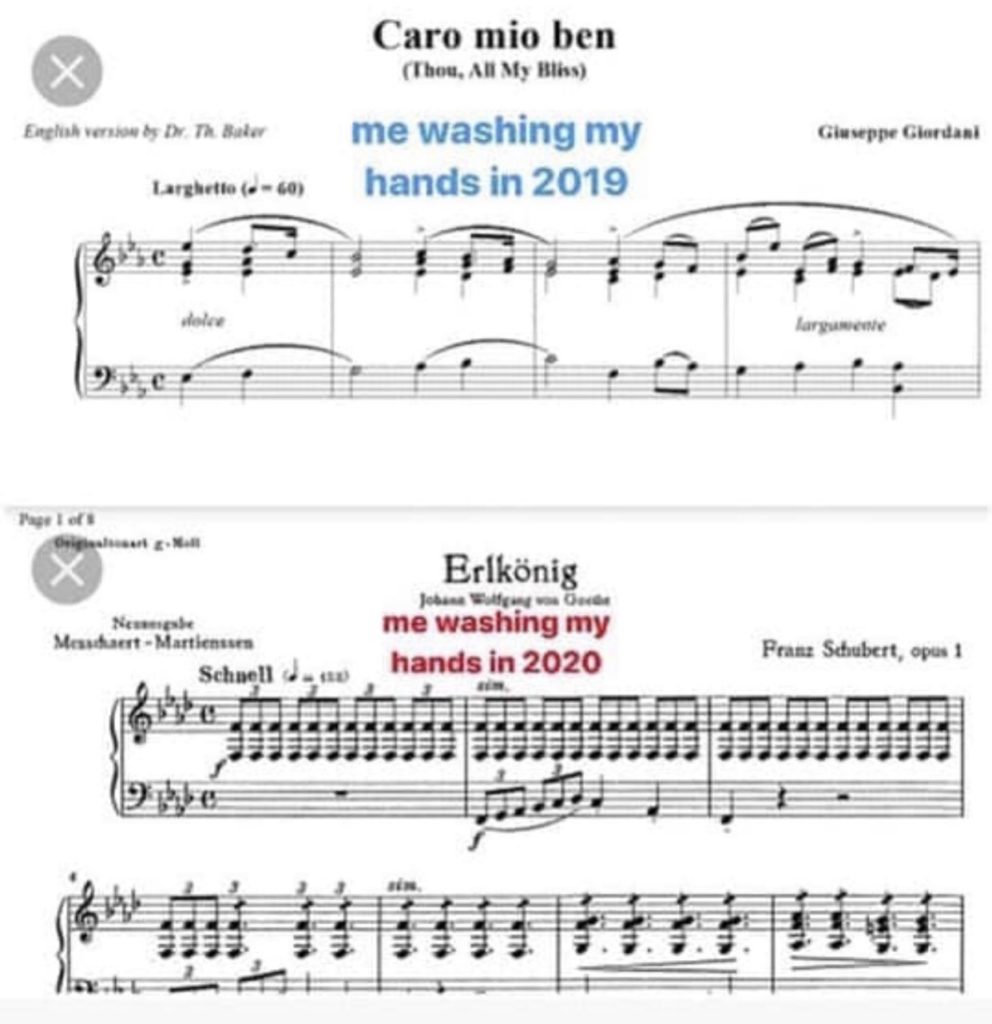 And below are some 20 second hand-washing pieces, some Beethoven of course to honor his 250th birthday. Perform with intensity, concentration, fortissimo, and with solid technique.
Kidding aside, as Alex Ross wrote in the New Yorker Magazine, March 14, "These are Perilous times for working musicians lie ahead. "Force majeure" clauses in artist contracts—releasing companies from liability in the event of disruptions—mean that many opera singers and freelance instrumentalists, not to mention actors, dancers, and backstage technicians, will go unpaid for the duration of the pandemic."
Please consider this appeal from our friends at Classical Movements the organization that arranges professional, amateur, and student orchestral and choral tours.
"If you have purchased tickets to a live concert, dance, opera, or theater performance that has been cancelled due to the corona virus, please consider donating your tickets instead of requesting a refund. This virus is having a huge impact on artists and arts organizations world-wide leaving them in jeopardy."
And if you have the resources, and have always dreamed of studying with someone, (anywhere in the world!) this is a great time to contact them (like me!). That musician may be isolated at home, is someone who is typically much too busy to teach on a regular basis, and might be looking for something to do. Lessons or advice via Facetime or Skype or Facebook messaging can be very beneficial for you to keep motivated to practice and for the teacher as well.
Good news for the homebound—
The Metropolitan Opera has offered "Nightly Met Opera streams" free, from its famed series of live in HD performances. Go to their website. These are spectacular performances and a great opportunity.
Berlin Philharmonic's Digital Concert Hall is also broadcasting to everyone for free since they have had to close their doors. They want to bring the music to you. The Detroit Symphony too has made their Replay Archive available for free. Our very own Minnesota Orchestra played to an empty hall but broadcast live on Minnesota Public Radio last night, March 13. I'm sure others will follow suit. Classical MPR has several programs to listen to on this link.
If art is your passion in addition to music, twelve famous museums have offered virtual tours you can take from your couch including the Van Gogh Museum, Amsterdam, the British Museum, London, the Uffizi Gallery, Florence, and the Musée D'Orsay, Paris among others.
Happy listening and best wishes for staying healthy from Interlude.
Ok here's 2 minutes…Beethoven 5th