'Echoes' is the latest in Orchestra of the Swan's 'mixtape' series, following on from 'Timelapse' and 'Labyrinths' (which has received over 8 million audio streams since 2021 and was shortlisted for Gramophone award in the Spatial Audio category).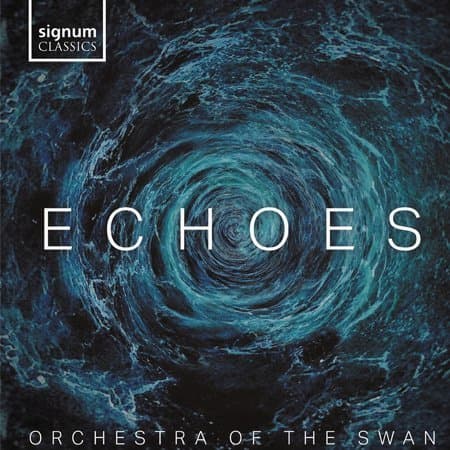 As with their previous mixtape albums, 'Echoes' is an eclectic mix of music encompassing a variety of genres from Baroque to pop. The album features 14 tracks of arrangements of songs by Frank Zappa, Adrian Utley (Portishead) and The Velvet Underground together with works by J.S. Bach, Delius, Max Richter, Philip Glass, and Gerald Finzi.
David Le Page, violinist and Artistic Director of OOS, and arranger of many of the tracks, says of the album, "Although you can listen to each track in isolation, Echoes is, first and foremost, a complete journey; the way a work ends and another begins is designed to create a frisson, a jolt of recognition or a feeling of surprise and satisfaction. Echoes explores landscape, light, water, dreams, birth, and the slowly changing rhythm of the seasons; it also represents a callback to the days of vinyl when the act of listening to recordings was necessarily more involved and required all of your attention…. Despite the ongoing march of music technology and the death of various beloved formats the mixtape has somehow survived and adapted. It is unaccountably more popular than it has ever been."
Echoes is a captivating and beautifully orchestrated collection of music that seamlessly blends old and new, the familiar and the lesser-known. It opens with a shimmering, luminous and utterly transporting performance of the Bach/Siloti Prelude in B minor, arranged for violin and orchestra by David Le Page. From the silken lines of Bach/Siloti we move into the joyousness of Max Richter's "recomposed" Spring II from The Four Seasons and thence to the urgent energy of Buffalo Jump by Philip Sheppard. This is followed by the psychedelic, zany Peaches En Regalia by Frank Zappa in an arrangement redolent of the late 60s sound of the original with imaginative scoring for brass and Hammond organ.
Bach: Prelude in B minor BWV 855a with Orchestra of the Swan
After the high jinks of Zappa, a calmer interlude with Falla's Nana, featuring Sally Harrop on clarinet who brings a haunting poignancy to the melody. The Sea of Time and Space by David Le Page is an uplifting track inspired by the middle movement of Vivaldi's L'inverno, the Romance from Britten's Frank Bridge Variations and the second movement of Stravinsky's Concerto in D for string orchestra, which takes its title from a painting by William Blake. A gentle bossa nova bass and pizzicato notes provide the backdrop over which two violins gracefully, sensuously glide in a silken soundworld. This segues perfectly into The Art of Dancing. V: Trance by Toby Young, a modern homage to the baroque dance suite where each movement hints at a different style of electro dance music. Trance is a nocturne, in part inspired by the stillness of the Adagietto from Mahler's Fifth Symphony and the hypnotic ambiance of electronic dance music, all beautifully expressed by the muted trumpet solo played by Simon Debruslais.
Orchestra of the Swan: The Art of Dancing (Trance) by Toby Young
Venus in Furs, an iconic, unsettling track by the Velvet Underground, is reworked by David Le Page. It retains the angular, 'shrieking' viola of the original, but Le Page's austerely beautiful violin, replacing Lou Reed's vocals, lends an unexpected tenderness to this track.
Glory Box, by British indie group Portishead, here arranged for voice and orchestra, is the highlight of the album for me. Strings slink and slide with Clara Sanabras' potent, expressive and bluesy vocals. It's very close to the original version – it retains that haunting string sample – but is magically reimagined by Le Page.
After the taut fragility of Glory Box, We played some open chords and rejoiced (A Winged Victory for the Sullen) provides another calming interlude: here, a simple chordal piano motif, played by Viv McLean, and shimmering strings and guitar create a beautiful soundscape, understated in its emotion yet replete with expression.
Starbust is a vibrant, colourful contrast, while Aquarelle 1 by Delius, arranged by Eric Fenby, is another demonstration of the warmth and elegance of the Orchestra of the Swan's string section. A spacious tempo allows the listener to really appreciate Delius' magical harmonies. Similarly, in Mishima – Closing from String Quartet No 3 by Philip Glass (arr. by David Le Page), the richness of OOTS' strings piquantly highlights the shifting harmonies and textures of Glass' music in a movement of shifting emotions and timelessness.
To close, The Salutation from Finzi's Dies natalis, perhaps the most obviously "classical" piece on the album, and a quintessentially English piece too, its vocal line elegantly sung by Mark Le Brocq who really captures the poignancy of this music, written on the eve of the Second World War.
In 'Echoes', Orchestra of the Swan has once again delivered a genre-busting album that contains brilliant, unexpected juxtapositions and imaginative orchestrations. Like their previous mixtape albums, it's ambitious, ingenious and unorthodox. The result is a stylish, sensitively curated album that is an enchanting, often intriguing and always engaging listening experience.
For more of the best in classical music, sign up for our E-Newsletter