Carl Czerny (1791–1857) had the benefit of a father, Wenzel, who knew everyone in music in Vienna. Wenzel worked in all aspects of music as a pianist, an organist, an oboist, and a singer and he made his money teaching music, repairing musical instruments, and copying music. His son, Carl, had an exceptional memory and, as a child, learned all the piano music by Mozart by heart. At age 10, he started studying with Beethoven and memorized all his piano music as well. He was known for performing at the palace of Prince Lichnowsky, one of Beethoven's patrons, who would call out opus numbers and Carl would play the work.
Despite his skill at the piano, Czerny decided against a performing career and turned to teaching, becoming one of the most famous keyboard teachers in Vienna, numbering Franz Liszt and Theodor Leschetizky among his pupils. In this famous 'piano family tree' from 1927, The Etude magazine traced his students and his students' students, ending up with Rachmaninoff and Lhevinne and other greats of the new generation such as Van Cliburn, Daniel Barenboim, and Leon Fleisher.
Czerny was also a composer, writing over 800 numbered works and innumerable unpublished works over the next 50 years. Today, most of his compositions have been forgotten, but every piano student today still knows some of his instructional works, such as his keyboard exercises.
Czerny's Opuses 240 through 243 were Romantic Fantasies, for piano four-hands, each based on the novels of Sir Walter Scott. The first was Waverley, Op. 240, then Guy Mannering, Op. 241, Ivanhoe, Op. 242 and finally Rob Roy, Op. 243. To write these pieces, Czerny had to be a devoted fan of Scott's work and it was more than these four Romantic Fantasies that he based on the Scottish writer's works.
The Waverley Novels, which take their name from the first of the 27 novels that made up the series, were originally published anonymously, starting in 1814. It wasn't until 1828 that Walter Scott admitted authorship. These works of historical fiction were unbelievably popular. Waverley started with a print run of 1,000; the sixth book in the series started with a print run of 10,000.
Of the four novels Czerny made into piano works, it's really only the third novel, Ivanhoe, that is still commonly known today. Ivanhoe, written in 1819, was the first of Scott's novels not to be set in Scotland. This English romance is set in the year 1194, after the failure of the Third Crusade. King Richard the Lionhearted is believed to be in captivity in France. Our hero, Wilfred of Ivanhoe, is a member of one of the last remaining Anglo-Saxon noble families; the other noble family is mostly Norman. Wilfred falls in love with Lady Rowena and, as usual, her father has other plans. There are tournaments, dastardly plans, mysterious knights in black, hurried escapes, a heroic rescue by the returned King Richard, and a final battle where side-heroine Rebecca is saved from death in a last-minute tournament where the Wilfred is victorious and the bad guy dies on the field.
Czerny's Romantic Fantasy No. 3 on Sir Walter Scott's Ivanhoe, Op. 242, mirrors the novel, which brought the idea of cathedrals, castles, and chivalry to British culture. The battles and the love scenes are all in the music and, at the core, is an original theme used for King Richard the Lionheart.
Carl Czerny: Romantic Fantasy No. 3 on Sir Walter Scott's Ivanhoe, Op. 242 (Samuel Gingher, piano; Pei-l Wang, piano)

Samuel Gingher and Pei-I Wang are the pianists for this four-hand recording. Both are on the faculty of Millikin University in Decatur, Illinois.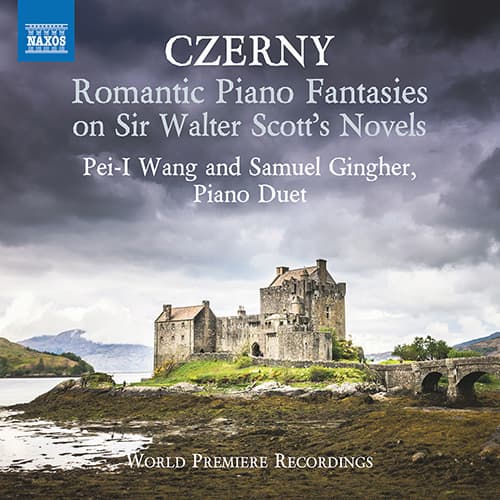 Carl Czerny: Romantic Fantasy No. 3 on Sir Walter Scott's Ivanhoe

Performed by
Samuel Gingher
Pei-l Wang

Official Website
For more of the best in classical music, sign up to our E-Newsletter