The famous "
Symphonie fantastique
" relies on a curious autobiographical program and unusual orchestration effects, while "Harold in Italy" makes use of a concerto-like solo viola. "
Romeo and Juliette
" draws heavily on the use of solo and choral singing to reinterpret Shakespeare's drama, and the "Symphonie funèbre et triomphale" is clearly a work for concert band.
Jeffrey Langford writes, that in many ways these works are not symphonies at all—at least not when measured against the familiar German repertory of Haydn, Mozart and Beethoven. "Berlioz's symphonies frustrate and defy attempts at traditional generic classification by presenting listeners with an exceptional fusion of elements drawn from both opera and symphony." The result is something completely new—an unorthodox hybrid genre for which Berlioz coined the term "dramatic symphony."
When the French government approached Berlioz, he initially balked at the idea of writing a work for the erection of the July Column in the Place de la Bastille. However, he quickly changed his mind when he was offered 10,000 francs! Putting together a number of ideas from unfinished works, Berlioz stated that he completed the entire score in just 40 hours.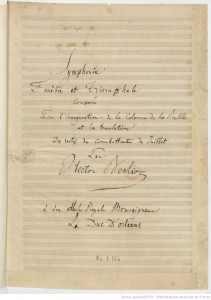 Originally, it was scored for a wind band of 200 players, who would march alongside the remains of those who had died in the 1830 fighting. The actual marching performance turned out to be predictably chaotic, but the work was an immediate success. Berlioz revised the score in 1842, adding optional parts for strings and a final chorus to a text by Antony Deschamps. And when Richard Wagner heard this new version at the Salle Vivienne on 1 February 1842, he wrote to Robert Schumann "that he had found passages in the last movement so magnificent and sublime that they can never be surpassed."

Hector Berlioz: Symphonie funèbre et triomphale

The "Grande Symphonie funèbre et triomphale," to use its full title, was Hector Berlioz's fourth and last symphony. Commissioned by the Minister of the Interior for the commemoration of the 10th anniversary of the three-day revolution of July 1830, the work first sounded on 28 July 1840 in Paris. Berlioz wrote four works that he himself categorized as symphonies, but not one of these is traditional in either form or style.