The country gentleman as composer sounds like the stuff of romance novels, but for Right Honourable Sir Gerald Hugh Tyrwhitt-Wilson, later 14th Baron Berners in the peerage of England, and a baronet, that was his life. On the surface a country gentleman, his musical skills were considerable, drawing the highest praise from even Igor Stravinsky.
His early work consisted mainly of songs and piano works; he composed an opera, Le Carrosse du Saint-Sacrement, which was given a performance in Paris in 1924 on a triple bill with Stravinsky and Henry Sauguet. His music was always accessible – even to be used in a C.B. Cochran revue.
C.B. Cochran was a British theatrical manager and impresario and, through the 1920s and 1930s, put on musical revues. He was associated with Noël Coward, producing several of his work. He was also the manager of the Royal Albert Hall for 12 years.
The music was for the one-act fantastic ballet Luna Park, commissioned by Cochran in 1930 with choreography by George Balanchine. The ballet opens 'in a freak pavilion in Luna Park. A showman enters and bows to the audience. He raises the curtain of the first four niches revealing a man with three heads; in the second stands a three-legged juggler, complete with billiard balls, while in the third a one-legged ballerina is posing, and in the fourth, a man with six arms. All the freaks dance in the respective niches, after which the showman bows to the audience, turning down the lights as he retires.' Later in the ballet, the four exhibitionists are reveals to be fakes and all decide to abandon their circus world for a return to the real world. The showman is unaware of this and raises the curtain again only to have the audience laugh at the abandoned props, which are dancing on their own. He closes the show with a flash, leaping into a booth and pulling down the curtain.
One can see immediately links with works such as Petrushka, La Boutique Fantastique, Coppélia, and L'enfant et les sortilèges but Berners is able to create a unique score that is in his own breezy style.
Lord Berners: Luna Park – The Four Niches (RTÉ Sinfonietta; Kenneth Alwyn, cond.)

The RTÉ Sinfonietta is here directed by Kenneth Alwyn (1925-2020), who took up conducting at the Royal Academy of Music in London. His first jobs were in Singapore and New Zealand before coming to Sadler's Wells Royal Ballet in London and then the Royal Ballet, Covent Garden. He had an extensive recording career, made concert appearances in Japan, American, and Europe and led the BBC Concert Orchestra for over 40 years.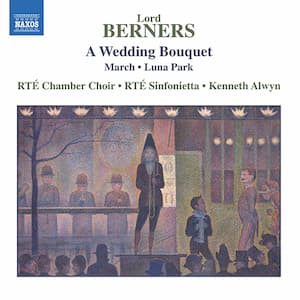 Lord Berners: Luna Park – The Four Niches

Performed by
RTÉ Sinfonietta
Kenneth Alwyn

Official Website
For more of the best in classical music, sign up to our E-Newsletter