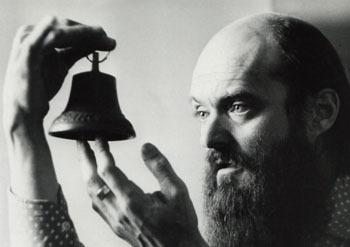 It is said that Estonian composer Arvo Pärt is the Bach of our century. An unassuming man with furrowed brow, a big bushy salt and pepper beard, and serious contemplative demeanor, this contemporary composer, does not tend to make people want to run the other way. Even non-classical music fans know and love his music. Transcendent, spiritual, otherworldly and soothing are words that jump to mind when describing Part's accessible music.
The Concert and Opera League tabulates the composers who were featured the most during a year. Beethoven and Mozart of course are ensconced at the top. Debussy is also in the top 10.
Arvo Pärt for the second year in a row, is the most performed living composer at number 54.
Pärt was born September 11, 1935. He showed great musical aptitude as a very young child despite a dilapidated piano, a modest home situation and an oppressive political regime. When he was drafted into the Soviet army, he was recruited to play the drums and soon he gained a place at the Academy of Music in Tallinn, Estonia.
Pärt's first explorations in composition were decidedly aggressive and dissonant. This ran Pärt afoul of the Soviet government who called his music scandalous. Like some of his Russian counterparts, Shostakovich for example, Pärt was labeled as insolent and insubordinate. Defying the law that stated that before a performance a musical score had to be shown to the composer's union, conductor Neemi Jarvi, a fellow Estonian, and the Estonian Philharmonic, decided to go ahead with a performance in 1968, without demonstrating the "acceptability" of the music — a choral piece entitled Credo which clearly states a belief in Jesus Christ, tantamount to a crime at the time. This caused such a scandal that the apoplectic Politburo fired several people and relegated Pärt to writing film music for his living.
Pärt stopped composing. Haunted by the violence in the world, and isolated by the regime, he started seeking music to express "small steps of tolerance to the world." He searched for a more personal style of musical expression. Pärt obsessively studied Gregorian plainsong and medieval music and the simple single lines of melody.
Arvo Pärt: Für Alina (Alexei Lubimov, piano)

In 1976 he re-emerged with the piece Für Alina, a short piano work in a new style, which he calls tintinnabuli. The word comes from Latin meaning bells. Pärt incorporates two lines: one for the melody, and the other from the chord that harmonizes with the melody notes, resulting in bell-like sonorities. As he describes it, these lines are a metaphor for life: "One line is who we are and the other line is who is holding and takes care of us…the melodic line is our sins. But the other line is forgiveness of the sins."
Although Pärt's music seems sparse on the page, he is meticulous, almost obsessive about every note he chooses. There is an amusing story about the premier of Tabula Rasa, arguably his most famous work related in 2010 by Arthur Lubow in a New York Times article The Sound of Spirit:
It was 1977. Conductor Eri Klas had planned to program a work by Alfred Schnittke, a Concerto Grosso for two violins, harpsichord, prepared piano and strings. Klas asked Pärt if he would compose a piece with that instrumentation for the program. The violinist soloists were Gidon Kremer and Tatjana Grindenko.

Arvo Pärt: Tabula Rasa (Lesley Hatfield, violin; Rebecca Hirsch, violin; Ulster Orchestra; Takuo Yuasa, cond.)

When the score of Tabula Rasa arrived, the artists were astonished to see how sparse it appeared on the page. With only two rehearsals the musicians felt like they were walking on eggshells. The performers and the music in the packed hall in Tallinn mesmerized the audience. Composer Erkki-Sven Tuur who attended that evening said, "I had the feeling that eternity was touching me through this music." The audience was hushed for several minutes after the piece ended. Tabula Rasa led to international recognition for Pärt.
Pärt believes that we have a universal longing for space and the Divine state. The simplicity of Pärt's music on the surface belies the effort it takes to achieve that peaceful quality in performance. The performers almost have to hold their breaths during the slow held notes and repeated patterns. The effort to connect the single melody notes takes enormous concentration and discipline from the musicians with stunning effect — resulting in consonance, accord, harmony and transcendence.
Arvo Pärt: Spiegel im Spiegel (version for violin and piano) (Nicola Benedetti, violin; Alexei Grynyuk, piano)

Pärt's oeuvre is quite astounding in diversity and quantity. These include instrumental works, such as a series of works entitled Fratres for several different small ensembles, Spiegel im Spiegel for violin or cello and piano, organ music, music for voice, including voice a cappella, (without accompaniment), many orchestral works and music for solo instrument with accompaniment. The pervasive 'feel' of the music is deep, peaceful and dignified.
Pärt is best known for his large-scale choral works inspired by sacred and religious texts such as his St. John Passion, Te Deum and Magnificat and for his politically outspoken music.
Conductor Esa-Pekka Salonen and the Los Angeles Symphony premiered Pärt's Symphony No. 4, "Los Angeles" in Walt Disney Hall in 2009. The work is dedicated to Mikhail Khodorkovsky, a political adversary of the Russian government and oil executive who was accused of fraud. He, like many others, has disappeared into the Siberian Gulag. Pärt hopes to "reach out to all those imprisoned without rights in Russia." Believing in the power of music to transform people, he calls for mercy and humility even perhaps, "reaching faraway Siberia one day."
The music is quite breathtaking. Pärt says it best:
"I could compare my music to white light which contains all colours. Only a prism can divide the colours and make them appear; this prism could be the spirit of the listener."
Pärt's music conjures a deep stillness filling a human need — the need for spirituality. The music is simple and profound. Listen for yourself!
For more of the best in classical music, sign up to our E-Newsletter
Performance of Cantus im Memoriam Benjamin Britten PROMS
The Beatitudes for chorus a cappella