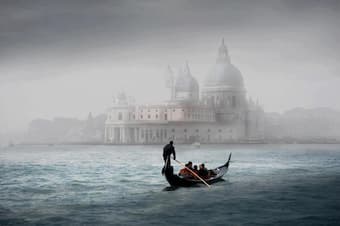 Evoking the rush of water, the stroke of oars and the motion of the ocean, the Barcarolle was a folk song sung by Venetian gondoliers (the word comes from "Barca" meaning "boat"). Characterised by a rocking rhythm, suggestive of the movement of the gondola, a Barcarolle is usually of moderate tempo scored in compound time (often 6/8, 9/8 or 12/8). The genre has been used by many composers to great expressive effect.
Mendelssohn's Songs Without Words contain three Venetian Boat Songs or Venezianisches Gondellied, which display all the distinctive characteristics of the barcarolle, the most famous being Op 19b, No. 6 in G minor – a melancholic miniature which evokes Venice at night, enveloped by winter fog, bells tolling from a distant campanile. The other two (Op 30, No. 6 in F-sharp minor and Op 62, No 5 in A minor) are similarly haunting with their plaintive, lyrical melodies and restrained expressiveness.
Felix Mendelssohn: Lieder ohne Worte (Songs without Words), Book 2, Op. 30 – No. 12 in F-Sharp Minor, Op. 30, No. 6, "Venezianisches Gondellied" (Venetian Gondola Song) (Péter Nagy, piano)

'June', the most popular movement from Tchaikovsky's The Seasons, is subtitled "barcarolle" and it begins with a drowsy, twining melody before moving into a more dramatic middle section, the only part of the piece which truly imitates the rocking of the gondola.
Pyotr Ilyich Tchaikovsky: Les Saisons (The Seasons), Op. 37b – VI. June: Barcarolle (Olli Mustonen, piano)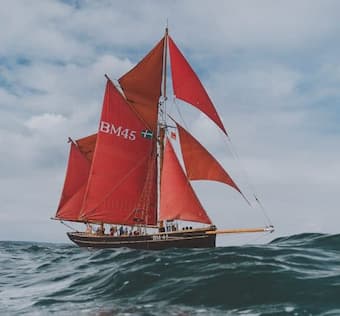 A lesser-known Barcarolle by Charles-Valentin Alkan is found in his Troisième recueil de chants, piano miniatures inspired by Mendelssohn's Songs Without Words, and, like Mendelssohn's famous Venetian Gondola Song, scored in lugubrious G minor. Alkan's Barcarolle is characterised by flowing semiquaver arpeggios in treble and bass, rather than a lyrical melody over a lilting, ostinato bass, but the rocking rhythm of the boat song is still evident as the music rises and falls like waves. Its mournful mood lifts in the major key middle section, and a surprising mini coda adds an unexpected twist of joy at the end.
Charles-Valentin Alkan: Troisieme recueil de chants, Op. 65: No. 6. Barcarolle in G Minor (Marc-André Hamelin, piano)

Gabriel Fauré wrote 13 Barcarolles for piano over four decades, regarded as some of his most characteristic, and characterful piano music. In these works, we hear him breaking free of the romanticism of Mendelssohn and Chopin, and finding his own musical voice in which he combined tradition with the emerging modernism of the new century, as evidenced by dissonance, syncopation, piquant harmonies and mercurial expression.
Gabriel Fauré: Barcarolle No. 5 in F-Sharp Minor, Op. 66 (Charles Owen, piano)

But perhaps the most famous Barcarolle is by Frédéric Chopin, master of the romantic piano. Towards the end of his life, Chopin began to write in genres he had not explored before – the Polonaise-Fantasy, Berceuse, and the Barcarolle. Chopin never visited Venice, but a fleeting experience of the sea when travelling from Marseilles to Genoa clearly gave him the creative impulse to compose a work of great beauty, imagination and passionate expression. After the opening gesture, an ostinato bass marks the traditional barcarolle rhythm with a mellifluous bel canto melody, embellished with delicate trills. Chopin's skill is in developing the narrative through a series of expressive episodes, redolent of his Ballades, towards the ecstatic finale, before the music subsides into sweet lyricism. A filigree coda prefaces four emphatically sonorous closing notes.
More Barcarolles to explore:
The first movement of Poulenc's Napoli suite, composed in 1925, evokes the rocking of a small boat, lapped by the choppy waves of the sea.
Francis Poulenc: Napoli, FP 40 – I. Barcarolle (Franziska Lee, piano)

Not strictly a Barcarolle in the traditional sense of the genre, 'Une Barque sur l'Océan' from Ravel's Miroirs depicts a boat floating and gently rocking on glistening ocean waves.
The second movement of Bartók's Out of Doors suite is a rather unsettling 'Barcarolla', with a serpentine, arpeggiated ostinato bass line suggesting a gondola's slow progress through the quiet, back canals of Venice.
Béla Bartók: Szabadban (Out of Doors), BB 89 – II. Barcarolle (Rolf Hind, piano)

Ned Rorem's three Barcarolles for piano, composed in Morocco in 1949.
Ned Rorem: Barcarolles – No. 2. Tender (Leon Fleisher, piano)

For more of the best in classical music, sign up to our E-Newsletter