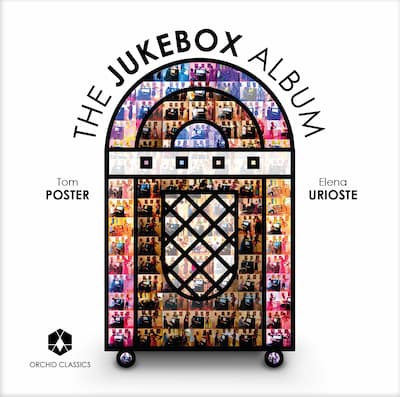 Few of us believed the 2020 lockdown would go on for more than a couple of weeks. In the midst of the initial announcement by government, many musicians – and others – watched in horror as their work dried up overnight. When it became apparent that this was no "two weeks to flatten the curve", musicians had no work in prospect with concert halls and venues closed for the foreseeable future. Bereft of live performances, many turned to the internet as a means of sharing their music with others and a number of very imaginative projects grew out of the weeks of isolation.
#UriPosteJukeBox, created by violinist Elena Urioste and pianist Tom Poster (the handle is a portmanteau of their surnames, and they are a husband-and-wife duo), was originally intended "to simply to keep our minds sharp, fingers busy, and friends smiling" (Elena Urioste) by sharing a daily music video for each day spent in isolation. The inclusion of the word "jukebox" in the hashtag gave the project "an old-timey method of enjoying music" and the musicians invited their virtual audience to suggest what they might play, thereby adding another "jukebox" element to their performances. Flooded with requests, the project that took off in ways the duo had never dreamed of, capturing the imaginations and hearts of listeners around the world, and embracing requests that traversed many musical genres – from Bach to Britney Spears, Mozart to Messiaen, Sondheim to nursery rhymes and even mash-ups of pop songs of the 1980s! The pair entertained their virtual audiences and followers with daily videos, featuring increasingly elaborate costumes, props, additional instruments, and multi-tracking. In all, they made 88 videos – one for each key on the piano. The impact of the endeavour and the joy it brought to so many during an extraordinarily challenging time was formally recognised with a Royal Philharmonic Society Inspiration Award.
The project also led to new commissions – An Essay of Love by Mark Simpson (conceived for the pair even before they approached him), Bloom by Cheryl Frances-Hoad, Emotiva by Clarice Assad, Arietta by Huw Watkins, Bha là eile ann (There was a different day) by Donald Grant, and Peace by Jessie Montgomery-, pieces written in response to or reflections on lockdown and the strange, uncertain days of 2020. These pieces were premiered in the daily music videos and have now found their way onto The Jukebox Album, a collection of 16 of the duo's favourite pieces from the project.
Donald Grant: 'Bha lá eile ann' ('There was a different day')
In keeping with the eclecticism and imagination of the original project, the album presents a wide range of music – from much-loved favourites like A Nightingale Sang in Berkeley Square, Send In The Clowns and La Vie En Rose (all given a wonderfully "vintage" sound through Urioste's silky violin tone and Poster's warm piano sound) to works by Lili Boulanger, Cecile Chaminade and Gabriel Fauré.
Lili Boulanger: 'Cortège'
The opening track, Jerome Kern's Look for the Silver Lining, reflects the spirit of the whole Jukebox project: bereft of concert work, Poster and Urioste sought a silver lining in their own situation, and embarked on something primarily to keep themselves occupied and to give them focus ("I probably would've put the violin in its case and not seen it for a month or two" – Elena Urioste), but which quickly became something joyful and uplifting to lighten the darkest days of lockdown, providing comfort and pleasure to the many people who craved music and connection.
The resulting Jukebox Album is a 'recital disc' of great variety and charm, all performed with commitment, care and obvious affection. Perhaps it is just the effect of listening after 18 months of lockdowns, restrictions, heightened anxiety, loss….but many of the pieces are tinged with poignancy – Bha là eile ann (There was a different day) by Donald Grant is a real tear-jerker track, but this is quickly dispelled by the jollity of the finale, Jukebox Toodle-oo, which features Tom Poster on piano, cello, descant recorder, kazoo, and swanee whistle, and has a delightful 1930s foot-tapping swing.
"This is the music we've loved our whole lives. The music world likes to pigeon-hole people, but this felt like the most authentic version of ourselves musically that we've ever been able to be publicly, because this is the music we've always loved playing." – Tom Poster
The Jukebox Album is released on 24 September on the Orchid Classics label
For more of the best in classical music, sign up to our E-Newsletter