Leoš Janáček (1854-1928) was not one of the usual child musical prodigies. He was a gifted child as a pianist and organist but it wasn't until he was in his 50s that he made his name in music with his opera Jenůfa. It took him some 9 years, between 1894 and 1903 to commit the work to paper and although it received its premiere in Brno in 1904, it was its Prague premiere in 1916 that brought him to the attention of the world. He was 62.
In 1917, he met Kamila Stösslová, a young married woman who was nearly 40 years younger and who became his muse and inspiration for the rest of his life. He wrote her over 700 letters and composed some of the most memorable works in his life. It is on this last decade of his life that his real reputation rests: the operas Káťa Kabanová and Cunning Little Vixen, the Sinfonietta, the Glagolitic Mass, and Mladi (Youth).
The woodwind sextet Mladi was inspired by a visit to the festival of the International Society of Contemporary Music in Salzburg in August 1923. There, he heard Albert Roussel's Divertimento for Wind Quintet and Piano and was intrigued by the small chamber ensemble format. Many of the themes in Mladi are from Janáček's youth, such as the March of the Blue-Boys which recalled his youth in the Old Brno Monastery. The work received its unsuccessful premiere in October 1924 and then received its successful launch in Prague in the next month. The first premiere was unsuccessful due to problems with not only a broken oboe but also a broken clarinet.
Despite being written when he was 70, the work is part of his late-life collection of works written in a 'youthful mood.' The woodwind writing is virtuosic, and the musical writing is very characteristic of Janáček's late style. The third movement has the main theme from his earlier March of the Blue-Boys.
This 1947 recording is performed by the Wind Quintet of Prague, which was established in 1928 and still performs today.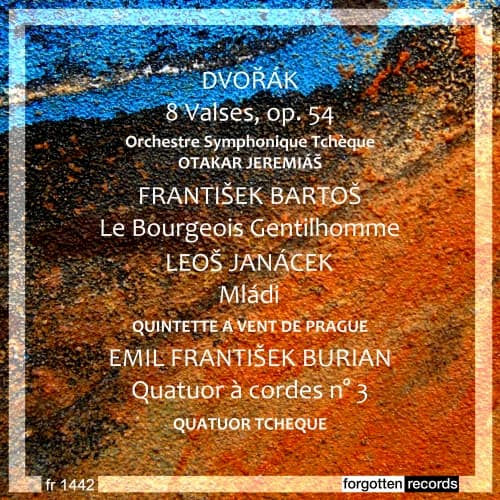 Performed by

Quintette à vent de Prague

Recorded in 1947

Official Website
For more of the best in classical music, sign up to our E-Newsletter