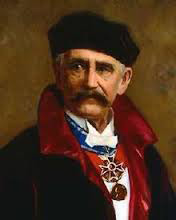 As far as composers go, Franz Xaver Scharwenka (1850-1924) is not necessarily a household name. Born in a small Polish town he took first piano lessons at the age of 3, and when his family moved to Berlin he became a student at the Theodor Kullak Academy. He soon toured Europe, and eventually the United States as a conductor and soloist, and his Chopin interpretations were praised for the beauty of its tone. And Vienna's famed music critic Eduard Hanslick called Scharwenka "a wholly outstanding pianist, dazzling but without charlatanry." He opened his own Music Academy in Berlin in 1881, and a New York City branch opened a decade later. His most famous compositions were innocent little piano pieces that literally sold millions of copies and were endlessly reprinted in popular piano music anthologies. Lacking business savvy, Scharwenka sold his miniatures for a flat fee when he could have made massive royalties around the world.

Franz Xaver Scharwenka: Piano Concerto No. 1, Op. 32
His first piano concerto started as a fantasy for solo piano in 1870. Unsatisfied, he added an orchestral introduction and presented the work as a single-movement fantasy in Berlin in 1875. Still not entirely satisfied, he reshaped the work as a concerto and dedicated the work to Franz Liszt, for whom he performed it privately. Unfolding in three movements, the concerto nevertheless reflects its rather unusual genesis. It has no dedicated slow movement, but merely an adagio intermezzo as part of the opening movement. As such, it might be the only concerto in existence that features 3 consecutive Allegro movements. And it became a hit! Hans von Bülow described it "original, amiable throughout, perfect in form with admirable instrumentation." And exceptional pianists like Constantin von Sternberg, Emil von Sauer, Moriz Rosenthal and Eugen d'Albert performed the Scharwenka concerto to great acclaim. Yet as it frequently happens, the work completely disappeared from the concert stage until Earl Wild and the Boston Symphony first recorded it in 1968.