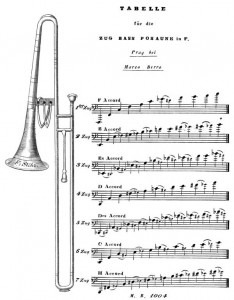 Belcke was certainly well received in the salons of Paris, and the Belgian musicologist and critic François-Joseph Fétis reports, "Although the place of the trombone in the orchestra is already defined, and execution for this purpose beyond a certain degree useless, the bass trombone has been cultivated in Germany as a solo instrument with singular success, and the fame of Belcke of Berlin, for skillful management, has already reached England." Belcke's international fame and fortune inspired other hopeful trombonists, including Ernst Sachse (1813-1870). Born in the little town of Altenburg, located just south of Leipzig, Sachse was offered a position as trumpeter at the Hofkapelle (court ensemble) in Weimar. He played under the direction of Johann Nepomuk Hummel and Franz Liszt, and made his first solo appearance at Weimar city hall in 1836. According to the records, he also was principle trombone for the premiere of Wagner's

Lohengrin

on 28 August 1855. Sachse frequently featured as the soloist in his own compositions, and his concertos for bass trombone enjoyed modest popularity and are occasionally still performed today.

Ernst Sachse: Concerto in F Major for Bass Trombone

The modern era of the trombone as a solo instrument began on 6 April 1815, when Friedrich August Belcke performed a potpourri with obbligato trombone by Carl Heinrich Meyer with the Gewandhaus orchestra in Leipzig. A critic for the Allgemeine musikalische Zeitung wrote "Finally, Mr. Belcke, a young man of talent and considerable skill, astonished us with a potpourri for trombone with orchestral accompaniment, in a style which was for us completely new. The work was not only written with a complete knowledge of the instrument and skilled exploitation of all its principal qualities, but was also very well written as a piece of music in general; and, in spite of its great difficulty, the soloist played it with a precision, clarity and neatness—yes, even with a fine cantilena—such as we have never heard before from a trombonist." Aspiring to become a virtuoso on the traveling circuit like Thalberg, Liszt and Paganini, Belcke took his trombone on the road and toured various German cities, but also Copenhagen, Stockholm, and Paris.