The Mazurka in the hands of Chopin changed from being a Polish country dance to being found in the drawing rooms and parlours of the most distinguished homes in the Romantic period. Its origin is in the mazur, a folk dance known for its inconsistent rhythmic accents. Mazurka is the feminine version of the word mazur, and so refers to a woman or a girl from Mazovia, a region in mid–north-east Poland, as well as to a Mzovian dance.
Chopin composed 59 mazurkas, starting in 1824 and finishing in the last year of his life, 1849. It was only after 1830, with the Polish Uprising that banished him from Poland forever, that Chopin took up the mazurka seriously. Chopin's mazurkas were very different in character from their country dance source. His mazurkas included counterpoint and fugue, classical compositional techniques that he added. And, by making them more chromatic and changing the harmonies, he made them more interesting than their country cousins. The most important change Chopin made was to make them undanceable. What he retained from the dance original was the rhythms, which were irregular in the first place, and lots of repetition, not only of sections but also even measures or groups of measures.
Chopin's Op. 39 mazurkas were composed in 1846. He had only 3 years left to live, his health was deteriorating, and his relationship with George Sand and her children was failing. He dedicated the mazurkas not to George Sand, but to Laura Czosnowska, who had been a summer guest in Nohant, and who was not viewed favourably by either George Sand or her adult children, Solange and Maurice.
Chopin, by setting this piece in B major, is confronting the player with 5 sharps. The music is in triple meter and alternates between flowing notes and abrupt stops. A lighter middle section breaks up the sound before a return of the opening material.
Frédéric Chopin: Mazurka No. 39 in B Major, Op. 63, No. 1
The pianist Ryszard Bakst (1926-1999) was a Polish pianist and teacher who was related to the Russian artist Léon Bakst. He started his studies under his mother before attending the Moscow Conservatory. He was a prize winner at the 4th International Chopin Competition (1949) and his international touring career took him to both Europe and the US. Although recognized for these performances of Chopin, his repertoire also included composer such as Beethoven, Schumann, and Paderewski as well as modern composers including Piston, Honegger, Shostakovich, Milhaud, Copland and others. These recording were made in July 1958.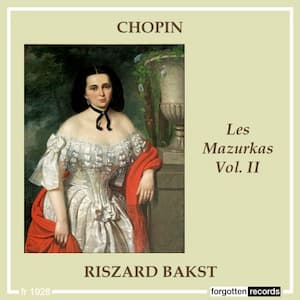 Performed by

Ryszard Bakst

Recorded in 1958

Official Website
For more of the best in classical music, sign up to our E-Newsletter