Bedřich Smetana (1824-1884) synthesized his native Czech music with the larger Classical tradition. He's best known today for his opera The Bartered Bride and his massive 6-part symphonic poem Má vlast. Smetana was the 11th child of a brewer who served the nobility. His early music promise on the piano and violin was recognized early and he wrote his first music at age 9. In 1838, he persuaded his father to let him study in Prague and this was the start of his true musical life.
He served for many years as a teacher and pianist in Prague but also had a career as a teacher and choir conductor in Sweden and opened a music school in Gothenburg. There he also had a career as a pianist and conductor. The rise of the symphonic poem, such as Berlioz' Symphonie fantastique and Roméo et Juliette, which he conducted in 1846, and Liszt's Faust Symphony and Die Ideale, which he heard in Weimar, had an influence on his own compositions.
The German poet and playwright Friedrich Schiller (1759-1805) had written three plays on the general Albrecht von Wallenstein during the 30 Years' War. His plays, Wallenstein's Camp, The Piccolomini, and Wallenstein's Death, follow the general from his height of greatness to his fall and political murder. Smetana's symphonic poem, Wallenstein's Camp, Op. 141, was intended to be an overture for the plays. It was completed in 1859.
In the work, Smetana opens in the middle of the camp with a busy crowd scene. Soon, we are diverted by a dance, followed by the protests of a monk, represented by three trombones and a tuba. He complains about the camp's activities, asking 'Is that an army of Christians? Are we Turks? Are we Anabatists?', insulting them with the names of their enemies, but is mocked by the crowd. As night falls, the camp sleeps (slow section) and is awoken at the end by a trumpet call. The camp is roused and marches off.
In this 1950 recording, Czech conductor Henry Swoboda (1897-1990) leads the Vienna Symphony Orchestra. Swoboda is most famous for making the first commercially available recording of Bruckner's Sixth Symphony in 1950 with the VSO. He emigrated to the US in 1939 after serving as a guest professor at the University of Southern California from 1931 through 1939.
Smetana: Le Camp de Wallenstein, Op. 141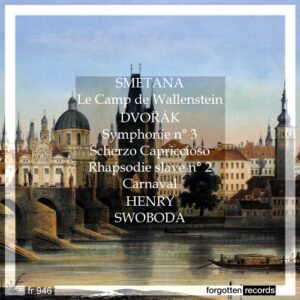 Performed by
Henry Swoboda
Orchestre Symphonique de Vienne

Recorded in 1950

Official Website