Tuberculosis, or consumption as it was known throughout the 19th century—decisively shaped the social history of Europe. Its impact on the artistic world was extremely powerful, with artists offering their own commentaries on the disease through painting, poetry and opera. The image of a young person, wasted, feverish, and racked with coughs became a popular image in itself. And John Keats' tragic death at the age of 25 contributed to that particular image. Tuberculosis was highly prevalent in his community, and the Keats family was to lose John, his 2 brothers, Tom and George, as well as their mother and uncle, to this disease. Acutely aware of his condition, Keats encoded his thoughts and feelings into a number of poems, none more relevant than "To Sleep."
O soft embalmer of the still midnight,
Shutting with careful fingers and benign
Our gloom-pleas'd eyes, embower'd from the light,
Enshaded in forgetfulness divine:
O soothest Sleep! if so it please thee, close,
In midst of this thine hymn, my willing eyes,
Or wait the Amen ere thy poppy throws
Around my bed its lulling charities.
Save me from curious conscience, that still hoards
Its strength for darkness, burrowing like the mole;
Turn the key deftly in the oiled wards,
And seal the hushed casket of my soul.
Composed in 1943, shortly after Benjamin Britten returned to England from the US, the Serenade for tenor, horn and strings, Op. 31 sets poetry by Keats, Tennyson, Blake, Cotton, and Jonson, together with an anonymous fifteenth-century text, as a metaphor for the journey from life into death.
Benjamin Britten: Serenade for Tenor, Horn and Strings, Op. 31 – VII. Sonnet (Adrian Thompson, tenor; Michael Thompson, horn; Bournemouth Sinfonietta; David Lloyd-Jones, cond.)


In a 1931 letter to his close friend Aaron Copland, the Mexican composer Carlos Chávez writes, "European musicians are of the worst kind. Conductors, pianists, violinists, singers and so on are prima donna minded people, they are very important to themselves. We must change the situation." In his reply, Copland concurred, "All you wrote about music in America awoke a responsive echo in my heart. I am through with Europe, Carlos, and I believe as you do, that our salvation must come from ourselves and that we must fight the foreign element in American music." Copland's populist style transformed music in the US, and Chávez exerted enormous influence in Mexico as a composer, conductor and bureaucrat. His modernist compositional style features the colorful rhythms and characterful themes of Aztec and Mexican music and the first of his 3 Nocturnes is based on the Keats Sonnet "To Sleep."
Carlos Chávez: 3 Nocturnes – No. 1 Sonnet to Sleep (Solistas Ensemble del INBA; Rufino Montero, cond.)


A substantial number of composers of choral music have taken up the Keats sonnet "To Sleep". In this poem Keats present a lyrical voice desiring to go to sleep. The action of sleeping is associated with a place of wellness and calmness, which contrasts with the troubles experienced in daytime. As a metaphor for death, sleep becomes a state of pleasure and joy. In choral music, the poem not only sets the mood and atmosphere, but also gives structural and formal shape to the composition. "A choral composition is primarily an engagement with and response to the poem. It is an attempt to capture the character and nuance of the text in musical terms." The Irish composer and pedagogue John Buckley, born in 1951 in County Limerick, has composed music for chorus over a period of 45 years. In virtually all of his choral music, there are constantly shifting tonal centers, a widespread use of chromatic movement and widely spaced intervals, and in Keats' "To Sleep," the composer "suggests a musical response to the beauty of text and elegance of rhythm."
John Buckley: To Sleep (Mornington Singers; Orla Flanagan, cond.)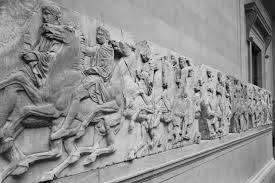 The Scottish nobleman Thomas Bruce, known as the 7th Earl of Elgin is primarily remembered for the controversial removal of marble sculptures and friezes—known as the Elgin Marbles—from the Parthenon in Athens. He sold his loot to the British Museum in 1816, and Keats composed the following verse "On Seeing the Elgin Marbles."
My spirit is too weak—mortality
Weighs heavily on me like unwilling sleep,
And each imagined pinnacle and steep
Of godlike hardship tells me I must die
Like a sick eagle looking at the sky.
Yet 'tis a gentle luxury to weep
That I have not the cloudy winds to keep
Fresh for the opening of the morning's eye.
Such dim-conceived glories of the brain
Bring round the heart an undescribable feud;
So do these wonders a most dizzy pain,
That mingles Grecian grandeur with the rude
Wasting of old time—with a billowy main—
A sun—a shadow of a magnitude.
Charles Ives set these autobiographical lines on mortality and the imminence of death by John Keats to music in 1920. "Like a Sick Eagle" is notable for its motion, halting yet sustained, and also for the use of glissandi in the vocal part that reflect the song's origin in a piece for violin and piano.
Charles Ives: Like a Sick Eagle (Robert Gardner, baritone; Eric Trudel, piano)