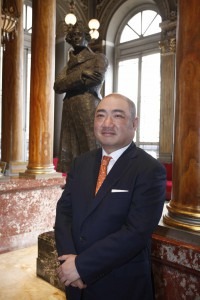 Once a French concession, Shanghai, with its rich culture and roadside platanes, is regarded as the 'Paris' in China. Pianist Xu Zhong, who grew up in Shanghai and furthered his study with Dominique Merlet in Paris, is perhaps one of the best representatives of the city. Apart from his numerous leading roles in Shanghai's arts organizations, he was the Artistic Director of 'French Culture in Shanghai' 2003/2005. In 2010, he was awarded the 'Officier de l'Ordre des Arts et des Lettres' by the French Government. Recently, he has just been appointed as the Artistic Director of the prestigious opera house in Cantania, Sicily – Teatro Massimo Bellini. Named after composer Vincenzo Bellini, this opera house was inaugurated in 1890 with a performance of his masterwork, Norma. Xu Zhong, is the first Chinese ever to direct an Italian opera house in the history of music. Here, we traced back how it all began.


J: Jenny Lee
X: Xu Zhong

J: It is amazing that you excel in many different roles. Looking back at your path, what elements contributed to your success? Which role is the most challenging?

X: I started to learn the piano at the age of 3 and I entered the affiliated secondary school of the Shanghai Conservatory of Music. In 1986, I got support from the Chow Ching Lie Foundation (周勤麗基金) to study at the Conservatoire National Superieur de Musique de Paris. It was a very complete music education. I also found my passion for vocal music because I had an excellent teacher there, called Michel Piquemal. In fact, my career begins with the piano and gradually opens up to many different fields. In terms of the most challenging role, it must be the role of the Artistic Director in an opera house in Italy because I had to plan the season, the tour, the recording session, as well as conducting the orchestra. Also, I had to choose the stage director and give comments on the stage setting. All these are challenging for me.

J: Pianists like Daniel Barenboim, Vladimir Ashkenazy, Mikhail Pletnev have ventured into the world of conductor, and so have you. How did it happen? What is your view in conducting?

X: There are a lot of conductors who excel in piano playing, for example Karajan, Muti, Michael Tilson Thomas, Bernstein, Abbado etc. The connection between piano playing and conducting is strong; they complement each other. At the same time, each requires a lot of hard work and time to achieve professional standard. So, it takes time for a pianist or any instrumentalist to become a conductor. Regarding my conducting career, people said that I entered this profession for not very long, but I was able to achieve success. There are several reasons. Though I had only 10 years of professional experience, I prepared it for a long time. When I was studying in Paris, I had lessons with the renowned choral conductor Mr. Michel Piquemal, Mme Michele Reverdy, Mr. Jean-François Heisser and Mr. Gérard Frémy . They gave me an all rounded music education, from analysis to score-reading. In 1992, I met pianist-conductor Philippe Entremont and I also received advices from the Casadesus family, Mariss Jansons and Wong Xiao Tung (黃曉同) who was the teacher of many Chinese maestros namely Yu Long, Muhai Tang etc. Apart from that, I also went to a lot of operas performances in Europe. Because of my profound knowledge in both Chinese and western culture, my taste and judgment in the arts, I was invited to be the Artistic Director of the prestigious opera house in Italy – Teatro Massimo Bellini.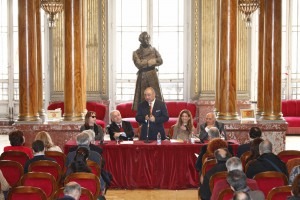 J: Who would you regard as your inspiration in your career?

X: There are four groups of people who shaped my career. First of all, my parents and my teacher Wang Yu, who gave me free piano lessons for years; secondly, my pianist 'mother', Madame Chow Ching Lie, who treats me like her son; thirdly, Dominique Merlet and Philipe Entremont; finally, the renowned educator Wong Xiao Tung (黃曉同) and Peiro Rattalino, who has been the General Manager of almost all the major opera houses in Italy.

J: Shanghai is often regarded as the 'Paris' in China. You grew up in Shanghai and studied in Paris. How have these two cities helped you to grow artistically?

X: Indeed, a real Paris and a Paris in the East! When I was young, I learnt about France in novels by Victor Hugo and Alexandre Dumas. Once a French concession, Shanghai still preserves a lot of French architectures. Madame Chow Ching lie (周勤麗), who chose me to be her student in 1984, is a remarkable lady who was born in Shanghai and moved to Paris. Recently, the Shanghai Government appointed me to lead the cultural session of the 'French Culture in Shanghai' in 2003/2005. Because of all these experiences, I was also awarded the 'Officier de l'Ordre des Arts et des Lettres' by the French Government. During the award ceremony, the French President Valery Giscard d'Estaing praised me as 'the best interpreter of French music'.

J: You were born into a family of medical researchers. Has your family been supportive of you pursuing music?

X: My parents are passionate about classical music. This is one of the reasons why I chose a musical path. At that time, classical music was forbidden in China. When I practiced piano, my parents had to use duvet to cover windows and doors in order to minimize the sound. My neighbors would guard the doors too. They were very supportive of me.

J: Can you tell us about your latest adventure in Italy?

X: This is the story about my role as the Artistic Director at Teatro Massimo Bellini. In Italy, the Artistic Director of opera houses is chosen by the staff union, orchestral and choir members. I got all their votes and it is very rare. It is also the first time in Italian history that an Asian got this post. My appointment was reported in la Repubblica and by the renowned music critic Norman Lebrecht.