Life as a musician brings with it its own unique set of problems and challenges, and in my previous article I talked about how I try to stay healthy and happy while away from home. Perhaps even more pressing than our physical wellbeing is the effect the inherent instability and uncertainty of our careers can have on our mental health. I decided to get in touch with Help Musicians, an independent UK-based charity, to have a chat about the services they offer to musicians in the UK. Help Musicians supports musicians of all kinds from age 18 to retirement and beyond, be it with health and welfare issues, physical rehabilitation, or help with career support and progression. I speak to Sam Fry, Help Musicians Health and Welfare Officer about their work to support musicians' mental health.
One of the things that strikes me about Help Musicians' work is their broad scope of approach when offering help for musicians. As Sam explains, 'There are so many factors that can impact on musicians' lives that it's good to be able to look at an individual's specific circumstances and have a person-centred approach to help them, whether it's mental health support or support for recovery from injury.'
As a working musician myself, it feels like the conversation has changed a lot recently around mental health. Previously people only sought help for physical ailments (and even then, musicians were used to pushing their bodies to the limit without much regard for their wellbeing), but now things are slowly changing, both in the support that's offered and the atmosphere that allows musicians to come forward and access support. I ask Sam if he's noticed a change recently in how many people come to Help Musicians seeking support for their mental health.
'Definitely. The mental health agenda has come into focus a lot more over the last couple of years, and we've experienced musicians coming forward and opening up to talk about their experiences with mental health challenges, from a general day-to-day wellbeing perspective through to more significant, long-term mental health issues. Getting the conversation happening is the first step to them being able to access support, and for us being able to signpost them to the right help.'
This is one of the biggest challenges: getting the conversation started. In December 2017 Help Musicians started the Music Minds Matter Helpline, a 24/7 helpline for musicians to access confidential immediate mental health support in their own space. 'People can get in touch in their own time and feel secure and safe to talk about those things that maybe historically people in all walks of life – not just musicians – didn't feel comfortable talking about,' says Sam.
This stigma is still there to a certain extent. How is Help Musicians working to shift that taboo on a practical level?
'We work with other organisations in the music industry and other more broad health and welfare organisations to find out what the issues are that people are coming forward with that affect them', explains Sam. One result of this is the healthy touring checklist, developed in collaboration with BAPAM (the British Association for Performing Arts Medicine) which helps people to think about things that affect their wellbeing while away on the road. I myself have referenced it several times, and found it nice to have a practically-framed guide to staying healthy that also has positive implications for mental health.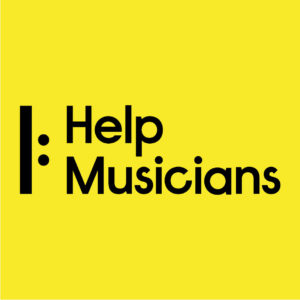 There are many potential pitfalls around musicians' mental health, one of the obvious examples being the strange imbalance between the frustration and isolation felt when not working versus the intense pressure felt when performing. Has Help Musicians noticed patterns in the kind of things people approach them for help with?
'When it comes to auditions and pitching for work, there needs to be resilience around that,' says Sam, 'because there is rejection, the fear of failure, those sorts of things. They're the kind of things we're trying to promote: getting the balance right in terms of the amount of pressure musicians put themselves under and how they respond to the feedback they might get. Also the nature of the type of hours you might be working, and working in blocks instead of a consistent stream of work; with these comes uncertainty.'
All of this work is framed within the research that forms the centre of Help Musicians' work. Sam explains, 'A lot of Help Musicians' work is research-driven, so we learn about the sector through the research that we undertake, and those insights help to develop the programme and services we deliver. All the work we do is driven through those research findings.'
The creation of the Music Minds Matter Helpline was a direct result of some research Help Musicians undertook in 2016, in collaboration with the University of Westminster and MusicTank, in which some 2,200 musicians took part. Around seventy percent of the respondents reported feeling depression and anxiety in relation to their work, and thinking back to those results, Sam says that 'the findings from that research were alarming enough that Help Musicians decided to set up Music Minds Matter. We also established that research because the number of enquiries coming through [Help Musicians'] Health and Welfare department had increased so significantly that we felt that there was a need to investigate that more thoroughly.'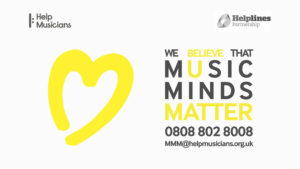 Help Musicians also works closely with BAPAM to refer musicians on to practitioners who are specialists in working with musicians and performing artists, 'so when it comes to issues that impact musicians a lot,' explains Sam, 'they're in a good position to get the right support.'
Help Musicians is now undertaking a study of the 'Future of Classical Careers', aiming to envisage what the classical sector will look like in ten years' time, exploring future training needs and anticipating what support might need to be in place. Sam mentions a podcast, elevate music, which ties together the various threads of managing musicians' wellbeing whilst also offering expert advice and support on key health issues affecting musicians.
Sam tells me about this new research: 'We're looking at the needs of emerging classical creators at the moment and what that sector will look like in the coming years, what sort of environment these musicians will be going into and what we can do to map that as widely as possible, so we can develop understanding and help those moving through conservatoires into orchestras, and give them more of an understanding of what to expect.'
As a young musician studying at music college, I felt like the conversation was slowly starting to shift – but that there was still a lot of work to be done. The landscape of being a young freelancer is constantly changing, and looks very different to anything our predecessors might have experienced. Managing diaries, updating websites, developing social media presence and content – all of these are challenges faced by young musicians, in addition to actually having to turn up and perform to an incredibly high standard. For a job that can so closely be linked to one's personality and identity, it's especially important that a balance exist between work and life.
Sam offers this final piece of advice for young musicians: 'There are a lot of aspects of your career that you didn't have to consider previously. Allocating time to create and update content and then stepping away from it and making time for your wellbeing so you're not switched on to that all the time, and balancing the amount of work in music that you're doing, which can be quite all-encompassing at times, to keep hold of that balance, is so important.'