Menotti's chamber operas get uncomplicated but fun treatment by new opera company Tutti
Double bill: The Telephone and The Medium
Tutti
Hong Kong City Hall, Theatre
3,4 November 2022
Menotti was an Italian-American composer well-known in the 1940s and 50s for his "Broadway operas" – popular operas staged on Broadway. Very soon, however, he was considered too melodious for the avant-garde, when most composers were experimenting with atonality. Menotti fell out of fashion. In the past decade or so, he has enjoyed a resurgence in popularity, often because of the small casts required and short durations – which are perfect for collegiate productions.
The brand-new opera company, Tutti, has chosen to stage The Telephone and The Medium (both 1946), two shows which began their lives as a double bill and have remained a popular pairing since. It is an unconventional and brave choice in Hong Kong, whose appetite for opera veers towards the big and the loud and the glamorous, the top tens i.e. the La Traviatas and Madame Butterflies, the Magic Flutes and Carmens.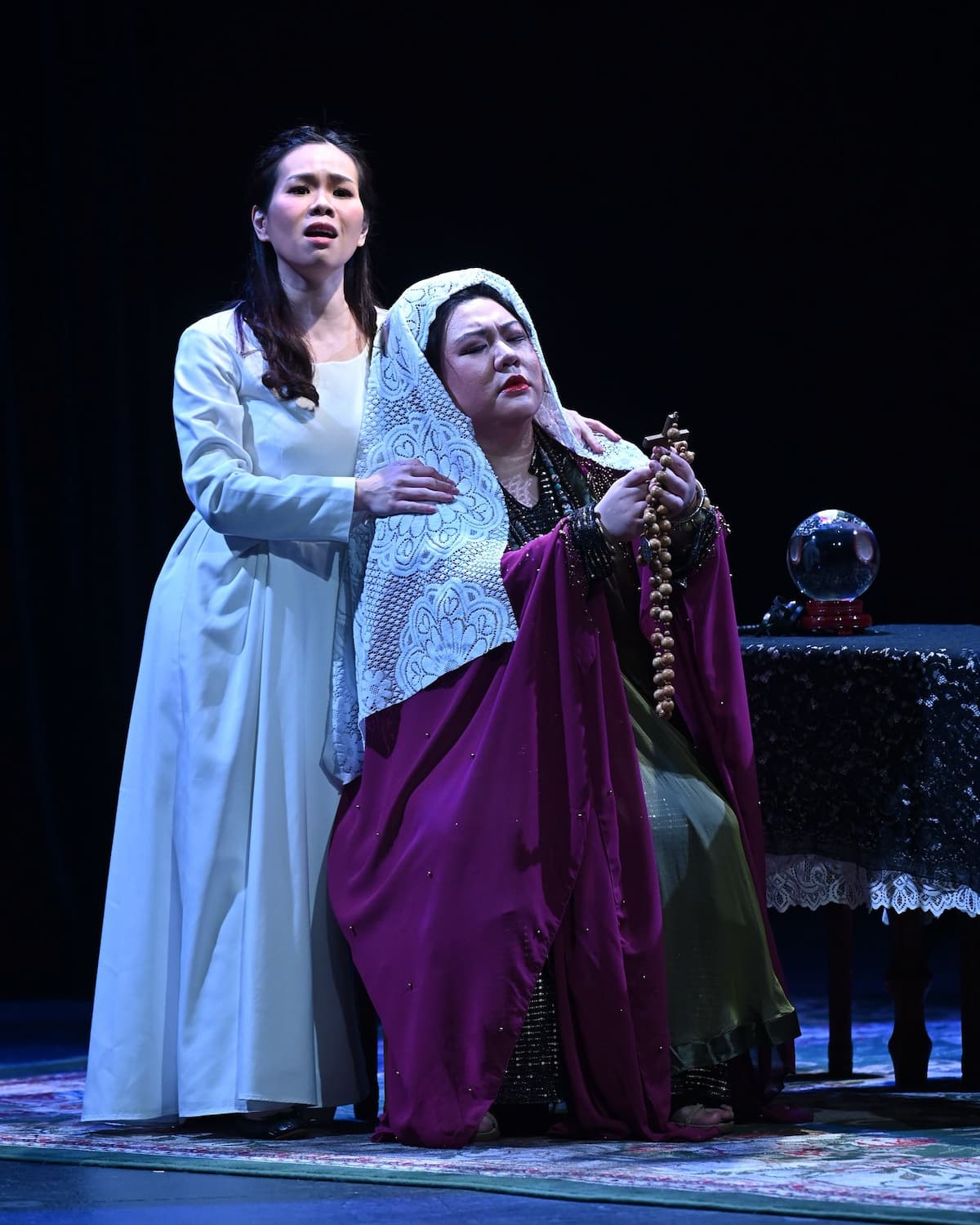 Which is why the new company Tutti's double bill, both directed by Cindy Leung, comes as such a welcome surprise. Not only does it utilize a cast of local artists, but it also features off-the-beaten-path storytelling, well-considered sets, and sound, unpretentious performances.
The Telephone is a comic two-hander. Ben (baritone Michael Lam) is in love with Lucy (coloratura soprano Zara Chung), but she is too attached to her phone (sound familiar?). Ben is desperate to marry her, only to have his proposal constantly interrupted by telephone calls. In contrast, The Medium is a sinister singing drama, perfect for Halloween season.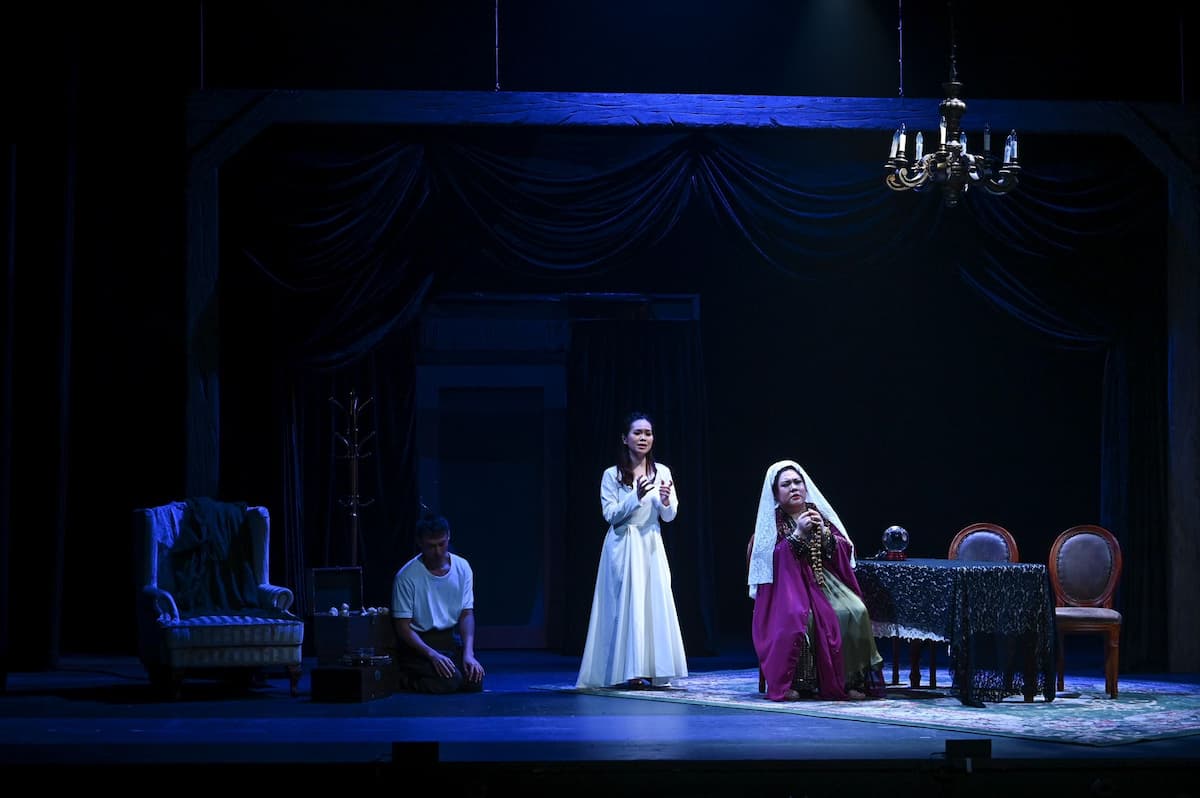 Leung's vision for the opera is straightforward and aims for uncomplicated frothy fun, as can be seen in Isaac Wong's set, with its pink poofy sofas and screens galore; it deftly sketches how traditional romantic courtship is under attack by technology's ubiquity. As an updated production — iPhones and zoom screens and obscure technological devices abound — there were perhaps a few missed opportunities for staging; these days, the "miles of umbilical cord" in the text would have better alluded to the charger wire rather than the phone cord of a retro dialing telephone, but this is perhaps nit-picking. The orchestra was in fine form, conducted by Vivian Ip — fast establishing herself as a formidable musical leader on the opera scene (her Norma in 2021 with MusicaViva displayed sensitivity to text and singers alike, as well as familiarity with style). Pianist Shelley Ng wrung some amusing pianistic textures as the telephone "ring".
In the wrong hands, Lucy and Ben can come across as shallow and inane. Perhaps due to second-night fatigue, Chung 's light soprano came across as underpowered with a lack of dynamic variation, and a lot of the musical punchlines failed to land. However, when Ben (sung by a warm-voiced Lam) finally connects with her, their chemistry was charming to witness.
The Medium is a different beast altogether. A charlatan psychic Madame Flora (mezzo-soprano Ivy Mak) runs fake seances for the bereaved with the help of her daughter, Monica (veteran soprano Phoebe Tam), who plays the "ghosts" of the dead. However, Madame Flora soon suspects that spirits may very well be real after all when, during one such staged seance, she feels a cold hand at her throat. In her desperation, she blames her foundling gypsy ward Toby (dancer Hong Lau-Pak), and the opera ends in blood and disaster.
Has Madame Flora gone mad, or is she in fact haunted? The opera can be read as both a ghost story and a Freudian drama, but Leung's reading straightforwardly opts for the former. Mak made for a compelling Madame Flora; her mysterious yet powerful stage presence gave the sense of a woman under the influence of alcohol for many years. Some of that energy was scattered as the opera wore on—the white-hot spikes of rage as denoted in the score simply did not occur, especially in the impassioned finale with Toby— and at times, the orchestra drowned out her lower register. However, her instrument is doubtless impressive, with an unique timbre.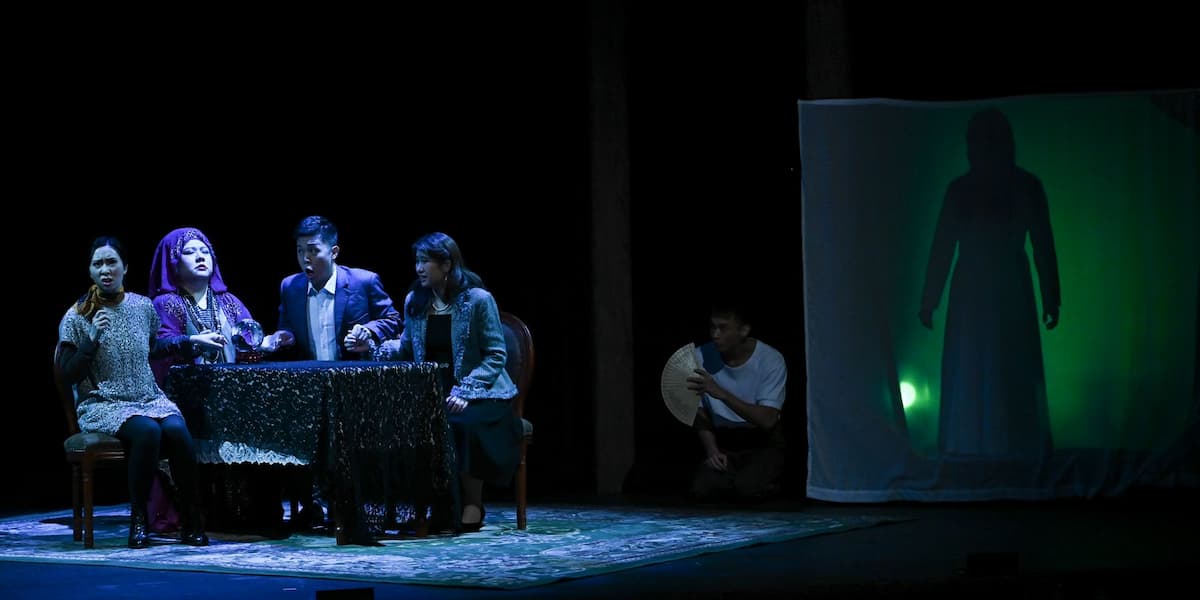 Toby, gracefully performed by Hong is, like the screen Monica performs behind, the silent foil on which desires and fears are projected. He is a mute, through which Monica performs her longing, just as Madame Flora projects her own fear and non-acceptance of the unknown onto him. Here Leung's direction of Monica needed more finesse; the character was perhaps a touch too healthy for her neurotic, almost half-crazed, key-shifting music, as exemplified in her "Monica's Waltz" and the ghostly lullaby "The Black Swan", but Tam rose admirably to the formidable challenges of her role. Her singing had moments of great beauty, especially in her sustained high pianissimi, and she intelligently avoided the trap of "speaking" her lower register in favour of a moving lyricism.
The high points of the evening rested in the appearances of Flora's trio of clients: Mr and Mrs Gobineau and Mrs Nolan, sung by Lam Kwok-Ho (baritone), Amanda Ng (soprano) and Christy Li (mezzo-soprano) respectively. Their fervent belief in Madame Flora's powers does not come across as pitiful; rather, they are almost sinister, cultish even, in their desire to communicate with their dead children. Christy Li's more forwardly-placed mezzo held its own very well in the ensemble, and Amanda Ng's bright, young voice, with easy high notes and lack of strain throughout, was expressive. She was well-matched by Lam's suave baritone, and both singers sang with excellent diction.
The orchestra was in its element, displaying Menotti's score in all its sickly musical brilliance, with several truly skin-crawling moments helped by the goosebump-inducing treble of the very young Leanna Lam as a pitch-perfect, unearthly A Voice.
More time and polish were perhaps needed, but it was refreshing to experience a production that not only used local talent but also aimed to tell a story thrillingly and generously, without resorting to gimmicky concepts or cultural transpositions with no real point. A great effort all round by Tutti.
For more of the best in classical music, sign up to our E-Newsletter
Sylvia Woo is a writer based in Hong Kong. She is also an avid opera and theatre lover.
Menotti: The Telephone and The Medium Conductor's Trailer