Davidov's first cello lessons were with Henrich Schmidt in Moscow and then Karl Schuberth in St Petersburg. Davidov, whose intentions were to become a composer, had the opportunity to study composition and musical theory at the Leipzig Conservatory with Moritz Hauptmann, a music theorist with a background in violin, acoustics, architecture, and mathematics, whose other notable pupils included the violinist, Ferdinand David, and the conductor Hans von Bulow. Davidov was also able to study cello in Leipzig with
Grützmacher
.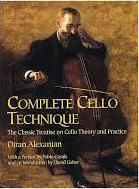 Hauptmann's philosophies had a profound effect on the young cellist—ideas about acoustics and harmony, better understood due to his background in mathematics. He was one of the first cellists to link cello technique with anatomical and physiological aspects of performance, later expanded upon by
Hugo Becker
and
Pablo Casals
.
In 1859, Davidov had the opportunity of a lifetime. He had to step in for his ailing teacher, Grützmacher, for a trio performance with Ferdinand David. The success of the program led to an offer of a solo opportunity with the Leipzig orchestra. Davidov chose to perform his newly written cello concerto, No. 1 in B minor—the first of four he eventually would write—a technically demanding piece with a gorgeous Cantilena second movement. By the end of that year, Davidov was appointed principal cello of the Leipzig Gewandhaus Orchestra.
Davidov: Cello Concerto No. 1 in B Minor, Op. 5
Davidov began performing concert tours all over Europe and to favor a career teaching and playing the cello. When Grützmacher moved to Dresden, the twenty-two-year-old Davidov, became professor of cello at the Leipzig Conservatory. Considered one of the best cellists of his time,
Julius Klengel
, who would also become a prominent cellist, said, "I only understood what cello playing signifies after hearing Davidov in St. Petersburg in my youth"
In 1876 Davidov was appointed Director of the St. Petersburg Conservatory succeeding his former teacher Carl Schuberth as cello professor. His rigorous training in the
German School of cello
playing allowed him to further develop his own approach.
Davidov thought cellists could learn a great deal from violin technique and he studied violinists, especially his quartet partner Leopold Auer. Davidov's technique was unsurpassed. His intonation was faultless even in the highest registers, his tone gorgeous, but virtuosity was never at the expense of the expression of the music. He developed what we now sometimes call, "The Davidov hinge"—improvements in thumb position skills on the lower strings, and he also experimented with using harmonics on one string alternating and resonating with the adjacent string, evident in one of his most popular compositions,
At the Fountain
. That said, the paramount importance of tone quality led him to advocate using fingerings which kept a melody or virtuosic passage on the upper strings where they sounded more brilliant, rather than remaining in position and playing across the lower strings. This Russian school approach differed from the
Franco-Belgian
and German School.
Karl Davidov: At the Fountain
Davidov's contribution to bowing technique is also noteworthy. He advocated a freer hold, with a more flexible wrist, and releasing and applying pressure with the index finger, which afforded more control of the bow and powerful, evenness of tone. As a result, Davidov's playing was recognized for his beautiful phrasing and singing sound. At the Fountain also has a good deal of "spiccato"—a very quick off the string stroke that even today we work hard to master—virtually impossible to execute with a stiff wrist. Davidov was truly the predecessor of modern cello playing. A Russian nobleman bequeathed a Stradivarius cello to him. Later the "Davidov" Strad was presented to Jacqueline du Pré.

Among his many students were Carl Fuchs, Leo Stern and Hanus Wihan, to whom Dvořák dedicated his wonderful cello concerto, as well as Alexander Wierzbilowicz, an outstanding Russian cellist, who succeeded Davidov at the St Petersburg Academy and became the new cellist of Leopold Auer's string quartet. Wierzbilowicz was Leopold Rostropovich's teacher—another gifted cellist, whose claim to fame today is teaching his son Mstislav!

The legendary cellist Gregor Piatigorsky, studied at the Moscow conservatory with Alfred von Glehn, another of Davidov's students, and later with Julius Klengel and Becker.


One cannot speak of schools of cello playing without mentioning the Armenian virtuoso cellist, conductor, writer, and thinker, Diran Alexanian (1881-1954) who also studied with Grützmacher in Leipzig. As a young student, he played chamber music with Brahms and
Joseph Joachim
, and performed the solo to
Strauss Don Quixote
with the composer at the helm. Alexanian moved to Paris in 1901. There he met Pablo Casals who soon discovered they had similar and ground-breaking ideas about fingering, techique, and interpretation. Alexanian was put in charge of Casals' class at the École Normale and from 1921 to 1937 he attracted some of the world's finest cellists. Maurice Eisenberg, and
Antonio Janigro
were his students, and
Piatigorsky
,
Fournier
, Enesco, and
Feuermann
would sit in on classes. Alexanian championed contemporary music and performed several premieres including Georges Enesco's Sonata for cello and piano in C major.
Subsequently, Alexanian taught at the Peabody Institute in Baltimore, and Manhattan School of Music. In the US, even professionals like
Bernard Greenhouse
, David Soyer, Raya Garbusova, and Mischa Schneider sought out Alexanian's guidance. But there were those who insisted on the outdated nineteenth century approach to cello playing, who liberally used slides or glissandos, which Alexanian found tasteless and technically inferior. These cellists resisted Alexanian's ideas, and thought he was a charlatan. Rather than conveniently disguising sloppy technique, Alexanian believed slides should only be used when intended for a special expression. He devised methods of shifting, or changing positions, effortlessly and soundlessly, without interrupting the line of the musical phrase.
Alexanian, D.: Lullaby
Alexanian's book on cello technique
Theoretical and Practical treatise of the Violoncello
, prefaced by Pablo Casals and published in 1922, still used, is considered revolutionary for the time. Alexanian was one of the first to publish an edition of the Bach Solo Suites.
Hailing all the way back from Grützmacher, Alexanian and Davidov's influence is immeasurable and their students and their students' students are considered the great teachers and players of today.
Grützmacher → →

↓

Davidov

↓

↓

Wierzbilowicz

von Glehn

Alexanian & Casals

↓

↓

↓

L. Rostropovich

↓

Greenhouse, Soyer, Garbusova, Janigro, Eisenberg, Feuermann, Piatigorsky, Suggia

↓

M. Rostropovich

Piatigorsky
George Enescu: Sonata for Cello and Piano No. 2, op. 26

Another important school of cello playing was developed in Russia, founded by the brilliant cellist and composer Karl Davidov. Named the "Czar of Cellists" by none other than the composer Tchaikovsky, Davidov was born in Russia, (now Latvia), in 1838. Soon after his birth the family moved to Moscow. Davidov showed great musical talent at a very young age, but his father, a doctor and amateur violinist, insisted Karl not only study cello and piano, but also mathematics. Davidov completed his mathematics degree at St. Petersburg University before he focused on music as a career.