J.S. Bach Suites for Solo Cello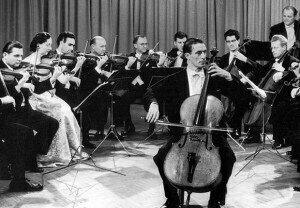 He was born in 1918 in Milan to a musical family. His mother was a violinist, but sadly, Janigro's father, who had wanted to become a concert pianist, lost an arm after a gunshot wound during World War I. Nonetheless, he saw to it that Antonio start the piano at age six, and the cello at age eight. Antonio fell in love with the instrument and progressed so quickly that he was soon admitted to the Verdi Conservatory in Milan. By 1929 he had the opportunity to audition for cellist Pablo Casals and after hearing Janigro, Casals wrote: "A brilliant instrumentalist with a fine sense of style, and, I hope, sufficiently determined, he should become a shining exponent of our chosen instrument."

With this glowing recommendation, Janigro travelled to Paris to study with Alexanian at the Ecole Normale and there to rub shoulders with other wonderful artists of the time—Cortot, Genette Neveu, Stravinsky, Nadia Boulanger, and the pianist Dinu Lipatti, with whom he would perform many recitals.

Just a youngster when he travelled back and forth by train from Milan and Paris, he complained about the hard seats and the chilly breezes in the third-class cabins. He often practiced in any empty compartment he could find on the train! One day, he was heard by an agent who immediately engaged him to play concerts in France.

Kelemen: Koncertantne improvizacije (Concertante Improvisations)
Janigro with the Zagreb Soloists


Janigro's burgeoning solo career came to a grinding halt in 1939 with the outbreak of World War II. Perhaps it was fate that he was suddenly stranded in Yugoslavia. Janigro decided to take a position at the Zagreb conservatory, a position he held until 1965. In the aftermath of the war he not only established a school of cello playing there, but founded the exemplary ensemble Zagreb Soloists in 1953 with whom he performed for more than a decade. It is said that Janigro was so insistent on precision and perfect intonation that his twelve-member group began each rehearsal with a workout—unison scales, arpeggios, and exercises. It paid off. The ensemble is world-renown, and their recordings, and their collaborations with outstanding artists continues today.

Brahms: Piano Trio No. 1 in B Major, Op. 8
Janigro with Badura-Skoda and Fournier

After the war, Janigro resumed his global performances, made numerous recordings, and he formed a distinguished piano trio with Paul Badura-Skoda and violinist Jean Fournier.

Tall and lean, with long, slender fingers, his playing is mesmerizing. One of my favorites is his beautiful rendition of Richard Strauss'

Don Quixote

with the Chicago Symphony, Fritz Reiner conducting. A rare video of his performance of Fauré

Elegy

is simply breath-taking. But he was also recognized for his talents as a conductor. As early as 1948 Janigro took up the baton and by 1954 he became the chief conductor of the orchestra of Radio Zagreb, a post he held for ten years. He went on to conduct several major orchestras in Europe, and smaller ensembles such as the Salzburg Mozarteum Camerata.

STRAUSS, R.: Don Quixote (Chicago Symphony, Janigro Reiner)
Finale: The Death of Don Quixote

In 1965, after a bitter dispute, and a mysterious court proceeding, he suffered a heart attack and reluctantly relinquished his position with Zagreb Solisti. He and his family returned to Milan.

Janigro became even more active as a teacher in the 1970s, with positions at the Düsseldorf Conservatory, the Salzburg Mozarteum, and the Stuttgart Conservatory attracting students from all over the globe. His many prominent students include Swiss cellist Thomas Demenga, and two winners of the Tchaikovsky competition: Brazilian Antônio Meneses, and Italian Mario Brunello.

Popper: Chanson Villageoise, Op. 62, No. 2

His legacy includes more than 50 recordings of everything from Beethoven, Brahms, Debussy, short virtuoso favorites, contemporary works, and Baroque standards. The

International Cello Competition Antonio Janigro for the Young Cellist

, is one of the few opportunities for very young people under the age of 20 to participate in the rigors of a competition. Janigro passed away in Zagreb in 1989.

The 100th anniversary of Janigro's birth is coming up. On January 21, 2018, the eminent cello soloist, teacher, and conductor, will be celebrated. To honor his many contributions to the country of Croatia and the world of music, activities will include a performance, "100 cellos for the 100th Birthday." Many artists have offered their support who all agree "it is important to preserve the legacy, energy, and values of such a wonderful artist as Antonio Janigro."

If you can be there here is the

link

!

Antonio Janigro, Fauré – Après un rêve

If you listen to the distinguished Italian cellist Antonio Janigro, and his pure, resonant sound in the Bach Suites, you'll encounter a master of depth and perception. Such beautiful playing. One of the great artists of the twentieth century, cellist, professor, conductor, and founder of one of the great chamber ensembles, I Solositi di Zagreb, (the Zagreb Soloists), Janigro's breadth of talent is remarkable.