During his time in Leipzig, Edvard Grieg suffered from pleurisy, a condition in which the two large, thin layers of tissue that separate the lungs from the chest wall, becomes inflamed. According to medical reports, therapeutic pneumothorax of the left lung was performed, which means that air was allowed to enter the space between the lung and chest wall with the result that the lung collapsed. Apparently, this was a method frequently used for treating tuberculosis at that time. Grieg subsequently also suffered a tuberculosis infection, and his health was permanently impaired by the destroyed left lung and considerable deformity of his thoracic columna. Throughout his life he suffered from numerous respiratory infections, and later developed combined lung and heart failure. As a result, Grieg was admitted numerous times to different spas and sanatoria both in Norway and abroad, and many different doctors treated him. He started to experience serious health problems in 1905, and "finding that the climate of the Westland had an adverse effect on the pulmonary disorders from which he increasingly suffered, he took rooms in a Christiania hotel during the winter of 1906–7."
Edvard Grieg: 2 Elegiac Melodies, Op. 34, No. 2 "Våren" (Last Spring) (Oslo Camerata; Stephan Barratt-Due, cond.)


Even with his physical condition worsening, he still made a tour to Copenhagen, Munich, Berlin and Kiel, and he was on the point of departing for England. However, his physician insisted that he be admitted to Bergen hospital for four nights as an in-patient. As he records in his diary, "The 1st night was without sleep, the 2nd and 3rd I slept on chloral." He was released home to Troldhaugen on 31 August 1907 and penned his final diary entry. "Today, the 31st, no good for anything, as Isopral didn't help at all, so I lay awake virtually the entire time. The whole thing is most depressing. Nevertheless we ought to prepare for the trip overland on the 3rd. What matters is getting away from this climate even if this time around the trip to England seems to me more than doubtful." Friends did their best in trying to convince Grieg to abandon the tour to Leeds and to London, but Grieg stubbornly stuck to his plans explaining, "These concerts give me strength." On 2 September they packed their bags and were driven into Bergen and intended to stay at the Hotel Norge until they were ready to depart for England. Grieg visited his tailor to order a new suit to take with him, but Dr. Hanssen forbade all plans for further travel and had him admitted to hospital for a second time. After lapsing briefly into a coma, Grieg died in the early hours of Wednesday, 4 September 1907.
Edvard Grieg: Album for Male Voices, Op. 30 (excerpts) (Magnus Staveland, tenor; Grex Vocalis; Carl Hogset, cond.)


The Tribune told its readers, "The event of his death was wholly unexpected, although the great composer had of late been in a very delicate state of health, and carefully avoided bad weather. He had counteracted a growing physical weakness by incessant intellectual activity, but yesterday, feeling his strength failing, he remarked to some of his friends, "All will soon be over with me." Soon after midnight his heart began to show signs of failing, and at 3:30 am he peacefully expired in the presence of his wife."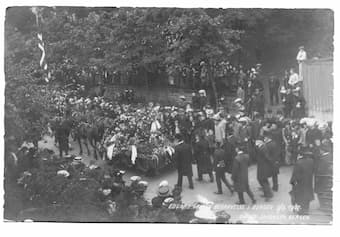 Nina Grieg later wrote in letter, "Things went badly for him all summer, ever more badly, he was always freezing and had less and less breath. Energetic as he was up to the end, he practiced the piano and studied his scores in spite of ever increasing weakness." The violinist Adolph Brodsky wrote, "After rehearsal we went to see Grieg. I can't tell you the impression the deceased made on me. There was such a calm expression on his face, such a spiritual beauty in spite of the fact that his eyes were closed. More than 45 wreaths from various deputations, among which I shall lay a wreath from the Quartet, are to be placed on his coffin, and I have also been asked to lay a wreath from the Concertgebouw Orchestra in Amsterdam."
Edvard Grieg: String Quartet in G Minor, Op. 27 (Emerson String Quartet)


The funeral took place on 9 September, after a weekend during which Grieg's body had lain in state in Bergen. "The entire city had turned out in silent tribute to Norway's most celebrated musical son." By some estimation, the crowd numbered between 40,000 and 50,000 people and included representatives from many nations and from all corners of the musical world. "There was no cold curiosity, no fighting for places, no stretching of necks to see better; from old man to urchin, all had the same grave expression of face which showed that they felt their loss." In detail, Adolph Brodsky described the musical offerings during the ceremony. "The program of the ceremony, which was to begin at noon, was as follows: 1) Våren (In Spring) by Grieg played by the string orchestra. 2) Folk-song by Grieg sung by the male choir. 3) The laying down of the wreaths. 4) Song for male voices, sung by the same choir, also composed by Grieg, and 5) Funeral March for orchestra, by Grieg… The Funeral March was composed by Grieg about 40 years ago, on the death of his friend Nordaak, who had such a great influence on Grieg as a composer." Grieg was cremated in the first Norwegian crematorium opened in Bergen just that year, and his ashes were entombed in a mountain crypt near his house, Troldhaugen.
For more of the best in classical music, sign up to our E-Newsletter
Edvard Grieg: Funeral March in Memory of Rikard Nordraak (arr. J. Halvorsen) (Håkan Hagegård, baritone; Gorild Mauseth, narrator; Bergen Philharmonic Choir; Bergen Philharmonic Orchestra; Ole Kristian Ruud, cond.)