When Joseph Haydn peacefully closed his eyes for the last time at 12:40 am on 31 May 1809, he was considered Europe's most illustrious and famous composer. I have previously written a blog on Haydn's Funeral and the macabre way his head was hacked off in order to perform a phrenological examination, which concluded that Haydn's skull displayed a fully formed "bump of music." However, Haydn was not merely a highly accomplished composer and originator of several musical genres, he was also an astute and merciless businessman.
A scholar writes, "Haydn always attempted to maximize his income, whether by negotiating the right to sell his music outside the Esterházy court, driving hard bargains with publishers or selling his works three and four times over to publishers in different countries." With copyright in its infancy, he sold the same work in several countries receiving multiple fees. He personally did most of this kind of selling in Vienna and in London, but hired middlemen for additional markets. A critic writes, "Haydn's business model of exploiting multiple markets became a prototype for the next two generation of composers, and included Beethoven, Mendelssohn, and Chopin."
Joseph Haydn: L'incontro improvviso (Margaret Marshall, soprano; Linda Zoghby, soprano; Della Jones, mezzo-soprano; Claes-Håkan Ahnsjö, tenor; Domenico Trimarchi, baritone; Benjamin Luxon, baritone; James Hooper, bass; James Prescot, bass; Nicolas Scarpinati, bass; Lausanne Chamber Orchestra; Antal Doráti, cond.)


The early Haydn biographers Griesinger, Dies, and Carpani, essentially writing with Haydn's approval and cooperation, considered Haydn the craftiest creative mind in the world of music, and that included his business ventures. The process of detailing the composer's life, however, was instigated by Haydn himself. In 1776, at the age of 44 he was asked to provide an autobiographical document for publication in a volume of brief biographies of Austrian luminaries. Haydn responding with his "Autobiographical sketch," which he called "a kind of mishmash, as it takes time which I do not have to write an orderly account." That sketch was published in 1778 in Volume 1, Part 3 of a tome titled "Learned Austria." Haydn briefly tells readers about the first 29 years of his life, including his growing up in Rohrau and early education in Hainburg. We also learn of his career as a choirboy in Vienna, his freelance experiences, and his appointments with Count Morzin and then with the Esterházy family.
Joseph Haydn: Il ritorno di Tobia (Roberta Invernizzi, soprano; Sophie Karthäuser, soprano; Anders J. Dahlin, tenor; Nikolay Borchev, bass; Ann Hallenberg, mezzo-soprano; Cologne Vocal Ensemble; Capella Augustina; Andreas Spering, cond.)


Haydn claimed to have learned the true fundamentals of composition from Nicola Porpora, explaining, "I wrote diligently but not in a well-founded way until finally, I had the good fortune to learn the true fundamentals of composition from the celebrated Herr Porpora, who was at that time in Vienna." As a scholar has recently explained, "this most important sentence in Haydn's autobiographical sketch was for a long time the least understood. While other possible influences on the young Haydn, such as Johann Joseph Fux and Carl Philipp Emanuel Bach have frequently attracted the attention of Haydn scholars, Porpora's contributions have not readily been acknowledged." It is argued that Porpora passed on to Haydn the "partimento" tradition, essentially a pedagogical system, which calls for the improvisational realizations of bass voices by using a repertoire of voice-leading patterns. In his sketch, Haydn then goes on to offer an assessment of contemporary composers, expressing appreciation and praise of support of Johann Adolph Hasse, Carl Ditters von Dittersdorf and Gottfried van Swieten.
Joseph Haydn: L'infedlta delusa (Magda Kalmár, soprano; Julia Paszthy, soprano; Istvan Rozsos, tenor; Attila Fülöp, tenor; Jozsef Gregor, bass; Budapest Franz Liszt Chamber Orchestra; Frigyes Sándor, cond.)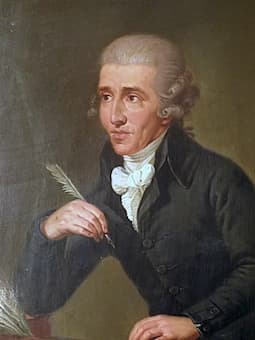 Haydn, however, isn't shy about directing his resentment towards unnamed critics in Berlin. He writes, "I have been fortunate enough to please almost all nations except the Berliners; this is shown by the public newspapers and letters addressed to me. I only wonder that the Berlin gentlemen, who are otherwise so reasonable, preserve no medium in their criticism of my music, for in one weekly paper they praise me to the skies, whilst in another they dash me sixty fathoms deep into the earth, and this without explaining why; I know very well why: because they are incapable of performing some of my works, and are too conceited to take the trouble to understand them properly." Haydn's list of what he regarded as his most important works up to that time is of considerable interest. He lists the operas Le pescatrici, L'incontro improvviso, and L'infedelta delusa; his oratorio Il Ritorno di Tobia (1775) and his Stabat Mater (1767). Haydn only lists vocal music, omitting instrumental works such as the "Farewell Symphony" or the string quartets Op. 20. A musicologist writes, "In the eighteenth century vocal music was considered pre-eminent. With opinion such as this as the common currency, it should not surprise us that Haydn… listed only vocal works among those he considered his finest." Haydn concludes his sketch with the words, "My highest ambition is only that all the world regard me as the honest man I am. I offer all my praises to Almighty God, for I owe them to Him alone: my sole wish is to offend neither my neighbor, nor my gracious Prince, nor above all our merciful God."
For more of the best in classical music, sign up to our E-Newsletter
Joseph Haydn: Stabat Mater