The Polish virtuoso violinist, composer, and pedagogue Henryk Wieniawski (1835-1880) was one of the greatest violinists of the 19th Century. As a performer, he dazzled audiences with his impeccable technique, expressive phrasing, and wonderfully warm and rich tone. As a composer, he blended brilliant virtuosity with Romantic inspirations, and he taught a long line of distinguished violinists at two celebrated Conservatories.
In 1874, Wieniawski received an invitation from François Auguste Gevaert, the Director of the Brussels Conservatoire, to replace Vieuxtemps as professor of the violin. He assumed his duties on 28 December 1874, but as in previous years, he "found his irrepressible passion for giving concerts difficult to reconcile with a systematic teaching schedule." Within the span of a couple of years, he performed extensively not only in Brussels and other Belgian cities but made trips to France, Holland, Germany, Poland, and England. During his visit to London, he fell seriously ill, and "several newspapers even carried notices of his death. The illness finally forced him to apply for a year off from teaching in order to rescue his health."
Henryk Wieniawski: Scherzo-Tarantelle, Op. 16
However, Wieniawski continued his exhausting concert schedule. Interrupted by illness, he performed in Leipzig and Vienna, Prague and Lyov, Cracow and Budapest, followed by an unbelievably strenuous tour to Sweden, Denmark, Slovakia, Hungary, Transylvania, Southern Russia, Norway then back to Denmark and Sweden. Wieniawski kept pushing his health to the limits, and on 11 November 1878 tragedy struck in Berlin. He collapsed on stage whilst playing his own Concerto in D minor. The local newspaper reports, "Our illustrious virtuoso suffers from a chronic heart condition, which surprised him that very night. After a while, Mr. Wieniawski reappeared on stage to complete – seated in a chair – the piece he had started, but had to stop playing again. The audience showed the ailing virtuoso great sympathy. Luckily, one of the listeners was the outstanding Berlin violinist Joachim, who, acting on comradeship and friendship with the performer, although unprepared, undertook to substitute him. Before the audience left the room, it was reassured as to the state of Wieniawski's health; accompanied by Joachim, he was able to come out on stage and thank listeners for understanding and sympathy, and his friend for the demanding favour."
Henryk Wieniawski: Violin Concerto No. 2 in D minor, Op. 22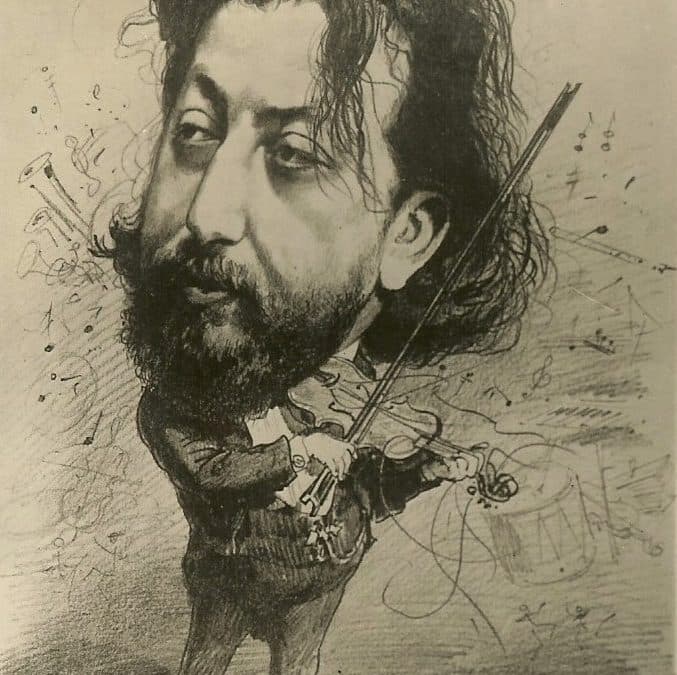 Wieniawski continued to ignore the ominous health warnings and over the next couple of days made four more appearances before embarking on another concert tour to Poznań, Toruń, Gdańsk, Königsberg, and then again Poznań. Refusing to give in to his debilitating illness, he accepted further tours. Early in 1879, he began a Russian tour with the singer Desirée Artôt, but he spent his time alternately giving concerts and being confined to bed by his heart condition. He had to be taken to hospital in Odessa in February, but had sufficiently recovered to give a farewell concert in Odessa in April. Returning to Moscow, Wieniawski collapsed once more and was admitted to the Mariinsky Hospital in November. Cheated by concert organizers, Wieniawski was left without funds and his friends had to organize benefit concerts in Moscow and St. Petersburg. The concerts raised money for his life insurance policy, which was about to expire. On 14 February 1880 Wieniawski was taken to the palatial home of Madame von Meck, the patroness of Tchaikovsky, with his friends rallying around him.
Henryk Wieniawski: Études-Caprices, Op.18
Nadezhda von Meck "provided Wieniawski with considerate and thorough care and secured for him the very best doctors." His wife Isabella, pregnant with their youngest daughter Irene, travelled from Brussels to be with her husband and brought their oldest son with her. And just when Wieniawski's health showed signs of improvement, he suddenly collapsed and died at 8pm on 31 March 1880, just months shy of his forty-fifth birthday. The city of Moscow bid farewell to Wieniawski with a solemn mass on 3 April, and Warsaw did the same four days later. According to eyewitnesses, "huge crowds thronged Warsaw's Church of the Holy Cross, which rang with the sound of Polish music." Accompanied by a crowd of 40,000 mourners, Wieniawski's body was transferred to Warsaw's Powązki Cemetery. An admirer wrote in a literary journal, "He bewitched us with his noble, poetic, fiery playing. The great artist died far from us. No Polish nightingale sweetened his last moments. But his body has been laid to rest beneath a Polish birch, at the foot of our ancient city, alongside the hearts of those who loved and admired him. Strewn with wreaths, his remains were born on friendly shoulders to their grave."
For more of the best in classical music, sign up to our E-Newsletter
Henryk Wieniawski: Polonaise No. 1 in D Major, Op. 4