The Leeds International Piano Competition is frequently described as "one of the world's foremost music competitions." It first launched in 1963 with the aim to discover the finest young pianists, and to prepare them for the challenging and ever-changing professional music environment ahead. To be sure, the Leeds Competition can sport an impressive list of prizewinners, including Murray Perahia, Radu Lupu, Mitsuko Uchida, András Schiff, Lars Vogt, Anna Tsybuleva, Federico Colli, and Eric Lu.
And in 2006, the South Korean pianist Sunwook Kim added his name to the list. He was just 18 years of age, making him the youngest winner of the competition in 40 years, as well as its first Asian winner. "Kim's performance of Brahms Piano Concerto in D minor with The Hallé and Sir Mark Elder in the competition's final won unanimous praise from the press, and led to concerto engagements with UK's finest orchestras as well as various recitals around Europe."
Sunwook Kim Performs Brahms' Piano Concerto No. 1 in D minor "Maestoso"
Kim was born in Seoul, South Korea on 22 April 1988. He remembers starting piano lessons at the age of three, and then at six "I took up the violin. I studied both of them until I was twelve and then decided to drop the violin in favour of the piano. There are many reasons for this; it was hard carrying the violin around every day, also I had to think about the strings and the bow, plus there's the price of that instrument. There are many advantages of playing the piano, one being that it is always on stage and the technician is around to make sure it is perfectly tuned. I think I made the right decision in choosing the piano."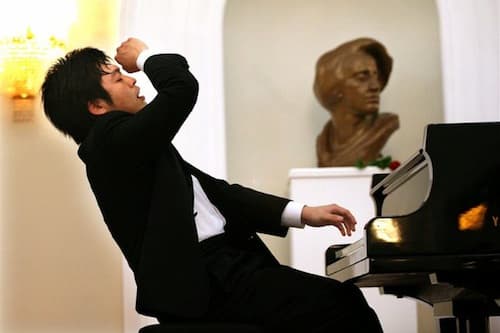 Kim had two musical heroes growing up, as he idolized pianist and conductor Myung-Whun Chung. Kim remembers, "I always went to his concerts and he was my role model. To give you a sense of how much I like him: in 1998, there was an online auction (by UNICEF) in Korea. There was a conducting baton on the list, which Chung had used. It was a lot of money for a 10-year-old boy, but I missed school and ended up buying it! He is truly a great musician in our time."
Unsuk Chin: Piano Concerto – I. — (Sunwook Kim, piano; Seoul Philharmonic Orchestra; Myung-Whun Chung, cond.)
Growing up in South Korea, Kim was surrounded by classical music, as it is a very important part of children's education. Kim explained in an interview, "Compared to other countries, it hasn't been long since classical music was introduced to Korea. Many of our teachers went abroad (to the USA and Europe) to study music in the 1970s and 1980s and passed it on to my generation. I was fortunate that there were many music institutes around in the early 1990s, and it was such a positive environment that many of my school friends learned to play musical instruments. Koreans love music and know how to express it."
Kim continued, "Koreans are generally very diligent. Enthusiasm for education and study is extremely high, as more than 80% of the population have graduated from university. Most music students start to learn the instrument at a very young age and have excellent skills. They are also honest with their feelings. This is not always good but I believe this is an essential condition for a musician."
César Franck: Prelude, choral et fugue, M. 21 (Sunwook Kim, piano)
Kim gave his debut recital at the age of ten and his concerto debut two years later. He counts Sir András Schiff as one of his biggest mentors. "We first met in Seoul at one of his master classes," Kim recalls, "and then he invited me to play at his master class in Lucerne in Switzerland. I've learned so much from András; mentally, physically and musically." At the time of the Leeds competition, Kim was a student at the Korea National University of Arts under Daejin Kim. To be sure, Leeds was not the first feather in his cap as he had previously won the IX Ettlingen Competition and the XVIII Concours Clara Haskil. He was also awarded the Artist of the Year prize from the Daewon Cultural Foundation in 2005, and subsequently the Kumho Asiana Group in 2007.
Winning the Leeds Competition propelled him to international recognition, and he has since established a reputation as one of the finest pianists of his generation. A reviewer for Gramophone wrote in 2017, "Kim has an unerring sense of underlying harmonic tension and tonal design, plus the skill to apply colour and blend accordingly, which gives his playing both eloquence and architectural solidity and saves him from having to rely on gimmicky exaggeration to make his mark." Once Kim moved to England, he continued his musical education by taking an MA degree in conducting from the Royal Academy of Music in 2013.
For more of the best in classical music, sign up to our E-Newsletter
Sunwook Kim Performs Beethoven's Piano Concerto No. 3 in C minor, Op. 37